---
LANE LAND TRACT OWNERSHIP PLOT MAPS
Barbara Wentz, Cartographer
Eleanor Mayfarth, Deed Records
2003-4 Project for Mandy Helwig in her [futile] attempt to save the Collegeville Dam.


1683 - 1701 PRE "LANE LAND TRACT PATENT" HISTORY
All descriptions of the Land that was to become the Lane Tract are as reported by Williams, "St. James Church, Perkiomen, Evansburg"8, pp. 350-354 from his study of original papers, including survey map graphics, Phila. Co. Patent Book A Vol. 2:175, and others.


1684-1685 12th day 4th month, 1684 Wm. Penn issued a warrant for the survey of 4,400 acres of land for Thomas Rudyard in the County of Philadelphia and 1200 acres in "Newton Township in the County of Cheshire." [Newtown, Chester Co.] Andrew Robeson purchased 2,500 acres of the land in Philadelphia Co. from Rudyard July 15, 1685.

1692/3 Penn's agents issued a warrant 11th day of Feb., 1692 (/3) for "the remainder of Andrew's land purchased from Thomas Rudyard" to be surveyed.

1694 Andrew Robeson's will written 12 Nov., 1694, proved 24 Dec., 1694 left his estate to his wife Elizabeth. [Codicil 14 Nov., 1694 left a legacy to nephew Andrew Robeson of West Jersey, who moved to Berks Co. and was the father-in-law of Eleanor Robeson, dau. of Edward Lane.] Thomas Fairman did the survey and made his report 12th day of 12th mo. 1694/5. His report showed the location of the land. This survey was registered in Office of the Surveyor General 11 th day, 12th mo., 1698/99. The map of the survey is shown following page 354 Williams.8
(Phila. Co. Will Book A:286: Andrew Robeson)

1698/9 Prior to his death Andrew had agreed to convey this tract to Thos. Fairman. The latter thereupon sold his right to purchase to Edward Lane. Samuel Robinson, heir of Andrew, then joined with Thomas Fairman in a deed to Edward Lane, dated the 12th day of the 9th month.





LANE TRACT MAP #1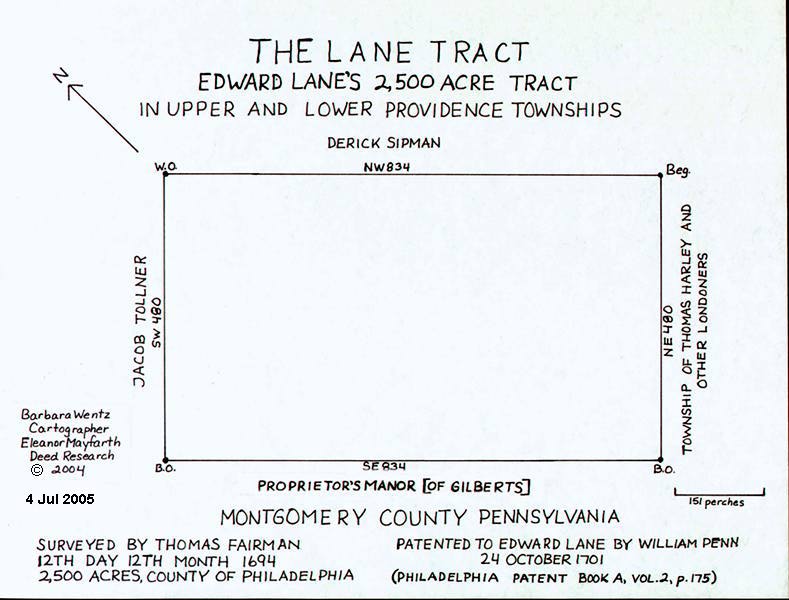 THOMAS FAIRMAN'S 1694 SURVEY




1701-1710

1701 Edward Lane was granted 2,500 acres in Providence Twp. 24th day of October, 1701, by Wm. Penn.
(Phila. Co. Pat. Book A Vol. 2 page 175)

Note: At some time during this period Edward Lane apparently gave land to St. James Church. There is no extant deed from him nor his executors ceding land to St. James Church, nor a bequeathal in his will that includes land to it. There is evidence of a plot of land belonging to St. James prior to 1718 when his son William came of age, and no evidence of William ceding land to St. James prior to the gift of additional land to St. James in his 1732 will. As Providence Twp. was not formed until 1725 some of the later deeds and wills of this time frame are listed as nearby Skippack Twp.

The acreage was over 2,500 acres when actually laid out. Williams describes how this land was described several years later: "It was a simple rectangular tract 480 perches wide by 834 perches long, and the joiners on the respective sides were as follows: On the north east by land of Dirck Sipman; on the north west by land of Jacob Tolldner & Co.; on the south west by land of the Proprietors Manor on the Perkiomen [the London Company's Manor of Gilbert]; and on the south east by Tho. Harley's land. The Sipman land is the VanBebber land subsequently purchased from Sipman by VanBebber, and now forming a large part of the townships of Skippack and Perkiomen."

Just beyond Edward Lane's holding and immediately joining him was the tract of Matthias Van Bebber, commonly known as "Bebber's Township". In the patent to Van Bebber's survey the first call in the description is as follows: Beginning at a hickory sapling at the corner of Edward Lane's, and, from thence by a line of marked trees north east, &c'. until we come to the last clause then it reads "then south east by the said Edward Lane's land 900 perches to a hickory sapling, the place of beginning." This is probably the same hickory sapling referred to by Fairman in the original survey.
(Williams8 pp. 350-354)



LANE TRACT MAP #2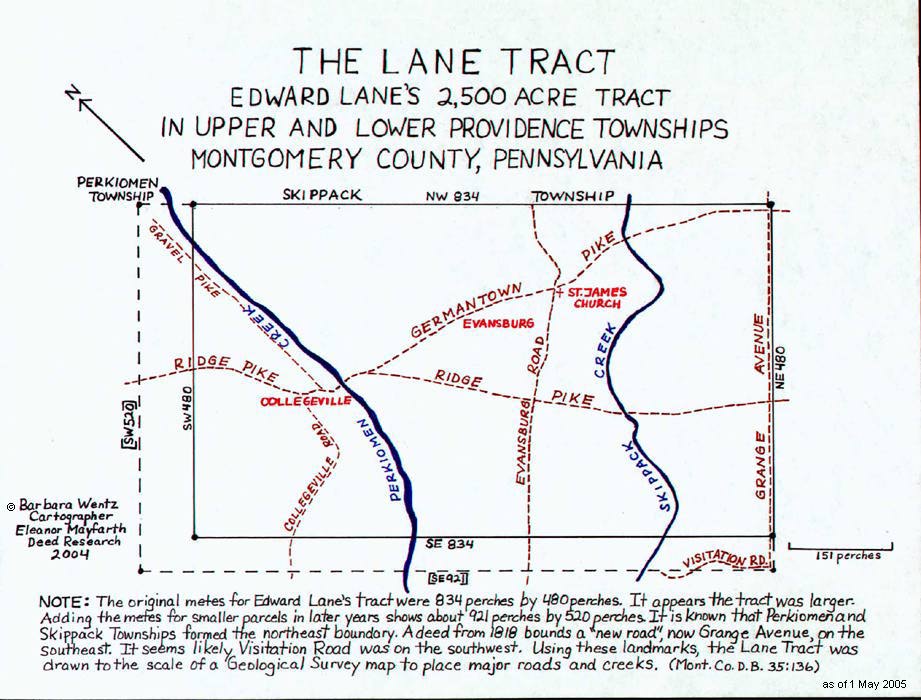 OUTLINE OF THE LANE TRACT WITH 2005 LANDMARKS
LANE TRACT MAP #3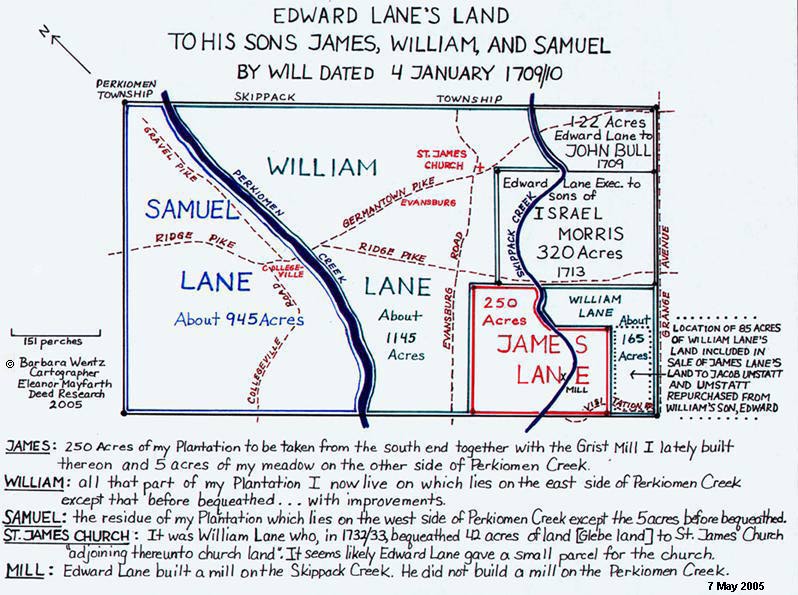 EDWARD LANE TO SONS, ALSO TO ISRAEL MORRIS AND JOHN BULL
Reference and Notes [See Will of Edward Lane, 1709/10]


LANE TRACT MAP #4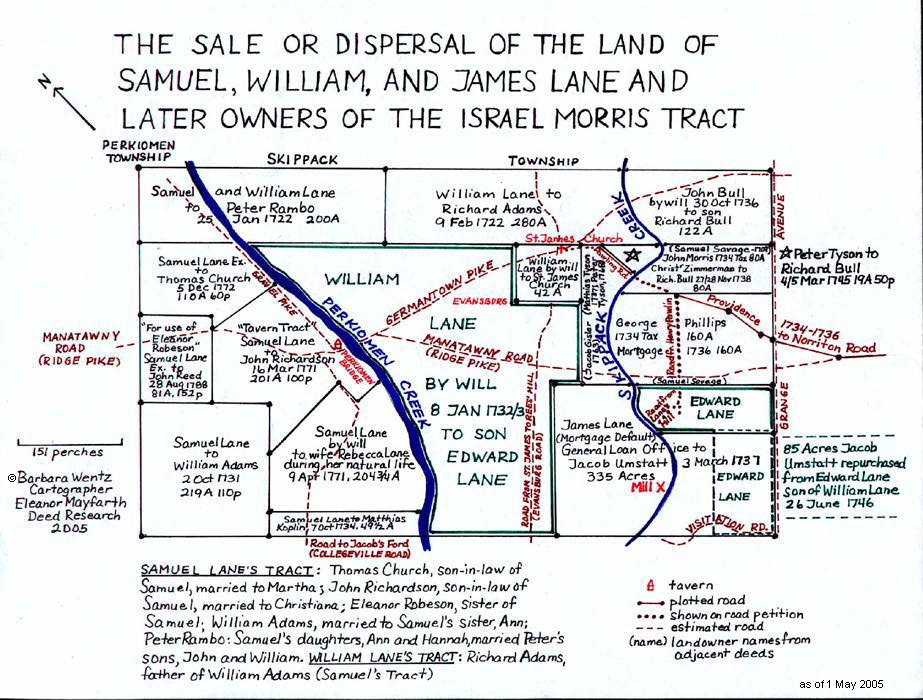 SALE OR DISPERSAL OF LAND OF EDWARD LANE'S SONS, ALSO ISRAEL MORRIS TRACT
Reference and Notes
LANE TRACT MAP #5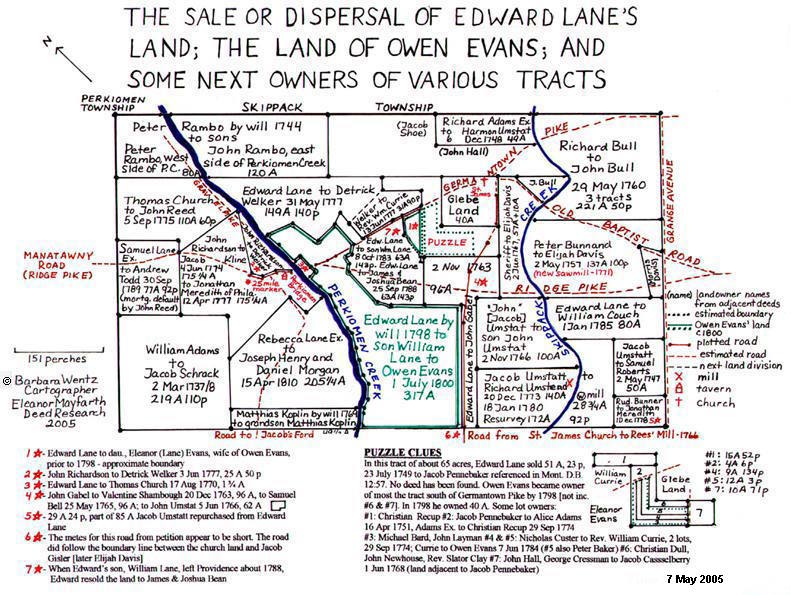 SALE OR DISPERSAL OF THE LAND OF EDWARD LANE [SON OF WM.] AND LAND OF OWEN AND ELEANOR [LANE] EVANS, ALSO SOME NEXT OWNERS OF VARIOUS TRACTS
Reference and Notes
LANE TRACT MAP #6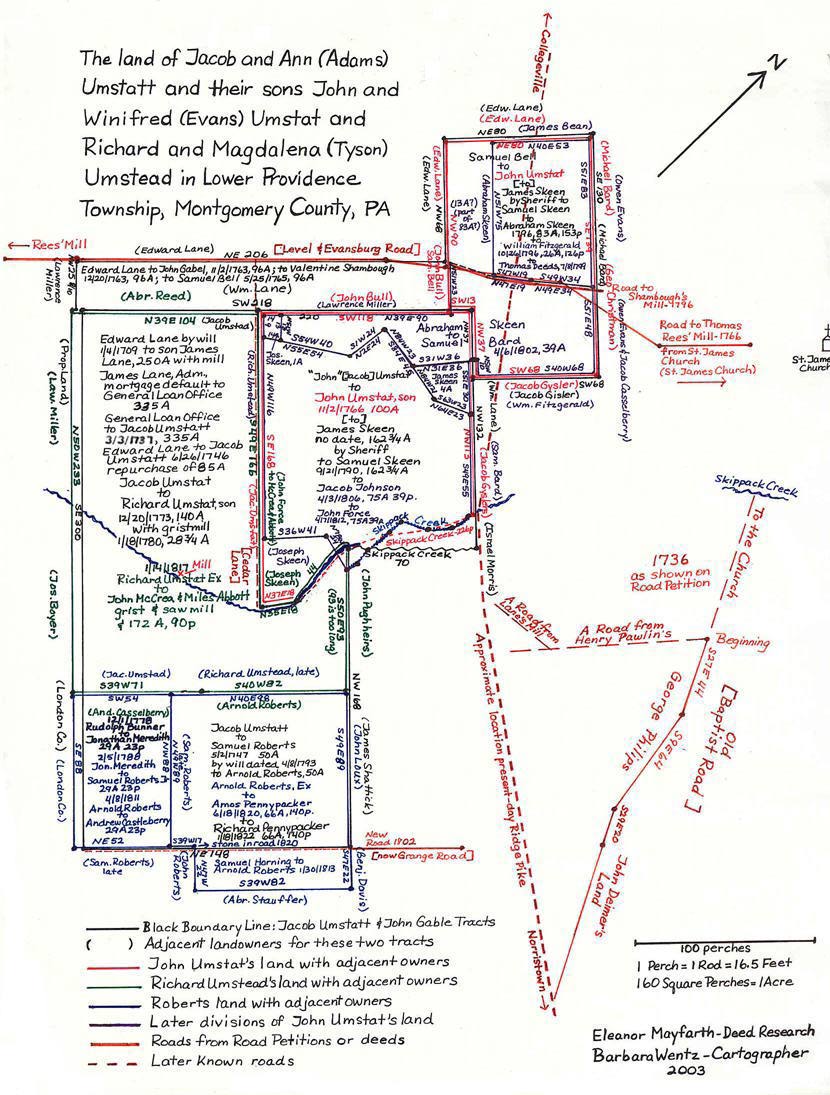 SALE OR DISPERSAL OF THE LANE LAND OF JACOB UMSTATT
Reference and Notes
---
Return to St. James Introduction
Return to 1790 Pew Holder's Chart
This page updated Saturday, 21-Jun-2008 06:58:32 EDT
You are our
visitor.