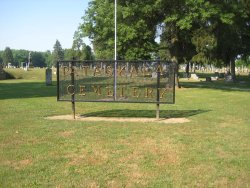 Direction to The Pataskala Cemetery from I-70 (between Columbus, Ohio and Wheeling, West Virginia):
1. Take exit 118 for OH-310 toward Pataskala (North)
2. Turn left onto OH-310 N/Hazelton-Etna Rd SW
3. Turn right onto E Mill St
4. Turn right onto Creek Rd
The Pataskala Cemetery will be on the right
9545 Creek Road, Pataskala, Ohio.
GPS Coordinates: Latitude: 39° 59' 20.69" N, Longitude: 82° 40' 23.61" W

[NOTE: Click on photo above for larger version]

The Pataskala Cemetery is large, and it is still active. Richard and Sarah Conine, the founders of the village of Pataskala, donated land for the Pataskala Cemetery. [Click here to view a vintage postcard of the cemetery.] The older section of the cemetery is located towards the main entrance. Most of the gravestones are in fantastic condition, it is very well maintained.

"Grave Sights", The Columbus Dispatch, July 8, 2012, Section B, Pages B1 and B2 (Article about Ron's Work and the Ohio Tombstone Photo Project): View Page B1 | View Page B2 [These are PDFs sent with permission to post only on this page from Diana Hill, Managing Editors' offices, The Columbus Dispatch; Original on file]

Pataskala Cemetery Plat Map

Miscellaneous Pictures of Pataskala Cemetery
(1) Older part of Cemetery looking West from Entrance including part of Section 3
(2) Northern side of Section 2 looking West
(3) Western side of Section 2 looking South East
(4) Section 6 on other side of road looking South East
(5) Looking North East New section 14
(6) Looking West Section 14
(7) Section 12 looking North West
(8) Section 8 and 9 Looking North West
(9) Section 4 Memorial of Union Soldier, George W. Moore. The memorial is 12 ft tall where soldier is standing ["United States, Civil War Soldiers Index," George W. Moore; Sergeant in Ohio, 7th Regiment, Ohio Infantry, Company H, Original filed under George W. Moore (Index to Compiled Service Records of Volunteer Union Soldiers Who Served in Organizations From the State of Ohio.) NARA Publication Number: M552, NARA Roll Number: 76, Film Number: 0882289, Source Citation, "United States, Civil War Soldiers Index," index, FamilySearch (https://familysearch.org/pal:/MM9.1.1/FS9D-RML : accessed 21 July 2012), George W. Moor.