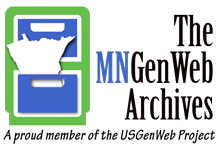 USGenWeb Archives
Minnesota Table of Contents
Search USGenWeb Archives (Archives Search Engine) The Search Engine will help you to sort through the Archives for the Surnames you are interested in. At this time it only searches the Archive Files and may not have all the files at any given time since new files are included once a month or so to the Search Engine and we receive files and upload them all the time. We have been receiving many new files lately and we want to thank everyone for their interest and help.(To search only MNArchives use the Search Engine located lower on this page)
Do you have records you would like to share with others? We are looking for volunteers to share their information and records they may have accumulated during their searches. These can be almost anything that would relate to Genealogy. Birth/Death/Marriage records, Obits, Census, etc. If you have submitted a file and you have not received notice that it has been uploaded or can not find it on the county's "Table of Contents" within two weeks of submission, please contact me. If it is from a publication/newspaper it could still be under copyright if it is dated after 1923. There is a page that may help you in determining what files are acceptable at: Time-To-Do
Contact Shirley for additional information on how to submit your information to be included in the USGenWeb Minnesota Archives. Also need volunteers to help transcribe submitted information. Thanks to all who have submitted and will be submitting records.
"May our branches grow."

Choose a County in the table below to search that County's Archives
Note:There are tables below the county selection table that contain:
"Special Archive files" which contains links to Census Images and Map Images.
"Reference files" which may be useful in your search
Note: some files in the Special Archives (images) are not included in the Archives Search Engine below.
Special Archive Files

Census

1850 Cenus Images
These are actual census images made possible through the generosity of Elizabeth Kelly and the permission of S-K Publications . The "Census Images" link will bring you to a page listing the available census.
1860 Census Images
These are actual census images made possible through the generosity of Kathy Hines. Counties of CARVER, FARIBAULT, STEELE and WASECA
1910 Census Images
These are actual census images made possible through the generosity of Chuck Miller. Wabasha County
morrison
1910 Morrison County, MN, Census images--see Help file (for help in finding township page) Courtesy of Deborah L. Wilcox and S-K Publications

Maps

Maps
This is the link for the "Minnesota Digital Map Library" Table of Contents. There are few maps at the present and they represent the pre-1900 era.

My Grandmother's Scrapbooks

scrpbook.htm
To Whom It May Concern: I decided Grandma must have had a long-term purpose in mind when she started putting her scrapbooks together, and I feel I have an obligation to share much of the information she collected through the years, which are stricly newspaper clippings, although in most cases, the newspaper source and/or date is missing, but we do have a general year in most cases. I would suspect that much of the information comes from the Hopkins, MN, Minneapolis, MN and Litchfield, MN newspapers.I will, whenever possible, include a newspaper name, date, and any other relevant information. The files created from the scrapbooks can be found in Hennepin County , Meeker County and Statewide Archives (under Newspapers) and all files can be found in Scrapbook TOC (link to the left coming soon).
This is dedicated to My Grandmother, Mabel Bessie EIDEM RUNSBERG.
Kris Sullivan

Native American Records

See Native Americans Minnesota TOC

Reference Files

common.txt
Common Words found in Genealogical Research. Submitted by Marlene Trader Molisee
canadian.txt
Addresses for most of the Provinces in Canada. Submitted by Marlene Trader Molisee
tombmark.txt
Meanings of Tombstone Markings. Submitted by Marlene Trader Molisee
illness.txt
Definitions for Oldtime Illnesses. Submitted by Marlene Trader Molisee
Search USGenWeb Archives Search Engine for all State Archives
Table of Contents for the USGenWeb Archives
Table of Contents for the MNGenWeb Archives
Table of Contents for the MNTombstone Project
Table of Contents for the MNMap Project
---
This page was last updated Thursday, 15-Oct-2020 05:17:39 EDT


USGENWEB NOTICE: In keeping with our policy of providing free information on the Internet, material may be freely used by non-commercial entities, as long as this message remains on all copied material, AND permission is obtained from the contributor of the file. These electronic pages may NOT be reproduced in any format for profit or presentation by other organizations. Persons or organizations desiring to use this material for non-commercial purposes, MUST obtain the written consent of the contributor, OR the legal representative of the submitter, and contact the listed USGenWeb archivist with proof of this consent.

Table of Contents maintained by: Debra Crosby

MNGenWeb Project

Go to US Table of Contents