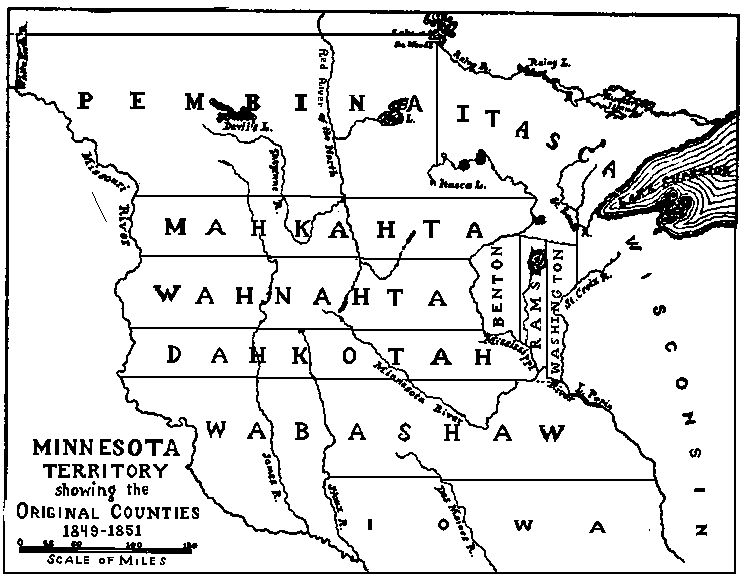 USGenWeb Archives
Minnesota Census Images Files
Table of Contents
This is a map of the Minnesota Territories c. 1850 (courtesy of Marge Utley). It should help define the Territories for the following census images and files. Note that Western Border of Minnesota, as we know it today, follows the Red River and that part of North Dakota, South Dakota and Nebraska was included in the Minnesota Territories in this time frame.
"The donation of the 1850 Minnesota Territory Census images for permanent, free display in the USGenWeb Archives was made possible through the generosity of Elizabeth Kelly and the permission of S-K Publications . These census images are copyrighted by S-K Publications and are not to be republished or redistributed without their permission. The images are also available on CD (in a higher-quality format that was reduced when they were converted to .GIF files for the Web) from S-K Publications, PO Box 8173, Wichita KS 67208-0173."
The link to each Census Image will bring you to a list of image files. The name of each image file is the page number. (In the case of 1880, 1900, 1910, and 1920 census, the file name includes both the Enumeration District and the page number.)
The 1850 Minnesota Territory Census contains 154 pages (census images), numbered 01A through 80B. It includes the following counties:
Benton County, pages 01A through 05B
Dakota County, pages 06A through 13A
Itasca County, pages 14A through 15A
Mankahta County, pages 16A through 18A
Pembina County, pages 19A through 32B
Ramsey County, pages 33A through 61A
Wabasha County, pages 62A through 64B
Wahnahta County, pages 65A through 66B
Washington County, pages 67A through 80B
The following pages were not copied from the microfilm, as they are blank: 13B, 15B, 18B, 53B, 60B, and 61B.
To contibute to the Archives contact Debra Crosby
MNGenWeb Project

Go to USGenWeb Archives Table of Contents