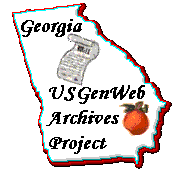 The USGenWeb Archives - Georgia
NEWTON COUNTY
MARRIAGE ANNOUNCEMENTS
BRIDE SURNAMES N
*** USGenWeb is not a commercial enterprise and information found on these pages is freely available to the public.
Please take time to read the Copyright Information at the bottom of this page. ***
---
HELP US!!!
If you have Georgia files you'd like to contribute to the Archives site,Click here or here to transcribe and send in your records or contact Carolyn Golowka, The USGenWeb Archives Project - Newton County, Georgia File Manager ONLY data in the public domain (i.e. public records, bible records, etc.) may be used freely.Copyrighted materials are NOT acceptable as donations without the EXPRESS WRITTEN PERMISSION of the author(s).
Please, send files in .txt format. Be sure to follow the Archives Guidelines and if you need help, see Help for Submitters
SORRY, BUT CAROLYN CANNOT HELP YOU WITH PERSONAL RESEARCH
SHE DOES NOT LIVE IN GEORGIA AND HAS NO
ACCESS TO ANY NEWTON COUNTY RECORDS
---
Search Newton County, AL
Use This Search for Vital Records Only
Search The USGenWeb Archives - Georgia by Specific Record Type
---
Email Registry For Contributors
Any time you see this symbol

next to a name, they have registered their e-mail address at The Registry. This will be their current address.
---
If you are looking for a particular person, try the search engine above.
It will search for any name in the database for Newton County.
You might try just the last name to start.
A very special thank you to


Phyllis Thompson
for all her hard work transcribing hundreds of
articles from the newspapers.
---
Marriage & Engagement Announcements in Newspapers
(Some Marriage Licenses can be found on the Vital Records web page)
---
Marriage Records by Brides Surnames
(letters with no link have no names at this time)
A B C D E F G H I J K L M N O P Q R S T U V W X Y Z Unknown
---
Bride
Groom
Date of Notice
Date Submitted
Submitter
Napier, Annie Foster
Edwards, Wm. A.
April 18 1898
May 2004
Phyllis Thompson
Neal, Nellie
2nd notice
Maybanks, Theodore
August 17 1898
May 2004
Phyllis Thompson
Neely, Lula
Hammond, Charlie
January 1906
Nov 2003
Phyllis Thompson
Nisbet, Della Graves
Snider, J. T., Dr.
April 10 1902
Oct 2003
Phyllis Thompson
Nolen, Bettie
Standard, Herbert
January 1905
Nov 2003
Phyllis Thompson
Norton, Jennie
Blackwell, W. S.
December 22 1874
Jun 2004
Phyllis Thompson
The USGenWeb Archives Project - Newton County, Georgia Table of Contents
The USGenWeb Archives - Georgia Main Table of Contents
The GAGenWeb Project - Newton County Page
Table of Contents maintained by:
Carolyn Golowka -- The USGenWeb Archive Project, Newton County, Georgia File Manager
COPYRIGHT NOTICE
All materials contained on these pages are furnished for the free use of those engaged researching their family origins. Any commercial use, or, electronic publishing on another site without the consent of the host/author of these pages is prohibited. All images used on these pages were obtained from sources permitting free distribution, or generated by the author, and are subject to the same restrictions/permissions. All persons contributing material for posting on these pages does so in recognition of their free, non-commercial distribution, and further, is responsible to assure that no copyright is violated by their submission.

Thanks to Rootsweb for providing space for this site
and to the volunteers who sponsor the counties and everyone who has donated files to the site.
Copyright © 1997 - 2005 The USGenWeb Archives Project
Updated: - - Monday, 01-Mar-2010 06:30:25 EST