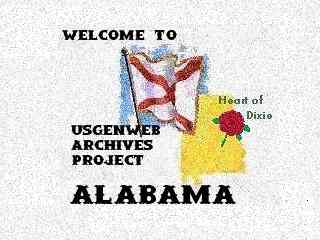 The USGenWeb Archives Project - Alabama
THE STATE OF ALABAMA
*** USGenWeb is not a commercial enterprise and information found on these pages is freely available to the public. ***
---
As much as we would love to be able to help everyone with their family research, we are not able to do so and do not have access to records which are not posted here for your viewing. Please do not send us requests for lookups or research. Thank you!!
---
Welcome to the ALGENWEB Achives!

It is our hope that you might find some piece of important information here that will help you with your search for your family history. If you don't find what you're looking for this visit please return often as we hope to update the Archives on a regular basis. Any contributions of records pertaining to Alabama are most welcomed! You may send your contributions to:
If you have Alabama files you'd like to contribute to the Archives site,
Click here.
---
Adopt a County
Adopt a county and help out by uploading files to the ALGenWeb Archives and maintaining the Table of Contents page for that county. It is easy and by adopting only one county you help out tremendously. Please contact the Alabama File Manager for the USGenWeb Archives Project. Any and all help is appreciated
---
Important!!
When submitting files, be sure to follow the Archives Guidelines and if you need further help, see Help for Submitters
When submitting files for inclusion here, please be sure they are saved/sent in plain text (.txt) format. Please do not use tabs when forming columns, use hard spaces only!! All submissions to the ALGenWeb Archives are uploaded as plain text to make downloading/reading easier for everyone. Thank you.
SPECIAL NOTICE!!!
ALL FILES CONTRIBUTED TO THE ARCHIVES AND TOMBSTONE PROJECT ARE LOCATED IN THE SAME STORAGE SPACE. THERE IS NO NEED TO SUBMIT FILES TO BOTH THE ARCHIVES AND THE TOMBSTONE PROJECT FILE MANAGERS.
Thank You!!
---
Search Engines for the Archives
Search the USGenWeb Archives Project - Alabama
---
County Table Of Contents
CEMETERIES - BY COUNTY - TABLE OF CONTENTS PAGE
---
Click here for a clickable Map Index
Thanks for stopping by and be sure to check back often to see what else has been added!

Table of Contents maintained by:
The USGenWeb Archive Project - Alabama File Manager
Copyright © 1997 - 2022 The USGenWeb Archives Project
Updated: - - Wednesday, 03-Feb-2016 15:51:41 EST