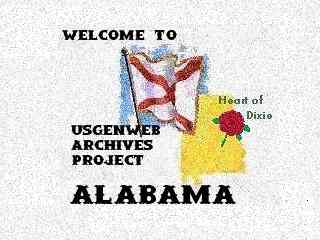 The USGenWeb Archives Project - Alabama
STATE RECORDS
TABLE OF CONTENTS
Records found on this page pertain to the State of Alabama, and refer to several counties.
*** USGenWeb is not a commercial enterprise and information found on these pages is freely available to the public. ***
---
HELP US!!!
If you have Alabama files you'd like to contribute to the Archives site,
please click here or here to transcribe and send in your records or photos or contact:
SORRY, BUT THE ALABAMA FILE MANAGERS CANNOT HELP YOU WITH PERSONAL RESEARCH WE DO NOT LIVE IN ALABAMA AND HAVE NO ACCESS TO ANY RECORDS
---
Search Selected Records in the USGenWeb Archives Project - Alabama
[ Know the town, but not the county? Find the County Here! ]
---
These records pertain to the entire state or to several counties at once.
Example: lists of Civil War Soldiers buried all over the state.
If you have records on a particular person you wish to donate, please go to the county in which they lived and do not enter here. Thank you.
Bible Records
no records available, please help!
Biographies
Cemetery Records
Census Records
Church Records

Court Records -
INCLUDING ALL COURTS, ESTATE, PROBATE & WILLS
no records available, please help!

History
INCLUDES BOOK TRANSCRIPTIONS
Land & Deed Records
INCLUDES SLAVE AND
INDENTURED SERVANT DEEDS
Military Records
Miscellaneous Records
SEE HISTORY
Newspapers
no records available, please help!

Pictures
SEE CEMETERY RECORDS FOR CEMETERY PICTURES

no pictures available, please help!

Slave Records
Slave Records that are found in other subject documents such as wills, church records, Bible records, etc. will be under those subjects. This is for completely seperate slave documents not found under any of the other subject headings. Currently, there are no seperate records available, please help!

Tax Records
no records available, please help!

Vital Records
BIRTHS, MARRIAGES, DEATHS
& SOCIAL SECURITY
The USGenWeb Archives Project- Alabama Main Table of Contents

Table of Contents maintained by:
The USGenWeb Archive Project - Alabama File Manager
Copyright © 1997 - 2021 The USGenWeb Archives Project
Updated: - - Wednesday, 29-Oct-2014 10:45:04 EDT