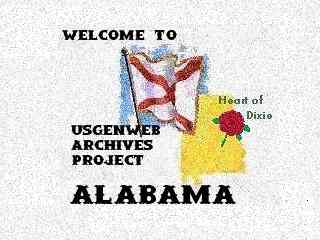 The USGenWeb Archives Project - Alabama
* * * * * * * Barbara Taylor * * * * * * *
Barbara Jean Taylor passed away on January 30, 2018.
It is with sadness that we say goodbye to one of our volunteers.
Over the years she has been so generous in sharing records with this project, you only have to search
the cemeteries to see some of her work. Many of us will find information on our families
which is online and free thanks to her wonderful generosity to this project!
She will be missed.
TALLAPOOSA COUNTY
TABLE OF CONTENTS
*** USGenWeb is not a commercial enterprise and information found on these pages is freely available to the public. ***
---
HELP US!!!
If you have Alabama files you'd like to contribute to the Archives site,
please click here or here to transcribe and send in your records or photos or contact:
SORRY, BUT THE ALABAMA FILE MANAGERS CANNOT HELP YOU WITH PERSONAL RESEARCH WE DO NOT LIVE IN ALABAMA AND HAVE NO ACCESS TO ANY RECORDS
---
Search Selected Records in the USGenWeb Archives Project - Alabama
---
---
The USGenWeb Archives Project - Alabama Main Table of Contents
The ALGenWeb Project - Tallapoosa County Homepage

Table of Contents maintained by:
The USGenWeb Archive Project - Alabama File Manager
Copyright © 1997 - 2023 The USGenWeb Archives Project
Updated: - - Monday, 16-Nov-2020 04:48:17 EST