This page is maintained for the Oklahoma U S Gen Web Archives Project by: Jeff Smith
Oklahoma State File Manager - Gene Phillips

ARCHIVES
Welcome to Rogers County Archives!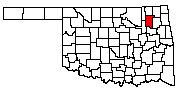 Since I live in Ohio, I cannot personally do any research for you. However I will try to direct you to someone who may help you.
To make this project grow, please submit your information to the Archives. We are looking for transcriptions of cemeteries, deeds, federal census (free, slave, mortality, agriculture, veterans...schedules), state census, vital records (marriage, birth, death), court records (county, federal, civil, circuit, probate....), church records (membership lists, baptisms...), prison records, military records (rosters, muster rolls, service records, pension applications...), land records (deeds, land transfers, federal land grants, surveyor's records..), tax records (land, property, state, federal, local....), newspaper articles (obits, marriage & birth announcements, local events...), family histories, biographies, obituaries and etc. that pertains to Rogers County, Oklahoma - please send them to me for inclusion here. This information needs to be in plain text, no HTML or no images.
This page was last updated on 12/17/16
You are Visitor # 000004823 to this page since 7 October 2008
Rogers County Archive Site
Rogers County US Gen Web


God Bless America