This page is maintained for the Oklahoma U S Gen Web Archives Project by: Jeff Smith
Oklahoma State File Manager - Gene Phillips

Amanzo Harrier and the Cow Bell Restaurant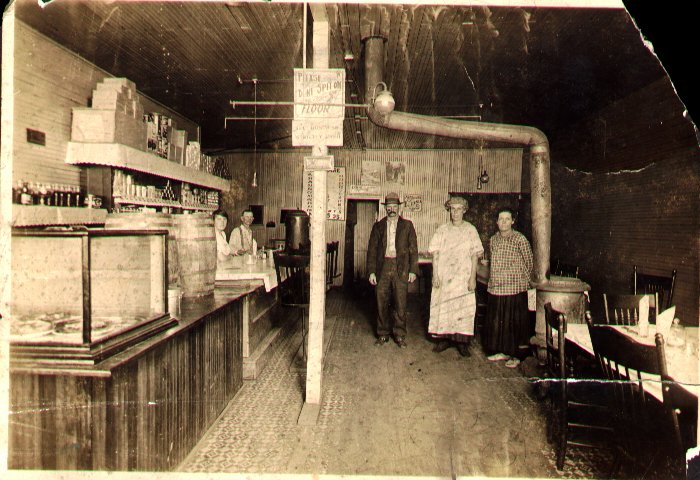 Attached is a photo of a establishment which was named the "COW BELL" restaurant which was in operation probably in the early 1900's. It was located according to our family alblim in Chelsea, Rodgers Co. The person in the white shirt and apron is my great uncle Amanzo Harrier, the woman to his left (close to the stove) is his Cherokee wife Belle. The other person wearing the hat is probably a friend or a close customer.
I would like to find what great aunt Belle's last name was and any other available info concerning the Cow Bell restaurant. I inform you for certain that Amanzo was the first son of George Johnson Harrier a civil war veteran, and his mother was Sara Elizabeth Orr. All these folks are from the Danville, Illinois Vermillion Co. area.
Amanzo left Illinois for some reason but while in Chelsea met and evidently married Belle. Then they evidently sold the business and both moved back to so. Danville. Both I believe are now interned in Songer Cemetery located in Tilton, Ill. which is now part of south Danville.
Any info would greatly be appreciated, and of course any other info which I may posses will be passed on.
Thank you in advance. My name is Loral Verhoeven and I am the grandson of one of Amanzo's brothers.

Thanks for stopping by!
This page was last updated on 12/17/16
Rogers County Archive Site
Rogers County US Gen Web


God Bless America
A SINCERE THANK YOU TO ALL CONTRIBUTORS !!!!!!

Oklahoma US Gen Web Archives Logo (Shield)
courtesy of:


This site maintained and copyrighted by the U S Gen Web Archives Project
US GEN WEB NOTICE:
In keeping with our policy of providing free Information on the Internet, data may be used by non-commercial entities, as long as this message remains on all copied material. These electronic pages may NOT be reproduced in any format for profit or for presentation by other persons or organizations. Files may be printed or copied for Personal use only. Persons or organizations desiring to use this material for purposes other than stated above must obtain the written consent of the file contributor.