MRS. FARAGHER, FAMED
FOR TEA PARTIES, DIES
'Grandma,' Pioneer in Lorain,
Stricken at Age of 88 Today
Ill Two Months
Confidante and Counsellor of
Entire Family Dies at Old Homestead
"Grandma" Faragher's daily tea "parties" are ended forever. At 5:45 this morning, surrounded by four of her surviving children, Mrs. Amelia C. Faragher, 88, affectionately known to four generations of her family and hundreds of other Lorainites as "grandma," died in the old family homestead at 1918 E. Erie-av.
Death came quietly after an illness which has lasted since the Monday before last Thanksgiving. The aged pioneer died in the semi-conscious state which has marked her seven-week illness.
Held Daily Teas for 70 Years
Mrs. Faragher was famous for the tea "parties" which she had held daily for 70 years to members of her family, even to the fourth generation The teas began shortly after she was married and were continued almost daily until the first day of illness on Monday, Nov. 25.
"Grandma" was a life-long resident of Lorain-co. She was born on Dec. 27, 1842, the daughter of Theron and Delia Moore, in Sheffield-twp, near what is now known as Cleveland Beach.
It was in Sheffield that she met and married John Faragher, sailor and shipbuilder who had been born on the Isle of Man and migrated to United States as a young man. Their wedding took place on Feb. 18, 1860. Mr. Faragher died 40 years ago.
Two years after their marriage the young couple moved to what is now Lorain but which was then the western end of Sheffield-twp. They built a log cabin on the site now occupied by the home of L. A. Snell on E. Erie-av.
Lived in Log Cabin
It was in this cabin, that the pioneers spent the years of the Civil war, which Mrs. Faragher recalled quite vividly. She remembered all of the important battles, and the assassination of Lincoln at the close of the war with sadness.
In 1865, Mr. and Mrs. Faragher bought the present home in which she lived until her death.
After several years of shipbuilding, her husband turned to farming and what is now the site of beautiful and modern homes, was the scene of his agricultural activities.
Helped Found Church
When the Delaware-av M. E. Church was organized a half-century ago, both Mr. And Mrs. Faragher took an active part in its foundation and at the time of her death, Mrs. Faragher was one of the few surviving charter members of that congregation.
The "Old Friends' circle," Lorain's sole pioneer society, was the only other affiliation of the aged woman. Her death leaves only three members in this "circle" which originally had a membership of 60 when organized during the last century. These three are Mrs. Fannie Wilford, Mrs. Thomas Bowen, Mrs. Emily Tilden Taft, all of Lorain.
The Party Daily Rite
The daily "tea party" was the biggest thing in "Grandma's" life. It was at these daily affairs that her children, grandchildren and great grandchildren gathered about her. To them it was a rite, which none missed attending. They talked intimately. The confided their troubles in "Grandma" at these times. They sought her advice and her sympathy, which she, with rare kindness and understanding, gave willingly.
On her birthdays, the tea parties became somewhat more elaborate,. The homestead was decorated with flowers and the children came with gifts for their beloved "Grandma."
So great a part of her life had these teas become that even when unconscious during her lengthy illness, she repeatedly asked if the kettle had been put on the stove for tea. She also enquired whether certain ones who were nearly always present for the "party" had arrived yet.
The custom was originated by her husband. Coming in from the field in the middle of the morning, he would stop long enough to sip a cup of tea and "visit" for a few minutes. After his death, the custom was continued by "Gram" and the children until it became a tradition that was ended only by illness and death.
Forty-seven Survivors
Living survivors who have all attended these parties, number 47. Four of her children who were among the first to attend, are dead. There are five children, 21 grandchildren and 21 great grandchildren.
Those children who are still living are Mrs. Nellie Crehore, Lorain; Mrs. Delia Todd, Cleveland Heights; Mrs. Lottie Cameron, wife of A. E. Cameron, Lorain banker; Bert Faragher and Theron Faragher, both of Lorain.
Those who are dead were Dr. John Faragher, who was city dairy and food inspector (this position is now held by Dr. W. H. Todd, a grandson); Charles, Harry and Anna Faragher.
One Sister Survives
Mrs. Faragher was one of ---- children, but of this number only one, Mrs. J. A. Hewitt, Cleveland Heights, remains.
Mrs. Faragher's kindness was not confined to her many descendants. She always found time to help others. She was a good neighbor to all and her anonymous deeds of charity are legion. She was "Grandma" to hundreds because of her kind deeds and cheery nature.
A Boy's Tribute
The sentiment of these "neighbors" is expressed simply in the words of a little newspaper carrier whose eyes glistened with the suspicion of a tear today as he heard of "Grandma" death.
Swallowing his grief, the ---- said: "She was wonderful - had a cookie settin' on the table inside the door every afternoon."
Funeral services will be conducted at 2 p. m. Monday in the home with Rev. H. J. Thompson, former Delaware-av M. E. Pastor, officiating. Rev. Virgil Turner, present pastor, will assist. Interment, under direction of Sidney B. Royce, will be in Garfield cemetery at Sheffield.
'GRANDMA' PASSES ON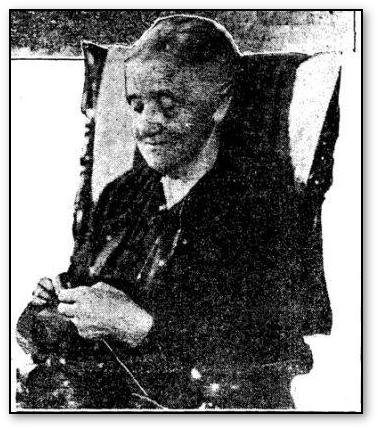 Accompanying picture:

Next to her daily tea parties, Mrs. Amelia 'Grandma" Faragher, 88, pioneer Lorainite, who died early today, liked to sit in her home and look out over Lake Erie. This picture shows "Gram" in her favorite chair, before her favorite window."