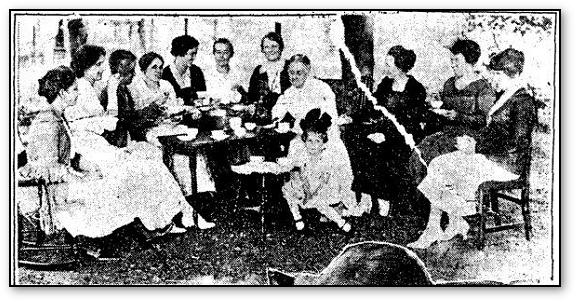 In the center of the group above, Grandma Faragher is seen pouring tea for members of her family, as it has been her custom to do every morning for 60 years. Those in the picture are, left to right: Mrs. A. E. Cameron, a daughter; Mrs. Theron Faragher, a daughter-in-law, both of Lorain; Mrs. Delia Todd, a daughter, 955 Elbon Road, Cleveland Heights; Mrs. George Crehore, jr., a granddaughter-in-law; Mrs. Arthur Briggs, Macedon, N. Y., a granddaughter; Mrs. George Crehore, a daughter, Lorain; Mrs. W. A. Jewitt, a sister, 2624 Wellington Road, Cleveland Heights; Grandma Faragher; Mrs. Charles Faragher, a daughter-in-law, Mrs. David Hunter, a . . . . . . . . . . . . . . . ., New Orleans, La., and Mrs. Elizabeth Faragher, a daughter-in-law. The child in front of grandma is Mildred Faragher, a granddaughter.
---
POURS TEA EVERY DAY FOR 60 YEARS

Lorain Woman Retains Old Custom; Great-Grandchildren Among Guests

By J. C. Daschbach
(Staff Correspondent)

Lorain, O., Sept. 7 - Every morning for 60 years "Grandma" Farragher has been hostess at tea in the rambling old frame farm house on the shore of Lake Erie, out in Lorain's east end, a mile or so from the center of the town.

The house has been the home of Grandma Faragher for 65 of the nearly 87 years she has lived. Her full name is Amelia C. Faragher. She is the widow of Capt. John Faragher, farmer, builder of ships and navigator of the Great Lakes.

The guests at these daily functions have been the aged woman's children, later joined by her granchildren and now by her great grandchildren.

She Wouldn't Approve


Grandma Faragher would not approve the use of those words "hostess" and "guests" and "functions."

"The children just drop in of a morning and we have a cup of tea and some cookies," is the way she tells about it.

"Everybody seems to know about it. I just don't know how it got put so. But we have had our tea every morning for 60 years. At first it was at 10 o'clock but now it's at 9."

These "tea parties" started back in the days that Capt. Faragher devoted his time to farming his 100- acre tract, that spread out about the house in which his widow now resides.

A farmer's work starts early and he has breakfast long before city folk begin to think about getting up. So at 10 every morning Capt. Faragher would come to the house to have his cup of tea and a chat with his wife.

Children came to bless their household and, as they grew old enough, they joined their parents in the morning function. And so it has continued on down through two generations.

When Capt. Faragher gave up farming entirely, the hour was changed to 9. It has been so for many years. Capt. Faragher died 35 years ago.

But to this day the big kettle hums and sputters in the big farm house kitchen and the tea pot is ready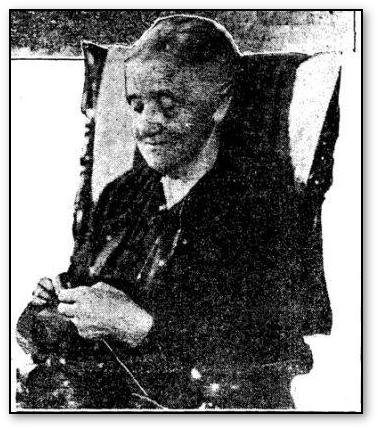 to brew a cup for all who come. Sometimes there is only one daughter there. Sometimes there are twenty sons and daughters, grandchildren and geat grandchildren.
No outsiders are ever given special invitations, but everybody in Lorain knows that no person will be turned away without a refreshing cup and a heap of tasty cookies if he should happen to drop in at tea hour.
One of the delights of these daily affairs in that Grandma Faragher bakes all the cookies herself. It is one of the things in which she takes great pride.
To see this great grandmother bustling about the big, fourteen-room farm house, one would never suspect that she was born so long ago as Dec. 27, 1842. She is tall and carries herself as erect as when she married Capt. Faragher back in the pre-Civil War days - on Feb. 18, 1860.
She Gets Tired
Only the other morning, as she was having her tea with only one of her daughters present, she remarked how thankful she should be that she should have come to such an age without being burdened by disease.
"The only thing is," she said , "I feel a little tired now and then. I do the ironing in the afternoon now, for it seems to be a little easier then."
Feels a little tired! And shouldn't a woman of nearly 87 so after she had done all the housework that the big farm house requires. She lives in the house with only her gaandson, Lloyd Faragher, whose father, Dr. J. L. Faragher, a veterinarian, died several years ago.
The house is now known as 1918 E. Erie Avneue, Lorain. There was not even a country lane there when Capt. Faragher and his wife built the house more than 65 years ago.
Now it faces one of the busiest traffic arteries of the sate. E. Erie Avenue is a ------------------------ Road in Cuyahoga County, and is part of State Route 2, which runs through the principal cities along the shores of Lake Erie to the west of Cleveland.
Orchard Now Park.
Directly across the road from the Faragher homestead is Century Park, one of Lorain's public playground plots. Originally it was the Faragher apple orchard.
Many years ago, Capt. Faragher planted some maple trees among the fruit trees.
"I don't know," he remarked to his wife, "whether we'll ever get any enjoyment of them, but some day our children may enjoy the shade after the apple trees have finished bearing."
Capt. Faragher did not know how well he predicted. He was the father of ten children - six sons and four daughters. Two sons and three daughters reside in homes --------- confines of the original 100-acre farm. The other daughter is Mrs. Delia Todd, 955 Elbon Road, Cleveland Heights.
Those still living near the old homestead are Bert and Theron M. Faragher, Mrs. George Crehore and Mrs. A. E. Cameron.
Besides the five children, Grandma Faragher's family now consists of 23 grandchildren, and twenty great grandchildren.
Leonard Case's Cousin
Grandma Faragher's father was Capt. Theron Moore, a sturdy New England Yankee, who came to Ohio to build ships to ply on the Great Lakes.
Her mother was Delia Case, who came from Pennsylvania. She was a cousin of Leoanrd Case, founder of the Case School of Applied Science.
Grandma was born at Cleveland Beach, then in Sheffield Township, only a few miles east of the place in which she now lives. Often at her morning teas, she recounts the days of her father's shipbuilding.
When there was a launching, men and women came from miles around to participate in the festivities. She tells how coffee and cakes and many other delicacies and were served to the throngs. Those were days of great excitement and much merry-making.
Capt. Faragher came from the Isle of Man when he was 8 years old. His father - also Capt. John Faragher - was likewise a builder of ships. The elder Faragher brought his family to America from the Isle of Man in a vessel he had built. The voyage took three months - a strange contrast to the round-the-world trip of the Graf Zeppelin.
A Perilous Passage
The ship in which the Faraghers sailed encountered heavy storms. The mast was snapped off. Repairs had to be made and there were many hardships.
The elder Faragher brought his family to Ohio and settled in Warrensville. Northern Ohio was selected as a home site because the elder Faragher desired a place where all his sons could have farms.
Their mutual interest in shipbuilding brought the Moore and the Faragher families together, and so it happened that a daughter of the Moores married a son of the Faraghers.
At first they lived near the Moore home at Cleveland Beach, but later the 100-acre farm, a little to the west along the lake shore, was bought.
The farm prospered under Capt. Farahger and his wife. Cleveland was their market. They raised the usual variety of farm products - grain, hay, fruit, poultry and vegetables.
Long Wagon Jaunts
Grandma Faragher often tells at the morning teas of the long journeys by wagon to Cleveland to sell the produce.
It was then an over-night trip, and one not to be taken lightly. She prepared the poultry and many other things to make them inviting to the market patrons.
When Capt. Faragher died 35 years ago, his widow entertained summer boarders for many years. The place became famous among Clevelanders. The rambling house was ideal for the purpose.
The Faragher place was reached by taking the Nickel Plate Road and getting off at "Aker's Haystack."
The stop derived its name from the fact that a Nickel Plate official, named Aker, had a place near by and had the morning and evening local trains stopped there.