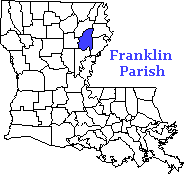 PERSONAL FAMILY & HISTORY WEBSITES
WITH FRANKLIN PARISH, LA CONNECTIONS
Please remember that when submitting these sites for inclusion that they *must* have a Franklin Parish, Louisiana connection! These sites are not a part of the USGenWeb Archives Project. These are the personal websites of the submitter.
GET INVOLVED!


We are looking for any historical documents, articles, photos, etc. Everyone is urged to donate transcriptions of Franklin Parish bible records, cemeteries, court records, old newspaper articles, biographies of residents, old letters, census data, obituaries, family histories, parish histories, military records, old photographs, etc.
You can send your documents to DeWanna Lindo if you would like to contribute to the Franklin Parish Archive Project.
Franklin Parish Contributors List
© 1998-2006 LAGenWeb Archives by DeWanna Lindo Coordinator : LAGenWeb Archives