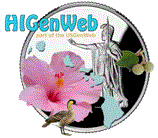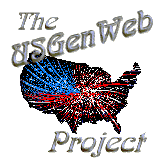 Honolulu Co., Hawaii Queries, 1998
---
Jaime Abregana Jr. Wed Jan 7 1998 14:40:44
ABREGANA family,also spelled Abrigana, Abrigano, Abregano. Jaime Abreganaborn: 30 Mar 1935 in Ewa, HI. Died on 16 Nov 1994 in Hilo, HI. Married toMarylou SANTIAGO of Hakalau, HI. Sons: Jaime Jr married to Renee C. PADUA,Jason, Jed, and Jay. Jaime Abregana has four brothers: Dominador, Zack,Raymond, and Jose, and one sister Olivia Betonio. Any info; E-mail me or write me at P.O.Box 2106, Ewa Beach, HI 96706

Jaime Abregana Jr.Wed Jan 7 1998 14:47:38
Any information on the PAMAT family will help. Victoria Pamat from Cebuborn:1908 and died: 1940 in Waianae, HI. Formly from Ewa, HI, married toAtanacio Abrigana also from Cebu. See ABREGANA FAMILY.

Jaime Abregana Jr. Wed Jan 7 1998 14:56:39
BAOY Family. Might also be spelled Bohol from Cebu?Visayas. Mother of Atanacio Abrigana from Cebu. Lived in Ewa, HI. Any information would help. See ABREGANA FAMILY.

Bill IselinFri Jan 23 1998 20:01:50
Hello my name is Bill Iselin. My father's sister Frieda J (Iselin) MATTHEWMAN was the widow of Judge Albert Matthewman in Hawaii for years. Perhaps someone knew her as she tought high school for years in Honolulu.I know nothing about the Judge and would appreciate anything you might have to share. Aloha ! Bill Iselin

Sandra PerezThu Feb 26 1998 16:06:10
Joaquim Guilherme PERREIRA & Victornia Emilia emmigrated Sao Roque, Sao Miguel to Hawaii in 1881 (Suffolk). They had two daughters and two younger sons. Their daughter Augusta married J. D. ANDREWS (my great-grand-parents). They had 16 children. Their eldest child, Julia, (my grandmother) was born in Honolulu. The family later lived on the Big Island in Kurtistown and Olaa.Augusta's sister, Maria Julia, was 23 years old in 1881. I do not know who she married or where she lived. I also do not know where Joaquim & Victorina lived. Julia married George L. MACBRIDE in Mountain View. The witnesses at their wedding were Donald & Jane STEWART. George went to work in Aiea and in 1902 their first daughter, Myrtle, was born in Honolulu.Sandra Perez8588 Pleasants Vly. Rd. Winters, CA 95694(916) 795-1311

Chris NgTue Mar 3 1998 22:33:05
I was recently told my grandfather had a son prior to raising the familyin which my mother was born in. I am very interested in finding thisperson. The only information I have is his mothers name was BarbaraMcGUIRE or McGURKEE and he was born in honolulu in 1947. Mygrandfathers name is Clarence NG.

Olive RathbunTue Mar 10 1998 07:07:00
I am looking for any information about my father Charles P. CARSON. He was born on April 30, 1894 at Detroit, Michigan to John CARSON and Elizabeth FLEMMING. He was raised in Montana by his FLEMMING aunts. Then on June 18, 1916, he enlisted into the U.S. Army(serial # R-81-767) at Shelby, Montana. Eventually, he was stationed atSchofield Barracks, Honolulu County, Hawaii from 1919 to 1939. If anybodyhas information about my father, contact me.

Holly Carmichael MaySun Mar 22 1998 00:39:58
I researching my husband's father's family on Oahu. Both of his parentswere born and raised there. I will start with the paternal side of thefamily. Surname: MAY I'm looking for any descendants of Frank May b. 31Dec 1882 Honolulu, Hawaii. sp. Elizabeth Daniels b. 28 Feb 1887, Honolulu< Hawaii. m. 06 Jul 1907, Honolulu, Hawaii. Children: HenryAlexander b. 04 NOV 1907 sp. Cecilia BESHAW. William Franklin Kaheakulani b. 19 Mar 1909 sp. Alice (?). Arthur Charleston, deceased. DoreenTessible Leinaala b. 02 Nov 1911, sp. Bernard WAH, Geneveve ElizabethUlulani Kawhekio, b. 23 Feb 1913 sp. (?) DODDS. Anyone with any info onthese surnames or people please contact me. I would like to hear from anyone familiar with the surname NAPOLEON inHonolulu County. This is granma's maiden name. She has a zillion relativesand I am trying to put a family list together. Some anscestors: NihiNAPOLEON, Sp/ Dorcas Pamahoa KAMAIHUI. Titus (NIHI) NAPOLEON, b. 16 Arp1875 sp Minnie BROWN. There were 12 children in Nihi & Dorcas' family. 10 in the other.Thanks for any help.

Puanani Muller Sun Mar 22 1998 06:28:26
Seeking information on birthmother Lorraine YAMASHIRO (maiden name) whogave birth to a girl child on Nov. 16,1939 at Kapiolani Hospital,Lorraine would be about 75 to 80 years old. Also on Garret FREEMAN (notsure of spelling) similiar age, only know that he was "a big handsomekanaka, a Maui boy"...Mahalo

Susan Marling Sun Mar 29 1998 19:11:53
I am researching my husband's family in Honolulu County, Hawaii. Mymother-in-law in Doris Carol SAMANS dob c. 14 Mar 1932 in Honolulu. Shehas/had two sisters, Rebecca and unknown. Her parents were Stanley WilliamSAMANS and Wilhemina Stewart PETERMAN. Stanley William SAMANS came toHonolulu with the French military. Wilhemina Stewart PETERMAN was born c.25 Oct 1916. Her parents came to Honolulu on a mission from Boston. Hermother's maiden name was QUINN. From what I have been told they owned alot of land which was eventually sold to Dole Pineapple.If anyone has any information, please let me know.Thank you, Susan

Becky CleoSun Mar 29 1998 20:55:10
I am seeking info on a Junaita SANTIAGO who married a Peter David AUKI. They lived on a mountain above Pearl Harbor, because their daughter, Martha, remembers the planes coming to bomb Pearl. She was a small child so would have been born about 1930/31. Any info on this family appreciated. They are my grandson's greatparents.Thanks, Becky

Scarlett RoseThu May 7 1998 15:13:09
NOBRIGA, John Manuel born in Oahu on May 10, 1910.One known sibling, an older brother Ernest. Parentsnames were Manuel and Julia. They came from Madiera,Portugal at unknown date. Looking for any informationabout John, who is my husband's father, as well as any information about his parents or family.

Cheryl CreacyThu May 8 1998 18:09:209
KEPAA/KAKALIA/KALAAULA/LAANUI I am interested in finding out information onmy ohana. My mothers name was Mary KealakaihonuaKAKALIA KEPAA..her mothers name was Mary Apitaka KAKALIA who married William Mokoopio KEPAA. My dad's name was Joseph Kamauoha LAANUI, his mother's name was Hoopiiona KILA and changed her name to Rev. Daisy KALAAUPA. She married to Joseph LAANUI, Sr. I know they had children but don't know any infor on them. If anyone has any info on my ohana please contact me. Kepaa-Maui, Kakalia-Maui, Kealakaihonua-Maui,Kallaupa-Maui, Laanui-Maui-Oahu-Big Island, Doctorello-Oahu-Big Island,KauhaaPo-Maui, Iona, Abraham-Oahu, Rickard, Robert & Rose-Maui-Oahu.

Gerlynn Leialoha Silva Sun Oct 11 1998 01:37:17
My ancestor's name is Annie Naukana KAUIHANA. I discovered her namelisted at Pueo cemetery in the book Hawaii State Cemeteries published inJanuary 1987.

Geoff SpenceSun Oct 11 1998 09:37:49
I'm trying to find anything about my Great Uncle Seymour TERRY. He moved from England abt 1937 to become manager of the Honolulu Steel Works.He lived in Wakiki Heights until he died in April 1970. His SS No. was575-03-6177(HI)He was born West Hartlepool, Co Durham, England 27th May 1886. Anythingwould be greatly appreciated.

Darla MitchellThu Nov 19 1998 08:04:23
Looking for ancestors of Iwalani Amelia JAEGER d:1954. She is to bedecendent of King Kamehameha III. She married Thomas Edgar ROBINSON whom was born in England and came to Hawaii with his father (first name unknown)an Episcopalian missinary from England. Thomas Edgar and Iwalani had twochildren: David Keith robinson born in Honolulu in 1921, died in 1987 or1988 and Joan Robinson BRANDT died in 1998.

Larry KwiatkowskiThu Nov 19 1998 08:25:03
Researching the LUKA family from North Kohala/Kawaihae on the Big Islandand from Waialua on Oahu.Also researching the GUERREIRO family from Waialua and Ewa. I have quite abit of information about the Guerreiro family, but am sorely lacking info on the Luka family.Mahalo nui loa.

Kalani MondoyWed Dec 16 1998 07:17:58
Looking for relatives, mainly half brothers & sisters of my maternalgrandmother on O'ahu. My grandmother's name was Julia KAWEWEHI and for atime used her mom's maiden name of "Akuhuna" , but she died under the nameof Ruth Iola GAGNE in 1970. She had a younger brother Earl T., whosefather was Samuel Makehu KAWEWEHI and died in the 40s. My grandmother alsoknew her half sister, Perdita (Deeta) IAEA of Honolulu. The other siblings were Helen IAEA and Jack AKI. Anyone with the know abouts of these peopleif they are still alive and especially their descendants, please contactme.

---