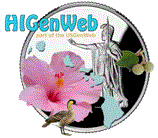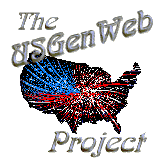 Honolulu Co., Hawaii Queries, 1996
---
Alexander Kaimana Tue Oct22 19:22:39 1996
Looking for information on the family of Joseph KAIMANA.Date of birth unknown, date of death March 2, 1993. From theIsland of Oahu he was my grandfather.

DeWanna Lindo SunNov 17 21:53:42 1996
I am looking for info on the following families.Alfred LINDO-- came from Azores to HawaiiCathrine DE LIMAPedro PARAGOSO--came from Philipines to Hawaii in the 1920'sThanks for any help.

DeWanna Lindo WedNov 20 22:02:22 1996
I am researching my husbands family. I have an Antonio Pereira LINDO akaAntone Lindo PEREIRA, born in Madeira in 1859. He married a Maria DeLuzaka Maria Rodrigues who arrive in Hawaii in 1883, her parents were Manuel Jocinto Rodrigues and Ramona? It is told that Maria had to use another last name to sneak into the country. A lot of the Pereiras changed their names to Perry. Some went to Hawaii and California. I would appreciate any info on these families.

John D. Bennett Fri Nov 2216:36:00 1996
I am looking for any information on David W. A. KAHOOKANO born abt 1865 in North Kohala, Hawaii and who died on Feb. 8, 1900 in Honolulu.

Rosemary Braun Sat Dec 717:08:20 1996
Any information for Arthur 'Bob' EVANS b:1885 French Lick, Orange Co., IN. discharged from Army at Hawaii 1919. Appears on 1920 census City of Honolulu with wife Elizabeth (she and parents born Hawaii). He was working for the Lum family at Waimanalo in 1948. Any help will be appreciated.

---