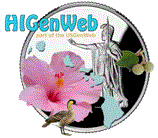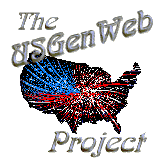 Honolulu Co., Hawaii Queries, 1997
---
Robert Jensen Sun Jan 12 1997 09:10:55
I am also researching the surnames HOLCK, POKEO, LEE/Norway. Peter Leewas manager of the Volcano House from 1891-1898. Peter Lee came from Norway to Punaluu, Hawaii. Jacob Martinius Holck came from Bergen, Norway to Honolulu than Punaluu, Hawaii. Mary Ann Pokeo was a native Hawaiian. Any information would be very much appreaciated.

John Marcella Wed Jan 15 1997 20:17:35
Looking for information on Joao de Freitas MARCELLA who left Madeira on ship Victoria in 1899. Joao married Josephina de SOUZA in 1901 in Waipahu; they divorced abt 1911 Joao moved to Kauai. Josephina de Souza, b. 1866 in Hawaii, was the daughter of Francisco de Souza and Maria de JESUS. After divorcing Joao, she remarried to Vidal RODRIGUESand she died in Waialua, Oahu in 1926.

Lyn ChambersThu Jan 16 1997 19:02:27
I am seeking family information on Thomas M. McCREARY he lived in Hawaii during WW2, M. Katherine (maiden name unknown), had two children, son Thomas D. McCreary and daughter Betty (married name unknown). Both were born in Hawaii. Last known address is Nashville, TN. If you have any information on this family please contact me at e-mail address. Thank you

Leonard Pheobus Mon Jan 20 1997 04:03:47
Looking for ancestors of the following, from Honolulu Passos, Able DeMatta, Joseph frm Portugal 27 June 1907 Rosa, Maria Haole Pa'pi'ku Kea'hi'pu'hia, Anna Miranda, Antonio may be from Philipines

Daphne Pimenta Tue Jan 21 1997 10:58:53
PIMENTA; PIMENTEL; PIMENTAL - Looking for any information on this surname. All responses appreciated and answered.

Kathy Brewka Tue Jan 28 1997 17:59:49
I am just getting started on research in Hawaii. Names I'm looking for so far are as follows: SILVA-Honolulu, MATTOS-Honolulu, both from Portugal. BERNARD-unknwn what county or where immigrated from, but told is Portuguese. SEEGERS-unknown, also told is Portuguese. Known to have been in HI in 1920...can't find any sooner. Any pointers would be greatly appreciated.

Beverly Collins Sat Feb 1 1997 17:15:13
Trying to locate descendants of Winifred MADEIRA. She lived in Honolulu, in the vicinity of Pearl Harbor in 1939, 1940 and 1941.

Lin Palmer Fri Feb 7 1997 16:23:55
I am in the process of researching my family's genealogy and am contacting you hoping that I may be able to find some "lost"; ancestors. Thanks for taking the time to read this; I appreciate any help. Are any of the following names/dates/locations familiar? Isabella Agnes deMELLO (my mother)born: 14 November, 1914 in Hilo, HI her parents: Jacintho deMELLO born: 26 May, 1883 in Kilauea, Kauai, HI died: 03 November, 1963 in Honolulu, HI and Victoria daSILVA born: 12 October, 1882 in Hilo, HI died: 14 November, 1963 in Honolulu, HI Jacintho deMELLO's parents: Julio Faveres deMELLO and Anna Julia, immigrated to HI from the Azores in September, 1882 Julio and Anna's children in order of birth: Jose, Alfredo, Jacintho, Benjamin, Caesar, Emil, Ida. Victoria daSILVA's parents: Joseph SILVAGloria CUNHA. Victoria and Joseph's children surviving childhood in order of birth: Matilda, Catherine, Isabella Agnes, Emily.

Gerri Serrano Mon Feb 24 1997 10:57:17
I am looking for anyone with the surnames of CAMARGO, RAMOS, or PIKINI. I think some came from Hilo and some from Honolulu. Pikini came from Waimanalo. Anyone with these surnames or knowing anyone or anything about these names please, please let me know. I have not had any luck with any of these names. Also the last name of CAMBALIZA. All ancestors arefrom Hawaii and Puerto Rico and the Philippines and they moved from Hawaii to San Francisco. Please help. Send any info to my e-mail thank you very much. If I can help anyone in CA please let me know I live in Milpitas, CA (by San Jose, CA) Thanks again Gerri

Anthony M. Jose Mon Feb 24 1997 21:44:41
Death information on Manuel RAPOZO who died in Honolulu ca. 1937 -1940

Dawn Tavares Wed Mar 5 10:14:07 1997
Seeking information about my great-grandmother, Lucille K. Chamberlain NOTT. Birthdate uncertain, but believed to be 1890-1900, died 1973 in Honolulu. Said to have been adopted by the Chamberlains from a parochial orphanage that burned down (on Maui?). Also said to have been the first Hawaiian woman to teach English in the schools. Known to have married James NottIII and owned property in St. Louis Heights and Punalu'u. Four daughters: Ellen, Dorothy, Pearl, and Alberta. Her brother (name unknown) is said to have been imprisoned in the state mental institution for speaking out against the provisional government after the overthrow of the monarchy. He was later found hanging in his cell, supposedly a suicide. Hawaiian name possibly Opi'i or Opihi. We don't know what name her middle initial stands for. Any information appreciated.

LauraLee Luna Fri Mar 7 14:17:48 1997
We are trying to begin a search on our family name of LUNA. Originally they were from Manila, Philipines, Simplicio DeLuna immigrated to Hawaii (Oahu) around 1917. His soon to be wife, Martina EYAREZ, immigrated a few months later. The family story tells of the name changing from DeLuna to Luna on the official immigration papers for Hawaii (we are uncertain of when the change truly took place.)
Simplicio and Martina worked in the pineapple fields outside of Wahiawa (Oahu) Hawaii and gave birth to several children. A few names of those children are Alfredo (my father-in-law), Bernard, Natividad (unsure of spelling), Emmanual and Rose. We would appreciate any help in tracing this name back to the Philipines. Thank you.
Audrey Hernandez Wed Mar 12 10:12:00 1997
I am looking for any information on my ancestors from both parents. my mother's maiden name was FIGUEROA and I know her family originally lived on Kauai. Her mother's maiden name was BONILLA. My father's family lived on the island of Oahu but his grandparents were originally from Portugal. I believe they were part of the big migration during the late 1800's and early 1900's. His last name is PHILLIPS but I believe it was changed from Philipe. Any information would be greatly appreciated. I was born and raised in Wahiawa on the island of Oahu and I would like to document as much of my ancestry for my daughters as I possibly can.

Sandi Derby Sun Mar 16 11:05:30 1997
We are looking for any 'DERBY' that was related to Hans Christian Derby whose brothers were: Christian Peder Derby, and Adolph Peder Derby. Hans could possibly have had a daughter named Milla. Hans married to a Chinese or Hawaiian woman, name unknown. Time frame around 1920's to 1940's. Any response would be greatly appreciated!!

Kim DauplaiseWed Mar 19 11:26:25 1997
I am searching for relatives with the surname TAZAWA. The main person would have a link to Yvonne (Youvonne) Tazawa. She should have been around 20 or 30 years of age in 1946. She had a daughter, Lynda C. in May of 1946. Contact me for more information.

S. Sadowski Fri Mar 28 01:07:26 1997
Seeking any information on Mee Hing CHONG and his wife Shee HO. Both were born in China about 1860. Shee HO was orginally married to CHANG then to CHONG. My grandfather William F. YIN CHONG was one of their children. I have been able to locate their gravesite behind Punchbowl but have no other information about them. Would especially like to know if my greatgrandmother had any other HO relatives in Hawaii. Sing Chang was one of her children from her first marriage. Thank you.

Geoff Spence Sat Apr 12 12:31:33 1997
Looking for any information on Seymour TERRY, born County Durham or Yorkshire, England, 27 May 1886; died in Honolulu April 1970. Believed to have been manager of a local Steel Works. SSN 575-03-6177. Any help could be reciprocated.

Mr. Shannon Rathbun Fri Apr 25 15:31:45 1997
My name is Mr. Shannon Rathbun and I am making a genealogy inquiry about my grandfather Mr. Charles P. CARSON. He was born on April 30, 1894 at Detroit, Michigan. His parents were John CARSON and Elizabeth CARSON (Fleming). His mother died shortly thereafter due to childbirth complication and his mother's sisters came to Michigan from Montana and took him back to raise. Most likely in the Cut Bank, Shelby or Helena areas. On June 18, 1916, Charles P. CARSON enlisted into the United States Army (serial # R-81-767) at Shelby, Montana. He served in various units and finally wound up at Schofield Barracks, Hawaii as an element of the 21st Infantry: Company H. He served there many years as a drill instructor until July of 1939. He was married on March 11, 1939 to Orpah (Orfie) Belle CARSON (Mitchell) at Eaton Rapids, Michigan. He had three children: Olive, Aloha and Donna. That is all that we know about my grandfather. If you have any information about my grandfather, please contact either via E-mail through this website or via the following address: Mrs. Olive Rathbun (Carson) 2679 South Canal Road

Steve Luck Mon Apr 28 20:36:21 1997
Searching for information in Honolulu about Robert "Lucky" LUCK. Was a Marine in WWII and an entertainer in Honolulu. Played in several episodes of Hawaii 5-0 in the past. Any help would be appreciated. He was the emcee for Don Ho back in the 60's when Don was with the Aliis at Duke's. Any information would be most helpful.

John Monschke Sun May 25 1997 19:13:07
We have been told in doing research on our family that one of the relations was Mayor or some high official of Honolulu, Honolulu County. His name was RILEY - LAWSON RILEY born June 20, 1896 stateside, possibly Texas. Was there ever a Mayor Lawson RILEY of Honolulu. Any information you have on this will be greatly appreciated. Please E-Mail me. Thank you.

Kathleen Greene Thu Jun 5 1997 06:09:28
FALKE - GREENE Arthur Albert GREENE and Gretvhen A. FALKE were married in 1917 and lived in Hawaii from 1919 to after 1934. Arthur was a lawyer and in 1934 Arthur was given post in Secretary of the Territory of Hawaii. Arthur Albert was a city editor for newspaper in Honolulu before 1919, Gretchen A. FALK was grand daughter of owner of copra plantstions in HI. Any help would be very kind of you. Arthur is my great uncle. Did they have children? When did they die and where? Thank you.

Valerie Freeman Wed Jun 11 1997 22:06:57
RICE - MITCHELL - ALPENFELS: I am looking for info on my GG Grandparents and their decendentes: Charles James MITCHELL (b. Nov 1872/England) and Isabella RICE (b. Nov 1876/Hawaii) He emmigrated to Hawaii in 1894 and was a Customs Employee per 1900 census. Married 30 Nov 1898 in Honolulu. They had at least three children: Albert MITCHELL (Oct 1895), Olga H. MITCHELL (Dec 1897) and John MITCHELL (Sept 1899). Olga married William Francis ALPENFELS on 19 June 1916 in Honolulu and had one child (my Grandfather) Donald William ALPENFELS (b. 21 Dec 1918/Portland, OR) Olga & William divorced in June 1923. Olga was never heard from again. My G Grandfather remarried. Any information on Olga or her relations would be grately appreciated. Valerie

David Clark Sousa Fri Jun 13 1997 07:05:59
Looking for information on Mary Elizabeth Woolsey CLARK. gr.grandmother...Honolulu area starting around 1840 is the information we have..abt. 1840 Brother John PEMBERTON married Malekuli? Their daughter, Eliza Pemberton married William George WOOLSEY aprox 1860? Their daughter Mary Elizabeth Woolsey, married my gr.grandfather David Wilson Clark..Newspaper "The Friend"; April 1880 gives date as April 8, this city by the Rev. H.H. Parker. Does anyone have any information on WOOLSEY, PEMBERTON, CLARK? please E-mail and thanks for your help. David Clark Sousa

Laurie Pelayo Sat Jun 14 1997 17:55:06
Looking for the ancestors or descendants of August(Augoost) de SILVA and his wife Virginia FERRIERA. He was born in Honolulu 8 Aug 1886, Virginia 14 Oct 1890 in Hilo. His parents were Joao Joaquim de Silva and his mother Constantina. Virginia's father was Antone Ferriera and her step-mother Anna de Jesus Fustina. Their families both originated in Portugal. Their children: Manuel, David, Isabella, Alice, Margaret, Annie, Carlina, Cecilia, Albert, Clarence and Mary. Any information would be greatly appreciated!

Linda K. Head Sun Jun 15 1997 19:04:15
Any help in locating information about the MOSSMAN Ohana for my boyfriend, Steve. Specifically trying to learn the Mossman Ohana aumakua. Father: Herman Stephen TACHERA; Grandmother: Elizabeth Ann Mossman b:9/7/17 - d:1/18/52; Great Grandfather; Douglas Ralph Mossman.Mahalo.

Jenny Power Fri Jun 20 1997 20:25:00
I am searching for information relating to a distant relative by the name Lilui TEMBO (A.K.A.William TAMBREE). He was born in Honolulu, Sandwich Islands in about 1837 parents unknown. He arrived in Sydney, Australia in about 1853 (possibly jumping from trading ship). He married Mary NOON and later in 1888 died in Bathurst, NSW, Australia. Any information would be appreciated, including the origin of the surname TEMBO.

Maxine Enos Mon Jun 23 1997 14:09:59
I am looking for info on Manuel Cabral ENOS he was the strongest man on the island and he married a princess in 1890's is there anything about him

Linda Allred Cooper Mon Jul 13 1997 06:10:34
I'm searching for information on my uncle, Charles Howard HOPPUS, who was a Marine stationed in Honolulu just prior to and during the bombing of Pearl Harbor and WWII. While in Hawaii, he met and married a native Hawaiian. They may have had a child. I have information on our family that I am willing to share. You can either e-mail me or write: P.O. Box 415, Pittsboro, NC 27312. Thanks, Linda

Suzanna Tabares Sun Aug 17 1997 12:07:47
This might be too sketchy but looking for cemetary records for a Suzanna TABARES. Jose and Suzanna Tabares came to Hawaii from Siebou, Phillipines in approximately 1918. Jose was deported cir. 1924 , leaving 2 sons in St. Anthony's orphanage and taking a 3rd son back to Phillipines. Suzanna died in Hawaii (Oahu?) pre 1924. Seeking information on Luciano Tabares who was evenetually taken out of the orphanage by his older brother. The family was working on a sugar plantation.

Bonnie FullerSat Oct 18 1997 11:52:03
Seeking first cousin: Rita Gladimay LUFFMAN, b. May 3, 1940 in Honolulu to Jack Luffman (my uncle) and Elizabeth Kanae KIKAHA. He left Hawaii within a year and never returned. Rita has never known her fathers family. Genealogical interest only. Please ask her to contact me.

Nancy NallyThu Nov 6 1997 02:13:08
Looking for info on descendants of Vincent M. & Emma (BUCKWOOD) FITZSIMMONS. Vincent was born in NY and shipped from New London, CT on a whaler in 1851. (His parents and the majority of his family migrated to Hillsdale Co., Mich. in 1837) In 1853 he left the ship in Hawaii. He was editor/owner of the Honolulu Gazette. Vincent M. & Emma Fitzsimmons had three children: Arthur, Lydia, and Vincent. Lydia married TP CUMMINS and they resided in Honolulu. Their children were John, Thomas, Raplee, Moslee, Alvin, Wood, and an infant b. ca.1912.

Ron FilionFri Nov 7 1997 14:42:48
I am doing some research into John Meirs HORNER, who was a California pioneer in the San Fransico bay area. After he made his history here, he moved to Hawaii in 1879 and contracted with Claus Spreckles to cultivate sugar. He supposedly made another fortune and eventually died on 16 May 1907. Thank you, Ron Filion

Bill Baty Sr.Sat Nov 15 1997 00:33:30
Would appreciate any information about Manuel ALEMEIDA and decendents. He lived at the end of Kamaloa Road near Haleiwa the early part of this century. Thank You.

Kimberly ScottTue Nov 25 1997 07:49:40
I am looking for info on the BUTZKE family. Arrived in Honolulu County abt. 1898. Brothers Charlie and Herman came over from the mainland to find work. Believe Charlie worked as a plumber on Iolani Palace. Charlie had 3 sons while in Hawaii, Albert, Herbert, and John Butzke. Looking for info in Charlie and Herman's parents from Germany, or any info on the family while in Hawaii.

John L. MaurathSat Dec 13 1997 22:24:37
Seeking anyone who might have known Father Justin E. MAURATH, M.M. (Maryknoll Missionary). Father MAURATH's first assignment as a Maryknoll Missionary priest was to Sacred Heart Parish in Honolulu around 1949. He was there several years, and all who knew him, loved him. He fell in love with the people and with Honolulu, and adopted it as his home, buying a house at 1901 Coyne Ave. (across from the 7-11 store). This home was turned over to the gracious BRAZ family and sold just a few years ago. When Father Justin was re-assigned to another part of the world, he made it a point to keep in touch with his Honolulu families, and to come back frequently for visits and vacations. Honolulu was now his permanent home, and he desired to be buried there when he died. But when he died on Jan.11, 1988, his family desired for him to be buried back home on the mainland, and so he is buried in Jefferson Barracks National Cemetery in St.Louis, Missouri. A book is being written about his life, and the family would greatly appreciate hearing from any of you who might have known him. Please send responses to: John L. Maurath 8808 Eggeling La.St.Louis, MO. 63127

---