New Hope (Little Vine) Cemetery
Reynolds, Georgia
Heritage Baptist Church
New Name
DIRECTIONS:
Location: South of Reynolds on Road 150. Next to New Hope Primitive Baptist Church
This is Reynolds oldest cemetery.
Thanks to Lisa and Warren Windham for the photographs of these tombstones. Many of us would never have the opportunity to see these graves in person.
Click on photo for larger view
---
Page 1 | Page 2 | Page 3 | Page 4
---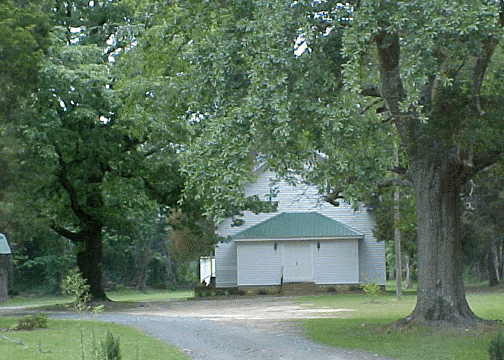 New Hope Primitive Baptist Church. (NEW name is Heritage Baptist Church). The Cemetery is next to the church, although not primarily for members, but for the entire Reynolds Community before other cemeteries were used in Reynolds, i.e Hillcrest.

Face the woods, your back to the road, the church is on your right & more woods on your left; start right, go left, back & forth through the entire cemetery until you get to Rev C J Mathis. His & all the graves after him are located in the woods on the left.

Plot means it is enclosed by a fence or curbing.
---
R>L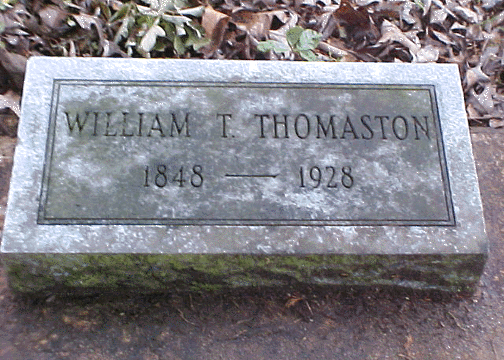 Thomaston, William T.
1848 - 1928











Crowley, Charles M(enix), Jr. "Chuck"
b. 02/15/1960 Macon, Bibb County, GA  
d. 06/10/1997 Hampton, Spalding County, GA
s/o Charles Menix Crowley, Sr. & Ann Eubanks
he, parents and grandparents were active in the New Hope Church







 Windham Plot











Isaiah Hoke T Windham
Georgia - Wagoner 151 MG BN 42 Division - WWI
b. 08/04/1891  d. 02/01/1951
 s/o George J Windham & Harriett Poole
m. 02/28/1920 in Taylor County, Georgia to
Mamie E Driskell, d/o John C Driskell & Sally Eugenia Nelson
b. 09/25/1900  d. 01/20/1968
Issue:
Wendell Windham
Frank Windham
Jack Windham















Mamie Driskell Windham, d/o John C Driskell & Sally Nelson
b. 09/25/1900 d. 01/20/1968
m. 01/28/1920 in Taylor County GA to
Isaiah Hoke T Windham, s/o George J Windham & Harriett Poole
b. 08/04/1891 d. 02/01/1951


Issue:
Wendell Windham
Frank Windham
Jack Windham



















Jack Windham, s/o Isaiah Hoke T Windham & Mamie Driskell
b. 05/17/1923 d. 07/03/1938

He was riding his bicycle to school and was killed when hit by a car





Several sinks, one with head marker base & foot marker








Reynold's oldest cemetery once had a covered grave.







This is all that's left of the "cover" that was over part of the cemetery housing Henry G Taunton's & several other graves.  There are several "sinks" there on both side of Henry Taunton, one of which is believed to be Elizabeth H Maddox Bryan Taunton.  The base for the head marker & the foot marker are both there but no marker with name, etc. on it.




---













Taunton, Henry G. (CSA)
(no dates on tombstone
Co C, 59th Regiment - GA Infantry
(June 15, 1836 Macon Co - ? bef 1898 Macon Telegraph))

unmarked, but believed to be buried here
Taunton, Mrs. E.H.
Jul 3, 1854 - Jul 16, 1888
[Elizabeth H Maddox Bryan Taunton]

















Peannie Amerson Jones
    April 13, 1840 - April 23, 1904
    Daughter of Thomas & Sarah Taunton Amerson, 1st wife of Mahlon Jones 
















Alexander Pope Jones   (Unmarked)
    April 1820 - July 18, 1909
Grave of 1st wife, Mary Montgomery, is in Montgomery
family cemetery in Crowell; grave of 2nd wife,
Catherine Parrish, is unknown.














Daniel Hardy Jones   (Unmarked)
    Jan 20, 1881 - (I don't know his deathdate but he died long after his father)
    Never married; son of Alexander Pope and Catherine Parrish Jones














Unknown burial Jones










Samuel Pope Jones
Jan. 22, 1853 - April 11, 1905
Son of Alexander and Mary Montgomery Jones















Benjamin F Doles
b. 1874  d. 1876
[Son of James and S.W. Doles]


You can see where we had this marker repaired 7-8 years ago.














Cofield, Julia Windham
Aug 6, 1886- Apr 18, 1924
(d/o John J Windham & Mary Blair), w/o W J Cofield











Bula Leona Windham, d/o John J Windham & Mary Blair Windham (Fowler)
b. 09/29/1889  d. 03/23/1921

Never married















Fowler, Mary Blair Windham
Sept 5, 1857 - Dec 25, 1932

m. (1)  John J Windham Aft. 04/1881 (m. (1) Mary Lavinia Underwood)
m. (2)  John B Fowler, b. 1854  d. 1940 (buried Little Bethel Church Cemetery, Macon Co GA)




















John J Windham, s/o John Windham & Unknown
b. 09/18/1818  d. 04/04/1895
m. 08/14/1842 in Taylor County GA to
(1)  Mary Lavinia Underwood, d/o William Underwood &
Martha Yelverton (m. [1] Carter Mitchell Bef. 1842;
Issue:  William E Mitchell, Mary Mitchell, Martha
Mitchell & Charity Mitchell)
b. 04/05/1812  d. 04/04/1881
Issue:
Eliza Frances Windham
Isaiah Hoke Windham
Sarah J Windham
George J Windham
John Franklin Windham
Emma C Windham
Charles Dennard Windham
Martha Windham
Rebecca Windham


(2) m. ? to
Mary Blair Windham (Fowler)
b. 09/05/1857  d. 12/25/1932
Issue:
Julia Windham
Bula Leona Windham
Jay Windham
Walter Windham















Mary Lavinia Underwood Windham, d/o William Underwood & Martha Yelverton
b. 04/05/1812  d. 04/04/1881
m. 08/14/1842 in Taylor County GA to
John J Windham, s/o John Windham & Unknown
b. 09/18/1818  d. 04/04/1895
Issue:
Eliza Frances Windham
Isaiah Hoke Windham
Sara J Windham
George J Windham
John Franklin Windham
Emma C Windham
Charles Dennard Windham
Martha Windham
Rebecca Windham

















Windham, Reuben
ca 1805- Oct 15, 1880
(husband of Jinsey)


Windham, Jinsey Doles
ca 1812 - ca 1857






Ruffin Plot









This is a fenced in Ruffin plot.










Ruffin, James Johnson
Nov 14, 1814 - Feb 21, 1905
Confederat Veteran - State Guard
Veteran of Indian Wars

Ruffin, Sarah Averett
Jun 16, 1816 - Feb 11, 1888
(wife of James Johnson Ruffin)












Close up J.J. Ruffin and wife, Sarah Averett Ruffin








Also buried here are their grandchildren
children of their son George T. Ruffin








Ruffin, George Allen
Aug 28, 1880 - Oct 28, 1882
(son of George T. and Mary McDaniel Ruffin; g/son of James J. and Sarah Ruffin)















Ruffin, Helen Mims
Nov 9, 1894 - Jul 13, 1896
(daughter of George T. and Mary McDaniel Ruffin; g/son of James J. and Sarah 
Ruffin)






Ruffin, James G.
Nov 21, 1889 - Oct 17, 1890
(son of George T. and Mary McDaniel Ruffin; g/son of James J. and Sarah Ruffin)















McDaniel, Marion
Dec 18, 1860 - Nov 2, 1881
(21 yr old)
(Buried in Ruffin plot next to Allen Whittington)
(brother to Ella Mary McDaniel Ruffin - G.T. Ruffin's wife)
(5 yrs older than Ella Mary)
(son of Mary Lindsey McDaniel)















Whittington, Allen
1825 ? 64 yrs- Feb 21, 1883
(buried in Ruffin plot. Father of G.T. Ruffin's wife)
Aged 64 years









(unmarked)
Humphries, Sallie Mae
Mar 1881 - April 20, 1882
(died of pneumonia & whooping cough) Obit
(d/o DuBose and Susan Fannie Ruffin Humphries)
(granddaughter of J.J. and Sarah Averett Ruffin)

Humphries, J. D. [Dennis]
Dec 7, 1878 - Aug 18, 1883
4 yrs 8 mo 11 days
Died of congestion
(d/o DuBose and Susan Fannie Ruffin Humphries)
(grandson of J.J. and Sarah Averett Ruffin)
















---






[ 
   Back to Taylor GAGenWeb Archives Table of Contents ]



~~~~~~~~~~~~~~~~~~~~~




These files were contributed for use in the USGenWeb

by:  Lisa and Warren Windham

Copyright.  All rights reserved.

http://www.usgwarchives.net/copyright.htm

~~~~~~~~~~~~~~~~~~~~~