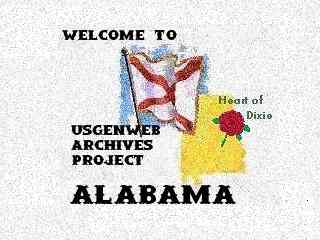 The USGenWeb Archives Project - Alabama
WILCOX COUNTY
OBITUARIES
SURNAMES T
*** USGenWeb is not a commercial enterprise and information found on these pages is freely available to the public. ***
---
HELP US!!!
If you have Alabama files you'd like to contribute to the Archives site,
Click here or here transcribe and send in your records or photos or contact:
SORRY, BUT THE ALABAMA FILE MANAGERS CANNOT HELP YOU WITH PERSONAL RESEARCH WE DO NOT LIVE IN ALABAMA AND HAVE NO ACCESS TO ANY RECORDS
---
Search Selected Records in the USGenWeb Archives Project - Alabama
---
Email Registry For Contributors

Any time you see this symbol next to a name, they have registered their e-mail address at
The Registry.
This will be their current address.
---
If you are looking for a particular person, try the search engine above.
It will search for any name in the database for Wilcox County.
You might try just the last name to start.
A very special thank you to
Stephen Lee
for all his hard work transcribing hundreds of
articles from the newspapers and other information.
---
Click on the letter below for the surname you are researching
If there is no link, there are no surnames beginning with that letter at this time.
A B C D E F G H I J K L M N O P Q R S T U V W X Y Z
---
Obituaries - Surnames T
| | | | |
| --- | --- | --- | --- |
| Description | Date of Death/Notice | Date | Submitter |
| Miscellaneous Obituary/Death Notices | | Jun 2003 | Stephen Lee |
| Tait, Fannie Dean | March 27, 1906 | Jan 2004 | Stephen Lee |
| Tait, Narcissa Goree, Mrs. | March 8, 1907 | Jan 2004 | Stephen Lee |
| Tait, Robert | April 1, 1907 | Jan 2004 | Stephen Lee |
| Tate, Walter | April 1904 | Dec 2003 | Stephen Lee |
| Till, Addie Ethel | August 5, 1904 | Dec 2003 | Stephen Lee |
| Turner, John | June 1906 | Jan 2004 | Stephen Lee |
The USGenWeb Archives Project - Alabama Wilcox County Table of Contents
The USGenWeb Archives Project - Alabama Main Table of Contents
The ALGenWeb Project - Wilcox County Homepage

Table of Contents maintained by:
The USGenWeb Archive Project - Alabama File Manager
Copyright © 1997 - 2023 The USGenWeb Archives Project
Updated: - - Wednesday, 11-Jun-2008 15:58:29 EDT