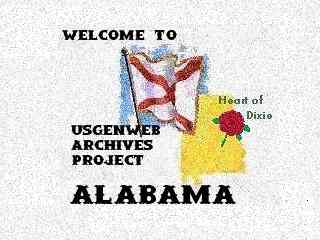 The USGenWeb Archives Project - Alabama
STATEWIDE
HISTORY
Records found on this page pertain to the State of Alabama, and to refer to several counties.
*** USGenWeb is not a commercial enterprise and information found on these pages is freely available to the public. ***
---
HELP US!!!
If you have Alabama files you'd like to contribute to the Archives site,
Click here or here transcribe and send in your records or photos or contact:
SORRY, BUT THE ALABAMA FILE MANAGERS CANNOT HELP YOU WITH PERSONAL RESEARCH WE DO NOT LIVE IN ALABAMA AND HAVE NO ACCESS TO ANY RECORDS
---
Search Selected Records in the USGenWeb Archives Project - Alabama
[ Know the town, but not the county? Find the County Here! ]
---
Email Registry For Contributors

Any time you see this symbol next to a name, they have registered their e-mail address at
The Registry.
This will be their current address.
---
History
Books
The USGenWeb Archives Project - Alabama Statewide Table of Contents
The USGenWeb Archives Project- Alabama Main Table of Contents

Table of Contents maintained by:
The USGenWeb Archive Project - Alabama File Manager
Copyright © 1997 - 2022 The USGenWeb Archives Project
Updated: - - Thursday, 31-Jul-2008 12:39:40 EDT
You' re our [an error occurred while processing this directive] Archives Visitor since 08 Oct 2002 when this new counter was installed. Thanks for stopping by and be sure to check back often to see what else has been added!