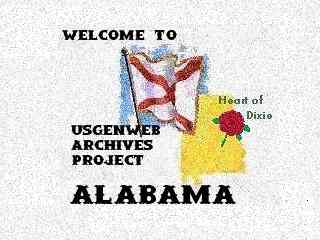 The USGenWeb Archives Project - Alabama
STATE RECORDS
CIVIL WAR SOLDIERS
& WHERE THEY ARE BURIED
Records found on this page pertain to the State of Alabama, and to refer to several counties.
*** USGenWeb is not a commercial enterprise and information found on these pages is freely available to the public. ***
---
HELP US!!!
If you have Alabama files you'd like to contribute to the Archives site,
Click here or here transcribe and send in your records or photos or contact:
SORRY, BUT THE ALABAMA FILE MANAGERS CANNOT HELP YOU WITH PERSONAL RESEARCH WE DO NOT LIVE IN ALABAMA AND HAVE NO ACCESS TO ANY RECORDS
---
Search Selected Records in the USGenWeb Archives Project - Alabama

[ Know the town, but not the county? Find the County Here! ]
---
Email Registry For Contributors

Any time you see this symbol next to a name, they have registered their e-mail address at
The Registry.
This will be their current address.
---
This project had its roots in tracking down my mom's great-grandfather who served with the 46th Ala. Infantry, Co. K. On the third trip to Randolph County, I located his grave site. This spurred an interest in learning a bit about the men with whom he served - so began the trips to libraries. Oh, why stop with Company K, so off we (my wife and I) went to research the entire Regiment. At this point, it dawned on me, that if I had an interest in this area -so would others. Thus, the graves registration project was born.

We have scoured libraries from Huntsville to Gulf Shores and from Sulligent to Roanoke, visited cemeteries on weekends, have been given information by a multitude of individuals (having SCV contacts is an asset), and posted queries on the 'net. This project is a truly open-ended one. The late Homer Jones of Ozark has shared from his work in the same area. (I really wish I could have made his personal acquaintance - alas, another of life's regrets.)
Thanks so much for your interest and if this is of help to others - my reward is complete.
Updated March - August 2013
---
Civil War Veterans' Burial Sites, By Surname
The USGenWeb Archives Project - Statewide Cemetery Table of Contents
The USGenWeb Archives Project - Alabama Cemetery Table of Contents
The USGenWeb Tombstone Project - Alabama
----------------------------------------
The USGenWeb Archives Project - Alabama Statewide Table of Contents
The USGenWeb Archives Project- Alabama Main Table of Contents

Table of Contents maintained by:
The USGenWeb Archive Project - Alabama File Manager
Copyright © 1997 - 2019 The USGenWeb Archives Project
Updated: - - Tuesday, 27-Aug-2013 16:09:03 EDT