---
This page is part of a FREE site located at http://www.usgwarchives.net/oh/tompics/index.htm. If you
have arrived here from somewhere else, and are in a frame, you can
click the correct url of this page to break free of the frame.
---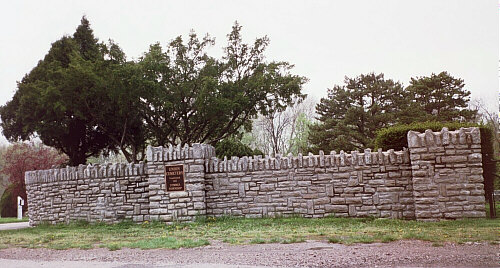 Closer view of sign
Loveland
Symmes Twp.
Hamilton County
To donate Cemetery photos for any of the cemeteries below
please read our How to Donate Page.
We need your help to grow!
---
These transcriptions & tombstone photos have been generously donated by Barbara Bonomini,
on 15 Feb., 2003.
This cemetery located at the corner of Union Cemetery Rd. & Montgomery Rd., in Loveland, Hamilton Co., Ohio.
The most recent update was made on 23 June, 2011.
---
These are all graves that I found that seem to connect together. It is not complete yet as it will take a few more days out there to locate all that relate to this group. This is a smaller medium size Cemetary, very hilly and landscaped beautifully with tree, bushes and some flowers. Most of these graves are in the first few rows of the oldest looking section next to the chapel. Samuel Arbuckle and Nancy Berry Arbuckle his wife are in the very northwest corner of the cemetary.


View of Chapel area & Closer view of Chapel

Arbuckle;
Ruth Arbuckle Apgar b. 3/4/1825 d. 5/20/1907 wife of Benjah Apgar
Reubin Arbuckle d. 2/27/1845 13 months 27 days old son of Joseph and Mary Arbuckle
Arbuckle, Nancy, wife of Samuel Arbuckle, d. Apr. 28 1873, aged 79 y 6 m 15 d
Arbuckle, Samuel, d. Oct. 31 1874, aged 85 y's 7 m's & 19 d's
An inscription below dates of memorial:-Oh death thou hast conquered me, And by thy hand I'm slain, But Christ our Lord has conquered him, And I shall rtise again.
Overview of Arbuckle memorial

Next to Arbuckles with no last names on graves;
ALEXANDER 1834-1920 Co.#E830V1
MARTHA A. 1836-1953
ISELLA 1868-1953
HARPER;
WILLIAM W. HARPER 1837-1919
JAN GUNTER HARPER wife of WILLIAM W. 1835-1892
J. HARPER 1821-1905 entombed w/
NANCY J. HARPER 1842-1899
ELIZABETH HARPER wife of J. d. 1/11/1879 age 55 years old
CENA HARPER THORNELL 1843-1926
HULDA RICH HARPER b. 9/15/1853 d. 5/14/1916
JOHN F. HARPER b 7/31/1851 d. 2/28/1935
MARY A. HARPER 1821-1896
JOHN HARPER 1819-1873
SADIE HARPER d. 9/29/1900 CORA HARPER 1864-1904
JAMES H. HARPER 1837-1912
MARGARET G. HARPER 1834-1912
ROSS;
JOSEPH ROSS d. 9/19/1849 age 24 years 2 months 6 days
JOHN ROSS JR. d. 7/24/1845 age 22 years 2 months 26 days
JOHN ROSS d. 8/13/1844 age 52 years 15 days
DAVID ROSS d. 11/28/1843 age 26 years 6 moths 13 days
TIRZAH JANE ROSS daughter of DAVID I. and AMANDA ROSS
JOHN ROSS 1757-1820**** A SOLDIER OF THE REVOLUTION 8th CO. 7th BATTALION FROM JUNIATA CO., PA.. CAME TO OHIO 1812
JANE ROSS 1760-1830 wife of JOHN above daughter of JAMES IRWIN of MIFFLIN CO.,PA
CLENDENON ROSS d. 8/10/1838 42 years 2 months 3 days
SAMUEL ROSS b. 11/21/1824 d. 2/12/1850
HANNAH ROSS d. 10/19/1852
JOSEPH ROSS d. 4/18/1856 27 years old
SAMUEL ROSS d. 2/6/1841 24 years 7 months 13 days son of GEORGE and MARGARET ROSS
JAMES ROSS d. 10/26/1839 27 years 5 months 27 days so of GEORGE and MARGARET ROSS
GEORGE ROSS JR. d. 8/20/1838 19 years 6 months 24 days son of GEORGE and MARGARET ROSS
MARY A. ROSS d. 3/6/1883
GEORGE ROSS d. 2/14/1860 73 years 1 month
MARGARET ROSS d. 7/20/1876 85 years 8 months wife of GEORGE ROSS
NANCY JANE ROSS d. 7/22/1842 daughter of JOHN and MARY (grave was in with ENYART plots)
CALVERT;
ESTELL son of DEAN and INEZ CALVERT
ERASTUS DEAN CALVERT b. 1/30/1892 d. 6/3/1977
CARRIE INEZ CALVERT b. 5/1/1898 d. 5/12/1976
RALSTON;
JANE RALSTON d. 6/29/1837 27 years 5 mos 11 days
SAMUEL DAVIS 1834-1913
ELIZA JANE DAVIS 1835-1914
Other surnames, same era buried near
BEALS
MILLER
MARTIN
STEWART
SNYDER
WAGNER
ENYART
BARTHOLOMEW
ERTL
HORSELY
HUGHES
Back to Hamilton County Index
---
Return to the OHGenWeb Tombstone Photo Project Index
Return to the OHGenWeb Tombstone Project
Return to the OHGenWeb Archives
This page is maintained by, Robert M. Sizelove, Sr., your Project Manager.
---
Files contributed are for use by the OHGenWeb Tombstone Photo Project
and by the OHGenWeb Archives Project
USGENWEB NOTICE: All documents, including these electronic photographs placed in the USGenWeb Archives remain the property of the contributors, who retain publication rights in accordance with US Copyright Laws and Regulations. In keeping with our policy of providing free information on the Internet, these documents may be used by anyone for their personal research. They may be used by non-commercial entities, when written permission is obtained from the contributor, so long as all notices and submitter information are included. These electronic pages, may NOT be reproduced in any format for profit. Any other use, including copying files to other sites, requires permission from the contributors PRIOR to uploading to the other sites. The submitter has given permission to the USGenWeb Archives to store the file permanently for free access.
© 2001-2017 Robert M. Sizelove, Sr. © 2001 Mary Ann Hetrick © 2000 Debbie Barrett