How To Set-up WS_ftp LE for your page.
FTP Extras that make life a little easier when uploading.
Download ws_ftp free by clicking here.
Make a new folder in your C: drive, name it using the name given you when your adoption was completed.. Save all files for your state in this folder.
Open the ws_ftp program
Setting Up ws_ftp
Click New
Fill in information as follows-

Profile Name: Name of your state.

Host Name/Address: usgwarchives.net

Host Type: Automatic detect

User ID: the user ID that was given to you.

Password: the password that was given to you.

Check the box "Save Pwd

Click OK
Getting comfortable with WS_FTP LE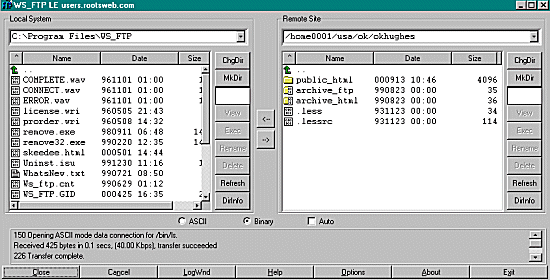 Left Side of Dialog Box = Local System
It list all files on your computer.
Double clicking the small green arrow
"twice" will show all folders listed in
your C:\ drive

Middle of Dialog Box
Directional arrows above are used to
transfer the files.
Clicking once on a file to highlight it
and then clicking a directional arrow
will transfer the file.

The ASCII is use for html/htm/text
The Binary option is use for images

Right Side of Dialog Box = Remote Site
By clicking the public_html folder,
you can view all files that are on the
state website.
Downloading Files To Your Computer
Find your County Folder (the one you made)
in the "Local System" (left side)

Double click the folder to open it

Highlight any file you want to DOWNLOAD
from the "Remote Site" by clicking on it once.

Click the arrow in the middle of dialog box
to transfer file to your "Local System"
county folder

This only copies the file, it does not delete the file from online.
Uploading files to website

Click once on the file you want to upload to highlight it.
Now click on the arrow and the file will be transferred
to your online state site

Files uploaded with same file name will replace existing file
All files that are highlighted will be uploaded.

If you add an image (gif or jpg) to the page/file you edit
than you will also need to upload the image (gif or jpg)
along with the page/file (html) to be able to view image
online.

When finished click Exit.