BOWERS MANSION TOMBSTONES
Washoe County, Nevada
All photos taken by Holly Hart of Oxnard, California
Copyright 2005
The Bowers Mansion is located in Washoe Valley, on Franktown Road, 19 miles south of Reno, on the way to Carson City. Access Franktown Rd. from US 395; the junction is marked with a "Bowers Mansion" sign.

A brief History of the Bowers Mansion
The gravesite sits in back of the mansion at the top of a rise. In the early 1990s, a group of Masons erected a new stone at the site. Before that time only the three individual small gravestones shown below were there.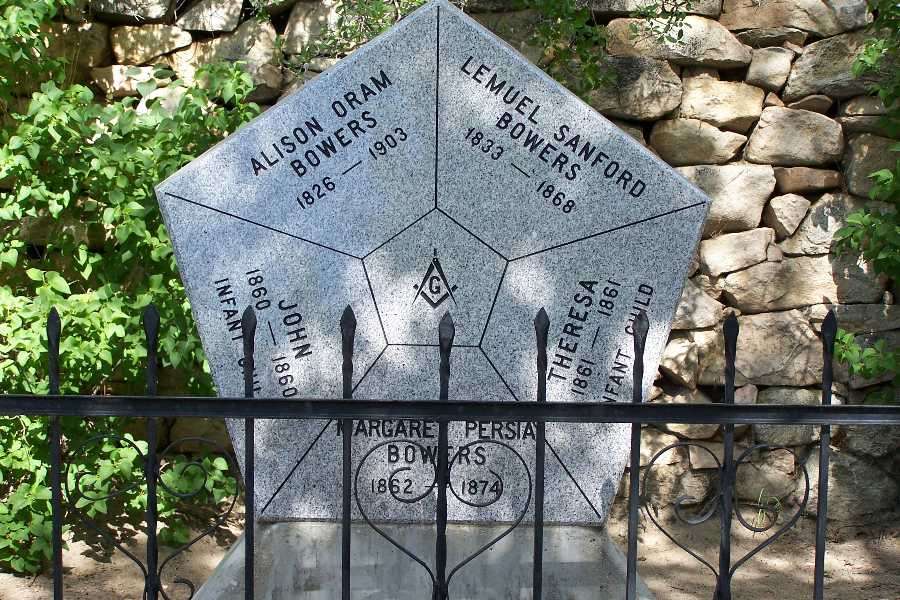 This monument, erected by the Masons, shows the following:
Alison Orum Bowers, 1826-1923
Lemuel Sanford "Sandy" Bowers 1833-1868
Theresa Bowers, 1861-1861 "Infant Child"
Margaret Persia Bowers, 1862-1874
John Bowers, 1860-1860 "Infant Child"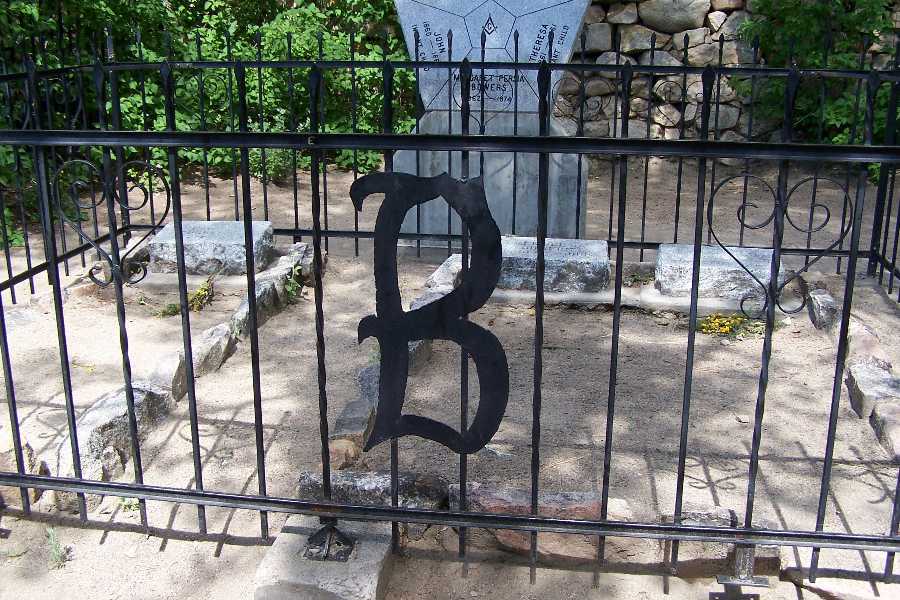 Burial site for Lemuel "Sandy" Bowers and his family
Lemuel Sanford "Sandy" Bowers
1830-1868
Eilley Orrum Bowers
1826-1903
About Eilley
Persia Bowers
1862-1874
For inquiries about Nevada Cemeteries, burials and/or this project, or about this page or the pictures,
contact Gerry Perry, Nevada Tombstone Project Manager,
---
This page was last updated August 3, 2008
Copyright © 2008 USGenWeb Tombstone Project, Gerry Perry
USGENWEB NOTICE: In keeping with our policy of providing free information on the internet, material may be freely used by non-commercial entities, as long as this notice remains on all copied files and permission is obtained by the contributor of this file.
USGENWEB ARCHIVES NOTICE: These electronic pages may NOT be reproduced in any format for profit or presentation by any other organization or persons. Persons or organizations desiring to use this material, must obtain the written consent of the contributor, or the legal representative of the submitter, and contact the listed USGenWeb archivist with proof of this consent.