GOLD BUTTE
(East of Overton Arm of Lake Mead)

All photos by Patricia & Daniel Scott
(copyright 2001) unless indicated otherwise

In the 1920's, Art COLEMAN relocated to Gold Butte. He reassembled a home purchased from Arizona and eventually teamed up with William GARRETT. They lived in this area for over forty years. Their graves are located in an iron enclosed area located at what was once the back of the home COLEMAN had made. The home is gone now, and little is left except for two small cemetery squares which appear to have been the foundation for perhaps a store house. Over the years, COLEMAN and GARRETT's home was "the" social place due to GARRETT's skill with a still. There are remains of a well, but not much else!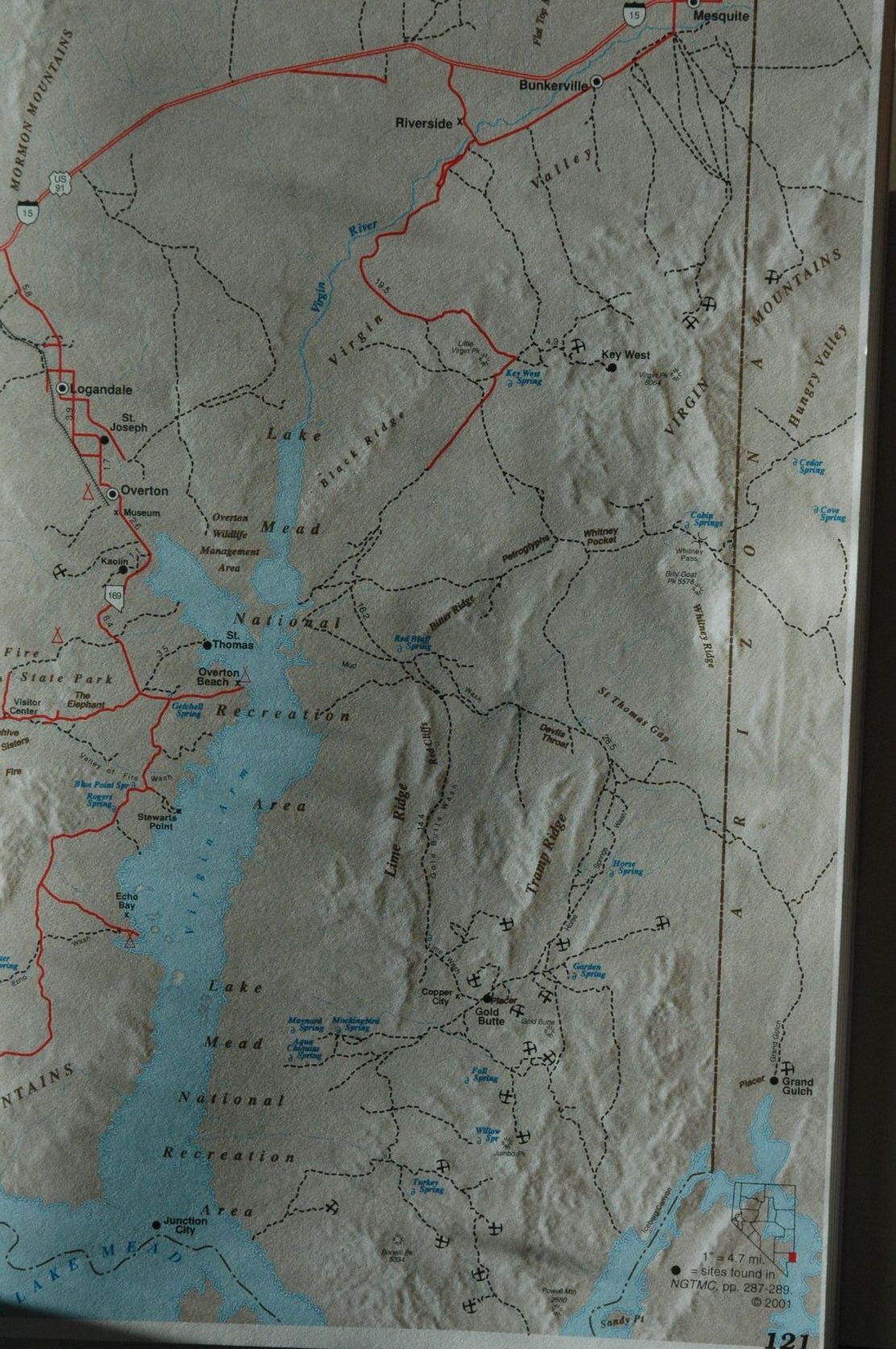 Map showing Overton Arm of Lake Mead with
Gold Butte located adjacent to the word "Lake"
photo by Patricia Westlund (copyright 2007)
For inquiries about Nevada Cemeteries, burials and/or this project, or about this page or the pictures,
contact Gerry Perry the Nevada Tombstone Coordinator,
---
This page was last updated July 31, 2008
Copyright © 2008 USGenWeb Tombstone Project, Gerry Perry
USGENWEB NOTICE: In keeping with our policy of providing free information on the internet, material may be freely used by non-commercial entities, as long as this notice remains on all copied files and permission is obtained by the contributor of this file.
USGENWEB ARCHIVES NOTICE: These electronic pages may NOT be reproduced in any format for profit or presentation by any other organization or persons. Persons or organizations desiring to use this material, must obtain the written consent of the contributor, or the legal representative of the submitter, and contact the listed USGenWeb archivist with proof of this consent.