MENU:

If you have a submission or update for the USGenWeb Archives Newsletter, please feel free to email that link to arc_rwr@ev1.net.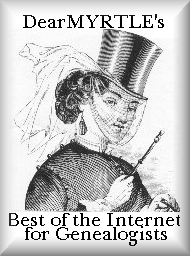 You are the [an error occurred while processing this directive]
visitor to this page!
May 1, 2000
CENSUS IMAGES ONLINE IN THE USGENWEB ARCHIVES: — Table of Contents
NEW ADDITIONS:
MICHIGAN
USGenWeb Archives Census Project
Census Additions/Updates

As part of the USGenWeb Archives Special Collection Project, transcriptions of the historical publications are being uploaded to the Archives.
Beginning as a publication in 1892 as the William and Mary College Quarterly Historical Papers, in 1894 (Vol. 3) the Journal title changed to William and Mary College Quarterly Historical Magazine. In 1944 (3rd. series, Vol. 1) the Journal assumed its current title, The William and Mary Quarterly.
Transcriptions of any of those quarterlies are welcome.

OTHER USGENWEB ARCHIVES SUBMISSIONS THIS LAST WEEK:
KENTUCKY
Jessamine County
James Carter Butler Family Graveyard

NEW HAMPSHIRE
Carroll County

Biography of EMILY A. BRUCE, M.D. of Wolfborough

OHIO
Knox County