Maple Grove Cemetery
Mason, Ingham County
-Q-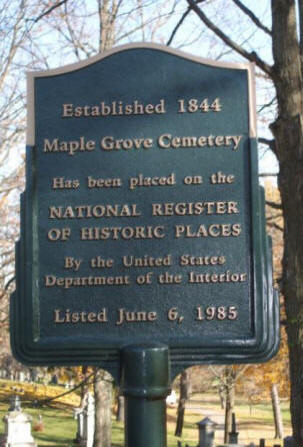 Maple Grove Cemetery's is located in 219 N. Jefferson Street, Vevay Township, Mason, Michigan.
Though the address of the cemetery is on N. Jefferson, the entrance on Jefferson Street is no longer open.
The only entrance is located on North East Street.
---
Surname page index

Headstones
(Click on the underlined links to view the tombstone photograph)
---
Would you like to help by submitting your photos to this project? If so, please read How to Take and Submit Photos.
Then you can submit your photos by clicking here or here.
---
Return to: Michigan USGenWeb Archives

Return to: Michigan USGenWeb Tombstone Photo Project
---
Table of Contents maintained by:
Wayne Summers - Ingham County File Manager
COPYRIGHT NOTICE
All materials contained on these pages are furnished for the free use of those engaged researching their family origins. Any commercial use, or, electronic publishing on another site without the consent of the host/author of these pages is prohibited. All images used on these pages were obtained from sources permitting free distribution, or generated by the author, and are subject to the same restrictions/permissions. All persons contributing material for posting on these pages does so in recognition of their free, non-commercial distribution, and further, is responsible to assure that no copyright is violated by their submission.
Thanks to the volunteers who sponsor the counties and everyone who has donated files to the site.
Copyright © 1997-2019 The USGenWeb Archives Project