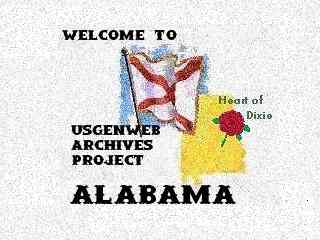 The USGenWeb Archives Project - Alabama
UNKNOWN COUNTY
QUERIES - 1997
Quick jump to specific month
October November December Bottom
October TOP
Helon Cutler Wed Oct 1 09:16:28 1997
Seeking descendents of Richard SMITH, b. ca.1822 GA, m. Nancy __, b. ca.1820 NC. They lived in Henry Co., AL in the years of 1850, 1860. Their children: (1) Martha Smith, .1832, m. Malcom McLain; (2) Marion Smith, b. 1838; (3) Dorcus Smith, b. Jan 1840, m. Barney McArdle; (4) Caroline Smith, b.1840; (5) Jane Smith, b. 1842, m. Levi Elmore; (6) Henry Smith, b. 1844, m. Hester Woodham; (7) Poney (F.M.) Smith, b. 1846, m. Mary Barwick; (8) Catherine Smith, b. 1848; (9) Aaron A. Smith, b. 1851, m. Ellen W. Ward; (10) Benjamin Smith, b. 1855. Will share information on family.
Ida Reno Wed Oct 1 09:25:24 1997
Looking for information on a Ida Lucy WHITE born 1861 in Alabama. Parents were Robert R.WHITE and Lucy EDWARDS. Ida married Jerry (Jeremiah) BUZBEE in Alabama. Do not know for sure what county born or married. Do know the Buzbee's lived around St. Clair County. Any information on the family of WHITE is welcomed. Thank you. Ida Reno ireno@tisd.net
Joyce Wed Oct 1 17:26:40 1997
PYRON John Henry b.1836 m. Ara Loftis b.1841 in 1860. Children; 1.Lucile Perilla PYRON b.1861 Moved to Chickasaw co.MS before 1864 2.John Andy PYRON b.1864 3. Roetta PYRON b.1866 4.Della PYRON.b.1868 5.Tommie Lee PYRON b.1870. The 1880 Chickasaw co. MS shows John Henry PYRON TO be 44 yrs old b. AL. Also shows first child b.AL. I believe his wife was born there and they married there. Unknown county, maybe fayette??? Any information you can give me on John Henry PYRON or his wife Ara Loftis PYRON will be so appreciated.
Sheila Hale Wed Oct 1 17:58:39 1997
BROCK, James Daniel: born 9/1860 in Lutherville, AL. Died 9/12/1918 in OK. Married Martha James Naylor (born 1/16/1864 in TN or AL; died 2/16/1956 in TX) on 7/10/1879 in AL. Eleven children: James William, b. 7/27/1880 in AL; John Coleman, b. 9/13/1882 in DeKalb Co., AL; Thomas Sherfield, b. 2/4/1885 in AL; Martin Levi, b. 1/1/1887 in AL; Sarah Elizabeth Hannah, b. 3/25/1889 in AL; Delila Jane, b. 7/3/1891; Ida May, b. 12/3/1894; Robert Joseph, b. 11/13/1896 in Lexington, AR; Stella Cora, b. 6/9/1899 in Lexington, Ar; Rosa Della, b. 3/7/1902; Essie Coralee, b. 7/1/1904. Where was Lutherville, AL? Who were James Daniel's parents? When did James Daniel and Martha move from AL to AR?
Pamela L. Jones Thu Oct 2 10:50:15 1997
I'm searching for the family of William H. JACOBS, b abt 1850 in either TN or AL. He married Matilda HOLLEMAN in 1873 in TX. I'm also searching for the family of William Madison COTNAM, died abt 1867 in AR. Believed to have been from AL.
Judith Alef Fri Oct 3 17:41:20 1997
HUMPHREYS, Martha Ann. Born May 24, 1830 in AL. Marriage arranged to a John SIMPSON (SC) and moved to TX by 1850. She was full or half blood Indian. She is my gggrandmother and I want to know her family. Thanks.
Nancy Halderman Sat Oct 4 20:17:11 1997
BROCK, James Daniel, born in Lutherville, AL September 1860 married Martha James NAYLOR (born in AL January 16, 1864 in AL) on July 10, 1879. They had a son, John Coleman BROCK on September 13, 1882 in DeKalb County, AL a son, Martin Levi BROCK on January 1, 1887 in AL another son, Thomas Sherfield BROCK on February 4, 1885 in AL a daughter, Sarah Elizabeth Hannah BROCK on March 25, 1889 in AL and a son, James William BROCK on July 27, 1880, who died November 4, 1881 in AL
Gary Walker Sun Oct 5 09:22:31 1997
ggrandfather william r WALKER born jan 14, 1868 calhoun county alabama, died april 16, 1944 graighead county arkansas. spouse joanna Wilkerson born feb 18, 1871 ? alabama died nov 11 1952 greene county arkansas (bard community), married anniston alabama year 18xx. both are burried in masey cemetary outside monette arkansas. need parents names, i think they came from georgia,via south carolina.
Laura Montgomery Sun Oct 5 09:35:41 1997
I am looking for information re: Francis Peyton Montgomery Born 60 to 70 miles southwest of Montgomery, AL around 1826.
Rose Alexander Sun Oct 5 18:51:41 1997
My grandmother, Mary Susan Davis Scheuing was the daughter of William Starr Davis and Lourana Almarine Baker. This is the only information I have on these people. My grandmother and her husband, Frederick R. Scheuing, Sr., lived in Birmingham,AL, and are buried there in Forest Hills Cem. In the same plot are her sisters and a brother. I am curious about the birthplace of William Starr Davis and his wife, where they lived and the place of their burial.
Mouzon Schurlknight Sun Oct 5 19:37:36 1997
Isaac Newell WILSON b. 6/20/1825 the son of John WILSON Isaac d. 1/21/1905 in Honey Hill, Berkely Co., SC. m. Julia Elizabeth JACKSON b. 1/5/1828 It is said Isaac moved to SC from Alabama before the Civil War. I need information you may have. Know children were John Tillman, Isaac Newell, Julia Elizabeth Geroge Washington, Julius Pringle, Nancy Jane, Daniel Dunbar, Lewis Edwin, Theodossia E., Eva Rosa, and Enock Sidney. Also these families - BALDWIN,CARLTON,DUKE,FORTE,GRAMLING,HINDSMAN,HUDGINS,HUNKERPEILLER,HUTCHI NS,NEWMAN,RAUCH,SCHURLKNIGHT, SHURLKNIGHT,SMOAK,STONE,STROBLE,STROMAN
Patricia Stanley Mon Oct 6 08:47:00 1997
Looking for any connections..James MACK, from Cherokee Indian Reservation circa 1850/1860.. married Lou KETTLES..Date and location unknown..His son Jeremiah Augustus MACK,born possibly in GA, married Eliza Ellen MAYS, 1893 in Knox Co TN. Would also like names & locations of ALA Reservations.
merri ann MONTGOMERY Tue Oct 7 21:03:53 1997
voncile WILSON,(birthname),female, appox. 69, her mother died appox.1928, 2 older bro, 2older sis, 2 younger sis, worked for auto parts ,Jacksonville fl,1950-51,please help locate her!
Jim Rhodes Wed Oct 8 07:24:21 1997
Kinchen Rhodes b. 28 Oct 1823 AL m. [1] Lucretia J. Thornton 1847 Butler Co, AL [2] Mary Ann Elizabeth Williams 17 Dec 1863 Butler Co. d. 23 Jan !896 Dallas Co, TX. Bothers: John Jr. m. Charlotte Dewitt d. 1849 Butler Co; Josiah m. Mary Jane Merrill d. Feb 1873 Butler Co. Parents are rumored to be John b. NC m. Mary Curry[ie]. Jared Rhodes b. 1793 NC m. Mary Martha King 7 Dec 1815 Warrenton, Warren Co, GA d. 8 Aug 1853 Butler Co. Brother: Reddin b. 1798 NC m. Barbara _____.
Underwood, Lora Trixie Wed Oct 8 20:07:17 1997
Married to Frank Underwood on Dec. 25, 1929 in Sophie West Virginia. Born Dec.09/10 I believe. Maiden name Hamaker or Hammaker. Presently living in Birmingham, Ala. Trying to find out where and when her father and mother were born, and when they died.
David A. Grierson Wed Oct 8 20:11:00 1997
Anyone interested in researching the Grierson, Greerson, Grearson, Greirson, Grier, Greer, Grear, Greir, etc., -contact David A. Grierson at 37799 Apache Road, Charlotte Hall, MD 20622. Interested in queries, & questions from researchers and genealogists alike. I have compiled extensively on these surnames and their variants for about nine years. Trading information is my aim. Anyone related to the Griersons of Mississippi, collateral lines, female lines are most assuredly welcomed as well in all areas of research. No grandstanding, no fan-fair, only serious persons will be addressed.
If the person leaving the following query will I will add their name and email
Wed Oct 8 22:14:10 1997
Seeking information about George C. JENKINS b. 23 July 1830 in SC; m about 1850 Elzira b. 19 Mar 1832 in Alabama; d. 16 July 1905 in Leesburg, Camp Co., Texas. Children: Sarah E. JENKINS b. 31 Aug 1851 in Alabama; E. JENKINS b. 29 Nov 1852 in Alabama; William Austin JENKINS b. 20 Aug 1854 in Alabama d. 24 Mar 1947 in Alabama, m. Missouri Aldora USRY; James C. JENKINS B. 20 Feb 1856 in Alabama m. Emma HICE; John Thomas JENKINS b. 10 Oct. 1858 in Alabama m. Charlsie BROWN; H. L. JENKINS b. 14 Feb. 1861; George Clayton JENKINS b. 24 May 1866 in Possum Trot Beat, Tallapoosa Co., Alabama d. 27 Apr. 1941 m. Fannie Missouri BRYANT; Lucy A. JENKINS b. 18 Sept 1868; Arthur B. JENKINS b. 22 June 1870 d. 14 Mar 1932 m. Annie EFURD; Baxter G. JENKINS b. 2 May 1874 in Etowah Co., Alabama d. 24 June 1949 m. Lula WALL.
CLAUDIA WAGONER Thu Oct 9 09:47:34 1997
LOOKING FOR Henry KIRKPATRICK B. 1788 SC, MARRIED Mary _____ B. 1798 SC; LIVED IN COOSA CO., AL 1845 - 1850'S. KNOWN CHILDREN: William B.1817 GA, James B. SEPT 1823 GA. James MARRIED Mary Jane Smith DAUGHTER OF Elijah AND Nancy Smith OF COOSA COUNTY.
Betty Garner Thu Oct 9 11:48:58 1997
Seeking any information on THE WILLIS FAMILY -----The first preacher in the area. CHRISTOPHER C. WILLIS. He was married and had children. Known also to have adopted several orphans. His son W.B. WILLIS married GEORGIA AUSTIN WILLIS. CA.1870 W.B.Willis and she lived with different relatives.helped them One of which was named THOMPSON when they had a new baby one week old. She died ca. 1913. 'Known as 'Aunt Doudie' Please contact if you know of or descended from any of these people. Could also be related to Carter Issiah, Princie, &Bethie Willis. Thanks for any info available. Will gladly share. Betty
Mary Seiger Thu Oct 9 13:23:48 1997
Seeking information on George Washington TAYLOR born 1825 AL; married Margaret MARTINDALE born 1825 KY. Known children are Lucinda (my great grandmother)born 1851 AL and Zeb born 1847 AL.
Barbara Turner Mon Oct 6 17:45:54 1997
EZELL, C.A.Elizabeth, b. 1840, Georgia; F:John EZELL. Married 18 Feb 1856, Calhoun Co., Ala. to Jesse Anderson Calvert (F:Basil Calvert, M:Mary Leatherwood, b. 9 Feb 1835, S.C.) Children:Elijah Drewie Calvert 1857, Raleigh Calvert 1859, Elza Florence 1861, all born Calhoun Co., Ala. The only referrance I have to Elizabeth Ezell is her marriage record and the 1860 census of Calhoun County, Alabama. I can't find record of her before 1856 or after 1860. Who was her family, where did she come from, what happened to her during and after the Civil War? J.A. Calvert took the children and his new wife, Adeline J. Lan(k/g)ford to Texas about 1868/69. Have been searching many years for any info on Elizabeth and her family. According to her son Elijah, he believes he saw her in the early 1900's in Texas, but had no contact or proof.
Victoria Fountain Mon Oct 6 19:36:58 1997
J. S. WALDREP, b. 15 Jan 1843 in AL. Moved to Titus Co., TX by 21 Aug 1887 where he married Mary OLIVER.
joseph bird Mon Oct 6 22:16:22 1997
looking for my gggfather joseph william BIRD. married a galloway left for texas in the 1800's. wife's name was sarah, or maybe elizibeth. he was born in north carolina, may be native american possible cherokee. said he was black dutch.any infomation would be helpful. sarah or elizabeth bird was born in south carolina maiden name GALLOWAY. they left from alabama.
Gale Wallen Tue Oct 7 07:26:25 1997
I am looking for information (parents,siblings, ancestors) about Molinda J. HORTON born 09 Oct 1848 in Alabama. She was married to George Robert BRINLEE on 15 April 1861 in Texas and died 03 June 1926 in Westminster, Collin Co., Texas.
COUTON Tue Oct 7 13:13:50 1997
Hi, I'm looking for more information about Couton, Bolin 1830 AL (FTM Census CD315)
arthur r pannell Thu Oct 9 20:23:46 1997
BLAKLEY/ BLAKELEY THOMAS IRA BORN: ST.CLAIR COUNTY APRIL 1870 USED TO BE KNOWN AS KELLEY'S CREEK ALSO HAS A BUNCH OF SIBLINGS BORN IN ALABAMA. TRYING TO FIND INFORMATION ABOUT THIS PERSON'SPARENT'S. ANY HELP WILL BE APPRECIATED. THANK YOU! SIBLINGS LISTED BELOW.HAVE BEEN FOUND IN WALKER COUNTY CENSUS 1900. ONLY INFO FOUND!
Earle Barnette Fri Oct 10 09:06:44 1997
james brantley BARNETTE, married to evaline CHAMPION. carl BARNETTE born to this marrige march 10, 1873 in Highland Home, (Crenshaw Co.) Ala.
Archie L. Colburn Fri Oct 10 10:22:16 1997
Would like to locate descendants of William H. Brown (1826-1893), who married Mrs. Rebecca A. Foshee on 7 Dec 1858. On the 1870 census they were in Baker (now Chilton) Co. & on 1880 they were in Chilton Co. Census shows children as Bassell Harry, Lula, Robert E., Canty? & Thomas W. Brown. William H. Brown was son of Hitson Brown & Windford Ray of Bibb Co. Rebecca was described as "widow Foshee" at time of marriage.
Randall Baker Fri Oct 10 10:49:56 1997
RENFRO-- I don't have much to go on, but I'm desperately seeking a James RENFRO from Alabama. He was born abt. 1817 in AL, according to the 1850 Census. He moved to Kentucky (probably Green Co.) some time before 1836. I'm guessing that he moved there as a child with his parents, but have no evidence one way or the other. If any of this rings a bell with someone please let me know. I've been sitting at this dead end for awhile. Thanks.
Paulette Butler Fri Oct 10 20:09:45 1997
FRANKLIN JOSEPH TYSE DOB: 10/30/1920 DOD: 9/30/49 PLACE OF BIRTH: MONTEVALLO, AL MARRIED TO : BIRLEE LOCK LAST KNOWN ADDRESS LOVELESS STREET, HOMEWOOD AL
Anita Handley Sat Oct 11 03:01:28 1997
RATLEY, James Thomas - born June 3, 1865 in Alabama. Parents are John Andrew RATLEY(Aug 6, 1830 to Feb 14, 1910) and Sallie Eliza WALKER(no info). James Thomas married Elisabeth HEARTSFIELD in Texas. Looking for information on ancestors.
Ken Lowery, Jr. Sat Oct 11 11:55:06 1997
willis penn LOWERY Spouse: Mamie Mareline Gray Lowery Brother: Mark T. Lowery Sister: Name Unknown 1st Child: Kenneth Gray Lowery 2nd Child: James Vincent Lowery I would like to know the sister's name. I would like to know all available information on these ancestors. I would also like to know the names of their parents and appropriate dates of events.
R. G. Nevels Sat Oct 11 12:33:47 1997
I would like to contact any family member of Frances/Francis S. (Scott) Longmeyer/Longmire, born circa 1835, was apparently widowed and moved to East Texas from the Mobile area, appearing in Panola Co. Texas census in 1880. Came to Texas accompanied by brothers Dr. G. E. & Dr. Wm. Longmire. Frances/Francis children all born in Alabama were Charles, Orren/Owen Date, Clara and Minnie. My quest is to find out which Neville/Nevill Frances was married to. This person is my great great grandfather, and I would very much like to verify who he is. Would you help me? My mailing address is R. G. Nevels P. O. Box 9152 College Station, Tx 77842 Phone: 409-260-97 Fax: 409-26-6461 Email: rgnevels@myriad.net
Johnny Pryor Sat Oct 11 12:50:52 1997
I am looking for Christopher J. D. PRYOR, who moved to Mobile, AL in about 1850, where he was a clerk. He was born in VA, and apparently married Alice N. there before moving to AL. I am looking for any information on him. I am also looking for William Lemuel ALLEN, who lived in Peachtree, or Lower Peachtree, Wilcox Co., AL before moving to Matthews, Jones Co., MS. He was born in 1828, and married Mary Jane MONTGOMERY, also of Lower Peachtree, AL.
Frank Miller Sat Oct 11 19:27:49 1997
HILL, Bradley All I have on Bradley is that he was on the 1850 census in Pope Co. Arkansas. He said that he was 30 years old and born in Alabama. I would like any info on his parents. Bradley was my wife's gr.gr.grandfather.
Claus Carlson Sat Oct 11 21:58:26 1997
ollie inez MCBRAYER born big springs,bibb co.approx.1880 father w.d.MCBRAYER
Rod Alexander Sun Oct 12 07:43:22 1997
Any suggestions on finding info about James ALEXANDER and Martha C. Rodgers, married 20 NOV 1806. Believed to be from Huntsville area. Assuming they would be in twenties, would there be records of marriage, birth, service, land, etc. available? Thank you
GEO. B. LEWIS Sun Oct 12 19:50:38 1997
JOHN LEWIS b. 11/20/1728 from gloucesterr Co, Va.of "cheomokins" New Kent Co, Va St. Peters Parish 1720-1758. JOHN LEWIS ESQ. 1720/28 d. 6/10/1802 RANDOLPH CO, N.C. m. PRISCILLA BROOKS. WARNER LEWIS d. 1793 "of Warner Hall" m. FANNY ? BELIEVE ZACHARY LEWIS LIVED EASTERN VA AND HIS BRO OR SON WAS JOHN LEWIS.b. 1720/24 (A FAMOUS LAWYER) FIELDING LEWIS MARRIED GEO. WASHINGTONS SISTER BETTY. I AM LOOKING FOR A LINK TO ANY OR ALL OF THESE LEWISES.
Betty Kimberling Mon Oct 13 06:33:48 1997
Research on names: MENASCO, KIMBERLING & FRAKES
Susan Merrell Mon Oct 13 15:30:10 1997
Seeking informatin on WILLIAM R. MERRELL (may also be spelled Murrell) b. abt 1816 in Rowan Co. NC. Married 30 Mar. 1836 in Limestone Co. AL to Lucretia Gregory. Died 26 Feb 1849 in Athen, Madison Co. AL. Had the following children: Chapman N, Merrell b. Feb 1843 in Limestone Co. Mary Jane Merrell b. 6 Dec in Limestone Co. John B. Merrell about 1844 James K. Polk Merrell b. 19 Nov 1846 in AL. This family moved to Lincoln Co. Tn after Williams death, and then on to Hopkins Co. Ky. Would be VERY interested in knowing where he is buried. He served in the Mexican War (Lucretia applied for pension) and died of "dysentary". Any help on this line would be appreciated. Also searching for SHANNON, GREGORY, PRATHER, NEWTON, WHITTINGTON,SHIELDS, AND BAGWELL. all in Alabama at one time or another.
Robert Leath Tue Oct 14 16:44:19 1997
I am searching for the parents of John Washington Ray. John Washington Ray was born in 1857, maybe in GA. He married Cullen S. Caldwell in 1879. She was born in 1862 in Greene Co. GA. they moved to Cherokee Co. AL> in about 1896-97. John Washington Ray left his home one night to attend to some business, and he never returned. I also am doing research on the caldwell family who lived in Greene Co. GA. 1790- 1836, and 1862-1890 I am also doing research on the Leath family, of Cherokee Co. AL.
O. Perkins Wed Oct 15 11:09:03 1997
Searching for parents, born in TN, of James L. SIMS,b 1827, AL, m 1861, Mary Ann PEAVY, b 1841, AL. Children: Robert,b 1863, LA; Robert, b1868, d,1875; Madison Burk, b, 1870, Texas; George M., b,1872, Texas; Bill T., b, 1878, Texas; Talley Ann, b 1874, Texas. Perry DIAL, b 1846, AL, a brother-in-law, was living with them in Texas. Any information on any of these would be appreciated. Hope we have a connection.
Bruce HOWARD Wed Oct 15 12:44:24 1997
HOWARD, orin austin B. 6/19/1864 Montgomery, Alabama: D. 8/18/1914 Sylacauga, Ala. M. 7/19/1893 Goldville, Ala. : Mollie Francis ELLINGTON
Robert Leath Wed Oct 15 11:59:17 1997
I would like to talk to anyone about exchanging research information on the following families, Caldwell family of Greene Co. GA. and Cherokee Co. AL., Also the Ray family of GA. and Ckerokee Co. AL. I also have a vast amount of information on the Leath family of VA. , TN., and AL. Robert Leath
Bill Collum Wed Oct 15 14:58:23 1997
COLLUM: I am looking for information on Clark Collum, his name may have been spelled Collumm. He had a son named William D. Collum. I believe he had two brothers, one named Clyde and another named George. He possibly had a sister named Annie Pearl. Believed to have lived in Shelby County around 1862 and possibly before. Might have come from Jefferson County.
Glenn Lee Wed Oct 15 16:33:50 1997
I'm looking for info on COFFEE, John Edward born around 1861 in Alabama and died around 1904 in Oklahoma. Spouse was Edith Catherine Speights born in Chambers County, AL. John's father was Clayborn Mayes Coffee born and died in Alabama. His grandfather was Richard Smith Coffee. Richard died August 21, 1879 in Lauderdale Co., AL.
Judy Bates Rogers Wed Oct 15 19:35:46 1997
I am looking for information on my great grandfather's parents. My G- grand father was Thomas Jackson BATES. He was born in Henry County, Alabama in March of 1846. His mother was named Ellen and maybe the last name was LEWIS? I have found a Irvin BATES in the 1850 census in Henry County, Alabama. I believe this is my GG grand father. Does anyone know anything about this Irvin BATES? I have found an Evan E. BATES also and was wondering if maybe this is the same person as Irvin. Need his wife's name and when married and what became of them. There is also a BATES in the 1860 census living with a S. J. LEWIS. Looks like the name reads E. R. for his wife. If anyone has any information on any of these people please contract me. Thanks
betiemae DLL Wed Oct 15 19:38:58 1997
bettiemae DILL dau of james m DILL b abt 9-1892 d abt 1930. She married james henry WEED in Clay Co Ms. They had four children: james daniel WEED, pearl(maybe annie pearl), virgie mae, and robert e.WEEED. bettiemae has been listed on different census as: bettiemae, betty w. and as elizabeth--the family remembers her as bettiemae. Her mother was mary....the family was supposed to be from Ms but I have found mention of Al and SC. In 1900 there was virgil w. 1868, ella 1876, bryan/claude 1887 john a 1885, mary l. 1856, ellie g 1876.
bettie weed pacynski Wed Oct 15 19:54:58 1997
gus HENDRIX b abt 1858 m emily b abt 1872 d abt 1955. gus was from Ms and Tn and emily from Ms and Al. The children were: william c 1889, andy 1892, ada l 1894, dee 1896, sam 1899, chester 890, ella 1902, charles 1906, w colus 1908, allen 1912, thelon 1916, baby s 1900, roxie 1904, there were twins also.
JEANNE HEARD Thu Oct 16 02:27:00 1997
Parents of William Henry THORN b. 1816 N.C d. Texas. Married 1sr...Elizabeth HITT in Sumter County, Alabama 2nd..Mary Jane POOOL in Caddo Parish,Louisiana
Beth Osborne Thu Oct 16 04:55:20 1997
Looking for any info on John D. BOLIN, birth date probably about 1840. He married his first wife, Lucinda CARNES, about 1856 in Kentucky. he filed for divorce in 1860 and it was granted in 1860. He then moved to AL. He supposedly married again and raised a large family.
Jeff See Thu Oct 16 20:46:19 1997
I am searching for information on my greatgrandfather his name was james m SEE he married julia a pittman wright in arkansas in 1892 james SEE AND HIS PARENTS were all born in alabama according to the 1900 census report in garland co. ark. JAMES SEE was born in 1846.thanks for any info. j.see
Gini Carter Fri Oct 17 03:11:58 1997
Looking for info. on: Hygh BRUMLEY, born in Tn, and his wife Heddie VAUGHAN, born in unknown Alabama county. They had Lillie Frances Brumley on Nov. 26, 1894 in TN, she died Nov. 9, 1979 in Tipton Co., TN, she married Frank BOOTHE
Henry Hancock Tue, 28 Oct 1997 12:50:44
OSBORNE Jabez J (b.1811 in NC, m. abt 1840 in AL)
wife.. Elizabeth (b. 1813 in AL)
Children...Gustavious (b. 1841 in AL)
...Mary F. (b.1843 in AL)
...George (b.1844 in AL)
...Margurite (b.1848 in AL)
...Editta (b.1860 in AL)
They had other children born in AR and appear on the Clark Co. AR census
for years 1850, 1870 & 1880
Max and Betty Blassingame Thu, 30 Oct 1997 14:55:59
Searching for W.L. Barker who posted a query on July 28, 1997, Re: Jesse
Cleveland Barker, my great-grasndfather.
Meghan Rowan Dewhurst Fri, 31 Oct 1997 11:12:38
My name is Meghan Dewhurst. I am looking for information about the
Paulin Family in Alabama. Howard Paulin married Agnes Rowan in Ohio c.
1905. I know they moved to Alabama after that. They were living in
Montgomery in 1921. They had several children. Any information would
be greatly appreciated.
Kris Bigbie Fri, 31 Oct 1997 20:19:32
Does any one know anything about the Rev Thomas Bigbie, born (1795) died
around (1860's) lived and was buried in Pondtown Al (Geneva County).
Married to a Mary or a Margaret. Interested in knowing his ancestry or
were he orignated from.
November TOP
Margie Croney Sat, 01 Nov 1997 17:07:19
WHITE, Albert M. b. 1825 Al. mar. to Narcissa went to live in Kemper Co. Ms. by 1860. Then to Monroe Co. Ms. by 1880. He states born Al. and his children born Al. Children: William Wesley> Mary Margaret> Serena Avaline> Hilda> Robert> Sarah E> and Newton M. White b. 1846 Al. mar.to LaMinda(Mindrey).
Children of Newton M. White and LaMinda: Virgil Solomon mar. to Ethel SMITH, dau of Newton R. Smith and Rebecca Savell.> Marcus D.> Ella Jane White b. 1880 mar. to Thomas Argarl NEAL 1902 in Monroe Co. Ms.> Maggie L> Robert E.L.> and Nancy J. White.
This White family could have lived in Fayette or Pickens Co. Al. possibly. Any info like tax records, land records, marriages, etc to show where they came from would be most appreciated. Thanks for time and effort. Margie.
Larry Pollock Sat, 1 Nov 1997 15:48:29
Larry POLLOCK sierracloud@reno.quik.com looking for information on Dela Allison POLLOCK born about 1823 someplace in alabama. Married Darcus WILSON about 1835-37 had brothers and sisters Henry, James, and Rebecca. Moved to Mo. before 1844.
Ginger L. Christmas Sun, 02 Nov 1997 10:49:33
I am researching the family of William Christmas, Surveyor from NC who laid off alot of the MS territry. His daughters were Druscilla m:Mairs or Marrs and Sally Jones m:joel Dyer. The brother of Wm. was Nathaniel that settled in this area as well. Nahaniel married Mary McLemore. If anyoone can help me locate this line I would apprecite it. I do have an enormus collection of Christmas records in many other states and will share.
Ginger
William Mattingly Tue, 04 Nov 1997 12:32:02
Looking to share data on the Crow/Crowe family. My Gt Gt Grandfather, Martin Clark Crow lived and died arounf Sylacauga, Ala. and would have been born atound 1840. His son (ca 1865) by the same name was married to Mary Elizabeth Holland. H. C., Jr. and Mary are buried near Sylacauga in the cemetery of a Primitive Baptist Church. My Grandfather, William Martin Crowe (1890) spent his early years in Sylacauga and My mother Mary Lee Oma Crowe graduated from High School there around 1933. Her family then moved to Hogansville, Ga. Until recently I had a Gt Uncle, Lymon Crowe, living on Twin Street in Sylauga and a Gt Uncle J. C. Crowe living in Valley. Both are now deceased. I want very much to gather information for my mother's sole surving sister, now living in Troy, Ala. I will buy or exchange meaningful info.
My snailmail is:
William Mattingly
PO Box 102
Union Hall, Va. 24176
William Mattingly Tue, 04 Nov 1997 12:39:08
One of my Gt Gt Grandfather's was Patrick Columbus Gideons/Gideon of Alabama. He appeared to have at least three separate families in Alabama, Georgia and Louisiana. I know two sons: Jessee (fought for the Confederacy) and my Gt Grandfather, Andrew Jackson Gideons (1842) who also fought for the Confederacy and was wopunded at Shilo. I have
considerable data on Andrew and will share weather you have anything or not but am desperately seeking info on this part of my family. Anyone with an interest in this family can reach me at snailmail:
William Mattingly PO Box 102 Union Hall, Va. 24176
Harold E. Young Tue, 4 Nov 1997 14:36:35
Harold Young researching BRISKY
According to family legend, Nicholas Brisky, left Charleston, South Carolina and settled near Milltown or Mill Town, Alabama in the mid 1830s. He had a plantation of about 1,000 acres and 75 to 100 slaves. The house reportedly was still standing in 1933. In the mid 1870s Jasper Newton Brisky donated land and lumber for a school house that is known as the Brisky School and is still standing. I have not found any one else researching the Briskys and I have been unable to locate Milltown on any of the maps I have available. Any information about the location of Milltown, the plantation or the school would be appreciated. Harold Young 12615 N. Hope Ln. Spokane, WA 99208
Suzette Goodrow Tue, 04 Nov 1997 18:55:45
I am trying to help my father-in-law find his relatives. His grandmother was born in Honeycutt, Alabama. Her name was
Martha (Mattie) McDONALD. She married in New Orleans, LA to Nelson GOODROW from New York State.
The marriage certificate of 1878 states that her father was Jackson McDONALD, with no mention of her mother. The
witnesses were F.B. LANRY and J.E. McDONALD. Any help would be most appreciated.
Can someone tell me in what county is the town of HONEYCUTT?
William Mattingly Tue, 04 Nov 1997 12:32:02
Looking to share data on the Crow/Crowe family. My Gt Gt Grandfather, Martin Clark Crow lived and died arounf Sylacauga, Ala. and would have been born atound 1840. His son (ca 1865) by the same name was married to Mary Elizabeth Holland. H. C., Jr. and Mary are buried near Sylacauga in the cemetery of a Primitive Baptist Church. My Grandfather, William Martin Crowe (1890) spent his early years in Sylacauga and My mother Mary Lee Oma Crowe graduated from High School there around 1933. Her family then moved to Hogansville, Ga. Until recently I had a Gt Uncle, Lymon Crowe, living on Twin Street in Sylauga and a Gt Uncle J. C. Crowe living in Valley. Both are now deceased. I want very much to gather information for my mother's sole surving sister, now living in Troy, Ala. I will buy or exchange meaningful info. My snailmail is:
William Mattingly
PO Box 102
Union Hall, Va. 24176
Jo Suddith Wed, 05 Nov 1997 12:18:37
We are searching for information on Hosea Holcomb LEWIS, married Louisa Aurella LOWE. They had a daughter, Louisa Aurella LEWIS, she married William Parham SUDDITH, b. abt. 1857, d. 19 May 1925. William Parham SUDDITH was a preacher. We need the name of William Parham SUDDITH's father. Any information on the families of LEWIS, LOWE and SUDDITH or SUDDUTH, will be appreciated.
aslaten@stny.lrun.com Wed, 5 Nov 1997 23:07:35 -0500
Seeking info on SHEPPARD, Pearl Fannie , born in Langdale, ALA, 1895. Married SLATEN, Clyde Eugene. These are my grandparents. Any info appreciated
Rich Nichols Fri, 07 Nov 1997 16:42:10
Searching for any info on Joseph H NICHOLS, born ca 1840 Alabama (per 1880 Orleans Parish, LA census. No other info known, parents, siblings, etc. Any help or clues appreciated.
CINDY FAULKNER Sat, 08 Nov 1997 21:01:47
I am searching for any info on DAWSON & HORN. Arphaxton R. DAWSON, b. 1805 GA m. Mary HORN, b. 1805 TN; several of their children, specifically Rebecca Jane DAWSON, b. 1828 & Samuel J. DAWSON, b. 1838 were born somewhere in Alabama. I would like to find records of their births. Is there a marriage of Arphaxton R. DAWSON to Mary HORN in Alabama? This family goes between Alabama and Illinois for several years.
Allie Oldham Sun, 09 Nov 1997 11:49:48
Searching for the family of Doctor F. William or William F. Robinson/Robison. His son Benjamin Le Grand was born in 1849, AL.
Allie Oldham Sun, 09 Nov 1997 11:55:02
Searching for the husband of Sarah Jane (unknown), b 1795-1801 in Kentucky. Mr.WILSON died in Alabama or enroute to Texas about 1833-35. The widow entered Texas with 11 people in her household. Known children are; Pheobe md Michael HOFFMAN; William U.; Shelby md Priscilla FAULK; John;Anothy Wayne md Marina Davis SNEED; Susannah md Jesse FARRIS; Elisha md Elizabeth SINGLETON; and Adaline. Was Sarah Jane married to Jeremiah Wilson? Was her madian name Hull?
Rd Judy Gabbard Sun, 09 Nov 1997 20:48:23
I am searching for my gr. gr. grandfather, James T. CHADWICK b. c1834 in AL. [county unk.] Family tradition says that James left home as a young boy because his father had died and his step-father was not good to him. James T. CHADWICK was in the 1850 Breathitt Co., KY census.
Sue Woodford-Beals Sun, 09 Nov 1997 19:21:36
Searching for the burial site of Rutha Pynes born about 1776 in Georgia lived in South eastern Alabama until 1830, died before 1850.
BerylBrown Mon, 10 Nov 1997 07:42:18
Need info on John LINDER (b.????, Tenesaw Settlement, AL; d. 1804) who had son John LINDER, Jr. who married Mary KILLINGSWORTH (b. ????, SC, dau of Jessie Killingsworth). John and Mary had a daughter, Mary LINDER ( b. 1779,
PA) who married Jean VAVASSEUR (b. 1779, Cap Breton des Landes, France). I would appreciate e-mail. Many thanks for your help.
Brian&Elizabeth Lynne Walters Mon, 10 Nov 1997 10:59:33
LANIER:Trying to locate information on Jane Lanier who was born in Alabama.She married Stephen Pierce and moved to the Washington Co.,FL area.
Rick Fountain Mon, 10 Nov 1997 20:39:13
Rick Fountain; I am searching for any Fountain's in and around AL. My grandfather's name is Reedus Daniel Fountain and his father's name was I think, Clem Fountain, he was a carpenter and built several houses and buildings in the Pickens/Tuscaloosa area AL. A lthough I believe his family came from Perry co. AL. Any help would be greatly app.
Johnny Odom 13 Nov 1997 21:18:57
Looking for information about Thomas G ODOM (ODUM) b. 1816 in SC. m. Eliza ? b. 1812 in SC. These children were b. in AL. (1) Millety b. 1835 (2) Mary A. b. 1836 (3) Aaron b. 1837. They moved to Choctaw Co. MS about 1838. Any help will be appreciated.
Jerry B Barrett Tue, 18 Nov 1997 22:18:48
I am trying to find information on TIMOTHY RICHARD BARRETT. Born around 1839 in Shelby County.
He is on 1850 census, but he does not show up on 1860 Shelby census. He supposedly went to war thus wasn't counted.
He supposedly was killed in war. Any advice on how I could locate information would be greatly appreciated.
Paul Stacy Wed, 19 Nov 1997 08:24:22
BOATRIGHT/BOATWRIGHT/WILLIS---Seeking information regarding Pharaoh and Isabella BOATRIGHT residing in Fayette County, AL, mid-1800's. Daughter Josephine m. Mat WILLIS, date unknown. Josephine also lived in
Montgomery at the time of her death in 1940 shared home with her daughter, Maggie Howell, 129 Bell Street, Montgomery. Am also interested in finding someone with information regarding a business known as "Home of the Friendless" in Montgomery during the late 1930's. Will gladly share info.
?? Thu, 20 Nov 1997 15:07:12
Searching for a MOLLIE AGNES ? married a James LAWRENCE. Mollie was born in Alabama but I do not have a county. The only known child is James Arthur LAWRENCE, b 1865 in TN, died in TX 1918. Any help appreciated.
Peyton Sparks Thu, 20 Nov 1997 22:10:39
Titus Clark Sparks
Terri Pendergrass Fortner Fri, 21 Nov 1997 12:08:40
I am searching for information on the families of Frank or Bascom PENDERGRASS. abt. 1860 Bascom married Martha HAYES. Frank & Bascom may have had a sister, Grace and other siblings. Any information from anyone researching PENDERGRASS or HAYES, would be greatly appreciated.
Greg Harrison Fri, 21 Nov 1997 21:48:55
Searching Prior to William Newton Vickers born 1 April 1870 died 2 Jan 1928
Dave Ennis Mon, 17 Nov 1997 12:10:27
seeking info on Boaz(or Boz, or Boze) Ennis. I know he was born in Alabama sometime in the 1860's - 1870's. He was my great grandfather. Also seeking info on his father named William Harrison Issac Ennis(when & where was he born, ect).
Wallace Quinton Henderson Mon, 24 Nov 1997 13:25:01
Seeking ancestral info. Father William Linton Henderson, born 1895/98. Grandfather Shannon Henderson, born 1867/75.
David C. Rains Tue, 25 Nov 1997 22:56:24
MILSTEAD- Looking for any information on John (born abt. 1815) MILSTEAD and wife Emily. Both born in Alabama, moved to Escambia County, Florida, in late 1830's or early 1840's. Looking for parents, siblings, place of birth, etc.
Benjamin L. Kinsey Thu, 27 Nov 1997 22:34:13
Seeking infomation about my grandfather William KINSEY and his parents Benjamin and Racheal KINSEY. Benjamin and Racheal were from England. William was born in AL. in 1887 according to the 1910 MI. census. His brother, Thomas, was born in AL. in 1891. They were in KY. in 1886 when John R. was born. They ended up in Bay City MI.
Joan Ackerman Fri, 28 Nov 1997 09:49:44
McCRORY - Thomas McCrory (b. ca. 1770's) moved from Rockbridge County, VA to Alabama with his brother Samuel and possibly some other relatives. I am very interested in finding what part of Alabama they located in, whether their father James also came with him, and want to contact others working on the McCrory line.
Sarah Parmley Fri, 28 Nov 1997 15:33:34
Looking for Jackson Dodds b 1819 in Alabama m 2 Jul 1840 Gallatin Co., Il d March 14, 1884 Saline Co., Il. It must have been Northern Al . at this time period unless his family was trading with the indians.
Sharon Romine Ayers Fri, 28 Nov 1997 22:01:48
Where is Floralia, Alabama? What county? I see that my ancestors ( Peter henry Steele) moved from Charleston,SC to Lake jackson and were buried in the old John Ghent cemetary about 1837.
Henry Hudson Fri, 28 Nov 1997 19:46:29
Searching for info on James Neely/Neelly who was the Agent for the Chickasaw Nation in 1808-10. He had a title of Major but I am not sure if this is a military rank or not. He later was postmaster of the Chickasaw Nation post office in the Missisippi Territory.
Suzette Goodrow Sat, 29 Nov 1997 06:49:42
McDONALD/GOODROW
Searching for Jackson McDONALD, his daughter, Mattie McDONALD married Nelson GOODROW, in New Orleans, LA in 1878. Marriage certificate states that she was a native of Alabama, (possibly the town of Honeycutt). The name of her mother was not noted.
OATES/SEGAR
Also searching for James C. OATES, his daughter Marie Caroline OATES, married to Lawrence W. SEGAR, in the City of Carrollton, Jefferson Parish, LA in 1873. Caroline's death notice states that her father was from Alabama and her mother, Marie Adele SICARD, from Pointe Coupee Parish, LA.
Any help would be most appreciated. Thank you!
Elizabeth Sat, 29 Nov 1997 23:51:46
i am searching for info on the names JACKSON, WELDON, GRIER and THORNTON. they lived in the elmore/autauga area around 1900.
Sandra Eskew Sun, 30 Nov 1997 18:33:01
I am looking for the SENTELL surname... All I have is a Sarah "Sally" SENTELL b. in AL. abt. 1822. She m. John Andrew WILLIAMS of Tishamingo Co., MS. I found them with their children on the 1850 Census for Tishamingo...I would like to fine the SENTELL link if possible. Thanks you.
Ben Cason Sun, 30 Nov 1997 20:42:53
LEE, Jasper H., b. abt 1841 in AL, d. ?, Parents thought to be: father: William H. LEE, b. Sep 12 1812 in York District, SC, d. Sep 02 1889 in Fouke, Miller Co., AR William thought to have 3 wives. I am not sure which is Jasper's mother but I think it was his second wife. mother:
1) Charity SUTTLE b. abt 1796 d. bef 1837 in Fouke, Miller Co., AR m. abt 1834 in Perry Co., AL
2) Elizabeth GREEN b. ? d. abt 1841 (giving birth to Jasper?) m. abt 1837 in Perry Co., AL
3) Harriet Matilda SUTTLE b. May 12 1825 in Bibb Co., AL d. Oct 12 1913 in Mills Co. TX (buried in Hurst Ranch Cem)
m. Aug 08 1842
siblings: Henry Clay LEE b. May 29 1838 in AL d. Mar 04 1894 in Fouke, AR, also believed to be a child of Elizabeth GREEN.
I would like any additional information on Jasper or his parents and siblings.

December TOP
RonGriffin Tue, 2 Dec 1997 07:56:53
FREEMAN - My great-grandfather was James Troy Griffin, born in AL ca. 1860. His death certificate says that his parents were John Griffin and "Miss FREEMAN." Undocumented information has it that her given name was Ella (or Ellen or
Ellinder). She would have been born ca. 1840 in SC or AL. I am looking for a FREEMAN researcher who might have evidence of these people in his/her database. Any info or leads would be most appreciated. I cannot find these people at all in any census records or databases on the Internet. It would also be helpful to know which FREEMAN families, residing in AL in 1850 or 1860, that you are researching.
Ron Griffin, Kure Beach, NC
ANITA GREEN 04 Dec 1997 01:40:30
Looking for information on EDWARD GOEHRING/GEREN who married SALLY JANE CARROLL somewhere in Alabama September 24, 1882. He was from Germany and it is said he died in Prattville AL from a fall from a scaffold.
She returned to Bradley Co. TN about 1896 with two boys. She married again in 1900 and listed her name as Sally Geren. Bible records state marriage to Edward 9/24/1882. Where were they married and where did he die? Do you recognize these names? Any help would be appreciated.
DILLOW & CARRIGER Wed, 03 Dec 1997 20:29:21
CARRIGER surname. Searching for any one with information to this Tennessee Pioneer Family.
Tina Harris 04 Dec 1997 12:40:40
WILLIAM RODOLPH HENDERSON born abt 1850 in AL . Married KATIE G. WILLIS born in AL 16 Sept. 1855 . Married in Al . Moved to McClellen Co. TX. before 1890. Had six children that we know of : George, Nettie, John
Edward, Anabelle, Kate, and Zula. Any information would be welcome. Will share what info I have.
Edna Bowman DILLON 4 Dec 1997 20:17:30
Looking for A. Green DUNN,b 1845, d. 1915 GA, md. Rutha E. TIPTON d. 1874...Children: Lula DUNN b. 1866, d. 1948 OK. md Jacob Hale BOWMAN d. 1899 OK, A. Green DUNN 2nd md. (unknown) Children: Hattie DUNN, Cora DUNN......Will greatly appreciate any information about these individuals....Edna Bowman DILLON Duncan, OK
ANITA GREEN Fri, 05 Dec 1997 02:49:44
Looking for SALLY JANE CARROLL who married EDWARD GEREN/GEOHRING September 22, 1885, he dissappeared in Prattville, AL ca 1896. She was living with Safronia Giles 1880. Any help?
Mark Shedd Thu, 04 Dec 1997 22:05:52
Searching for information on LAWSON SHEDD b. abt 1890, he married ATTIE BRASSVILLE abt 1910. Had 3 children- Wyatt, Lual (sp.) and Jerome. My e-mail address is mshedd@worldnet.att.net. THANKS!!
Robert L. Payne Fri, 5 Dec 1997 15:56:31
GALBA FUQUA
Galba Fuqua died at the Alamo. He was only sixteen years old but was reported to have been born in Alambama. He apparently was in Tennessee at sometime becasue he came to Texas with Davey Crockett. His parents names are Silias and Sally Fuqua. Does anyone have information of this line of Fuquas?
GREGORY L WEST Sat, 6 Dec 1997 19:37:45
William C (maybe AKA Charles W) Carr; born about 1819 in Fort Deposit, Al; married Jan 1842 in Montgomery Co, Al, to Amanda Rogers; at least one child,(Clarkey) Lurana born 1848 in Troy, Pike Co, Al. Family had appeared in Santa Rosa Co, Fl by 1860 census. Need parents of William and Amanda. Any links to Carr or Rogers families? 1850 Census of Pike Co shows several Carrs but no William or Charles that I found. Looking for leads, looking for cousins.
Linda Addison Sun, 7 Dec 1997 12:17:20
I am looking for information concerning my grandfather, WILLIAM WILLIS BISHOP, who was born around 1890 either in Coosa County or Chilton Co. I know nothing about his parents except that he was an only child. He came to Chilton County at an early age as he left home when he was 12 years old. If you have any information concerning him or his family it would be
greatly appreciated.
Brian Williams Sun, 7 Dec 1997 11:12:17
Looking for information on either THOMAS H. WILLIAMS or CELIA E. LECROY, married June 23,1872 Madison County, Alabama. Thomas' mothers' name was Margaret, and I believe the Williams' came from Tennessee. Celia E. Lecroy
was from the Thomas Lecroy family from Habersham county, Georgia. Both appearr to be about 20 years of age at the time of their marriage. I cannot find any trace of them afterwards.
Barbara Fitzmaurice Fri, 12 Dec 1997 21:52:17
I am searching for information on my grandmother Sarah Elizabeth CRAIN, b. 1897, abt. in Alabama. She married James Vance THOMAS and they lived in Rhea Co., TN. They had four children, a daughter, and three sons; Clarence, Claude, and Howard. I believe she died in 1928 or around that time period possibly in TN.
Thank you for any assistance,
Benjamin L. Kinsey Thu, 11 Dec 1997 13:08:23
The 1910 MI. census shows my grandfather William KINSEY b: about 1887 in AL. My granduncle Thomas KINSEY b: about 1891 in AL. Their parents were Benjamin and Racheal KINSEY. They were from England. Is it possible that they landed in AL? Are there passenger lists for the 1880s? They would have been in their 20s at time. They left AL between 1891 and 1896 and went to KY. Later they moved to Bay City MI. Thank you for any help.
Bobbie Ross Thu, 11 Dec 97 11:53:58
Seek information in AL in reference to Nathan WATSON and Margaret QUINN. She may have been second wife? Appear first on Jackson Parish LA 1850 census. 3rd son was born Jan of 1840 in AL, followed by 3 girls born in AL. Am unable to find them anywhere in AL, need some proof of where they were. Bobbie Ross; 1408 E Leon St.; Gatesville, TX 76528, or e-mail. Appreciate any help.
Jo Davis Sun, 14 Dec 1997 23:20:54
DAVIS,OMANS/OMENS info needed on JIMMY DAVIS ca 1800 no info on wife. Son JOSEPH JOSEAH DAVIS may have been born 3-1863 or 1866 not sure. he is in Fla 1900 cen age 48 b/ALA parents also. wife Mary Easton Omans DAVIS age 33 b/ Ga mother of one child. HARTLEY DAVIS b/5-1899 also listed with this family are 3 kids from an earlier marriage of Joseph. JODIE 18 8-1881, EZRA 15 1-1885 ARABELLA 12 9-1887. These kids born Fla parents ALA. These kids mom was named Mary also. in 1910 Fla cen JOSEPH and MARY have the following kids. HARTLY 10,ROLLINS 8, HELTON MANUAL 6 he was born 10-21-1901/02. TEXIE 4 female. HELTON died in N C in 1965 his son MADISON LEE DAVIS was born in Freeport Fla 10-4-1934 and died in Orlando Fla in 9-1977 his wife was CLAUDIE MAE RUTHERFORD. Thier son EDWARD MITCHEL DAVIS born Orlando Fla 5-22-1985. Can not seem to find where they were from in Ala appreciate any help. Thank You in advance.my snailmail is Jo Davis 2434 Trace ave Orlando Fla 3209 fax
407-438-4985
Russell Harsch Mon, 15 Dec 1997 15:28:26
I am trying to track the history of the Langford Family. I have it traced (in descending paternal order) from George Fluellen Langford b.abt.1878->Columbus Lafayette Langford->John C. Langford. I can't get any further than that. My family records show John C. Langford to have lived in Fort Deposit, AL at some point. John's brother, Jim Langford was a soldier in the 22nd inf. and is buried here, in Texas. Any help is appreciated.
Paula Sisco Tue, 16 Dec 1997 12:59:23
I am looking for a McBurnett (any spelling) in NE Alabama birhing a son around 1880 and giving to a family named Ford to raise. Circumstances of birth, etc, unclear. Believed to be illigitimate. Please contact me with any clues, or info. I am seeking info regarding my Grandfather, John Ford, but was told that the husband of his mother was McBurnett. Very confusing.Thanks for any help.
Jim Johnson Thu, 18 Dec 1997 15:02:34
JOHNSON. I'm trying to track down WILLIAM JOHNSON who was born in Alabama, married to a girl with the surname of EVANS (also born in Alabama) who had a son named ARCH W. JOHNSON, b. February 28, 1851 in Alabama. Arch subsequently moved to Ripley County, Missouri, in the Doniphan Area and married Serilda Lauci. They had Reuben Wesley, Joseph Franklin, and John Douglas. Arch also had Merrel Johnson and Odie Johnson from a previous marriage. I know a little about Arch and Serilda, but next to nothing about William and Evans. This is my ONLY Alabama connection... Can anyone help?
Robert Puckett Fri, 19 Dec 1997 03:25:02
Searching for William Auther Shepard Born 20 Oct. 1873. Should be in AL by 1880. May have been born in GA
JUANITA Fri, 19 Dec 1997 13:50:57
Looking for a GEORGE W. WHITE supposedly born 12th of Jan. 1827 in Ala. I have no more info. except tht this is my ggrandfather and he lived and raised his family in and around Delta and Hopkins Co. Tex. He died 2nd Jan. 1882 in Hopkins, Co. His wife name was Annie Elizabeth (maiden name unknown) Thanks..
Helen Ross Sat, 20 Dec 1997 19:27:27
looking for the surname--SUIT---appreciate any help uou can give me.
Lelon Carroll Sun, 21 Dec 1997 21:31:01
I trying to gain more information on my grandmothers geneology...Her maiden name was Chairty Cook (b. 17 Mar., 1898, her
grandfather's name from her mother's side was Tom Barker, his father, Nathaniel Barker was born 4/4/20 at Monticello, AL, he is buried in Limestone Cemetery d. 8/4/93, Darlington, FL. Would like more information on the Barkers...believe that Tom Barker served in CO E, Clanton's BN...Ala. Infantry Rgt or was perhaps part of Clayton's BDE? He may even be Thomas J. Barker who served with the 5th Florida Cavalry and was paroled at Tallahassee 5/12/65. His father, Nathanial served in Canty Brown's Home Guard Unit. Thank you for any information you can provide.//Lelon Carroll
Carolyn SIGLER SCHELLANG Tue, 23 Dec 1997 10:48:09
Family saying is James Jacob SIGLER was born 1818 in Limestone Co. until recently. Know some are saying it was Giles Co., TN., and finally some are saying they're not sure, so I'm not sure either. He's Father's name was William SIGLER and mother was Nancie Caroline ???. Any help would be helpful!! Thanks.
Vicki Conklin Thu, 18 Dec 97 20:37:04
BLOODWORTH / FINDLEY / HAMLET. Looking for any information on Seaborn "Siebe" Miles FINDLEY, born 15 Feb 1886 in Alabama (son of Miles FINDLEY and Lizzie). He married (25 Dec 1904 at Hughes Springs, Cass, TX) Era Leola Belle BLOODWORTH who was born (to Saul Washington BLOODWORTH and Mary HAMLET) on 8 Jan 1888 at Talapoosie (Tallapoosa?), Alabama. Just started research on this branch of my daughter's paternal family. Nothing has been verified at this point and this is all we have. ANY information will be greatly appreciated. E-mail to vicconk@msn.com - mail directly, many links don't seem to work. Thank You! Vicki Conklin.
Casey Thu, 25 Dec 1997 10:00:18
Willis O'Bannon lived in Mobile, Alabama in the 1870-90s. He married a woman with the last name of Perez. I would appreciate any info you can find out. He is my great great grandfather
Joyce McMurray Thu, 25 Dec 1997 21:47:21
Researching McMurray family. Blount Co. Ala. 1824-1860 Franklin Co. Ala. 1850-c.1882 Any help.Please..TIA
Dan Powell Sat, 27 Dec 1997 14:21:38
I would like any information relating to Marion McDonald Powell, Wife: Ada L. I believe he was born in Oct. 1855 died 1910. Had seven children that I know of.
Terry Wyatt Sun, 28 Dec 1997 09:08:40
GOODWIN, OLIVER W. born 1840 somewhere in Alabama. Married Penny Nobles from North Carolina, they moved to Texas around 1870.
James E. Walker Sun, 28 Dec 1997 17:40:09
1. Looking for information on my GGFather William H. Walker b- c- 1827 probably in the Spartenburg District SC and Married Synthia Ann Putman b-1835 St Clair Co (?) AL
***Note I have Lots of names for her line if you are interested***.
2. William WALKER's Parents were John WALKER b and d (?)and Mary (?) b--(?) d-29 Jul 1852 also Spartenburg Dist SC, No more info here
3. John WALKER's Parents were John WALKER and Margaret (?) no more info. I would appreciate any info you may have and and I am willing to share.
James Harris Sun, 28 Dec 1997 21:51:41
WILLIAMS: I am looking for information on my great great grandparents. What info I have indicates they came from Al. to Ms. James Monroe Williams bn 1819 d1875 mrd. Mary Elizabeth Mullenex(Mullanax).She was born in 1825 in S.C. Children Thomas Jefferson,Martha Lucendi, Stephan Monroe, James Franklin, Tennessee Pinkston, Loranzie Bell, Francis Balzora, and John Wesley. Any information on my ancestors would be greatly appreciated. I will be happy to share any information I have or find on this family.
William D. Reeves Mon, 29 Dec 1997 10:39:11
I am searching for Romanzo Montgomery, resident of Alabama c. 1870, probably wealthy, owned property in New York; had daughter Leita Montgomery, prominent socially in New Orleans 1870s, married first Linden Kent, then Edward Douglas White. Any help appreciated,
Kristina Harris Mon, 29 Dec 97 18:30:10
I am searching for early ancestors of General Marion HARRIS who was born in Jefferson County, AL, (abt. 1839) married Susan GOODWIN in 1859 and subsequently disappeared while serving in the Civil War (CSA) He probably served in the 58th Regiment AL Infantry and possibly the 5th. Unfortunately, the roster of both units listed J.M. HARRIS which was slightly different spelling and may or may not be the same person. So far, I have been unable to determine his mother's maiden name although it could be SWINNEY. His father is also unknown but may be Joel HARRIS.
Sandra Estes Copeland Mon, 29 Dec 1997 22:48:17
ESTES, GEORGE supposed to have been born in Alabama about 1809-1812 then family moved to Missouri. He may have been the son of ANDREW ESTES and POLLY GIBSON ESTES. JOHN G. ESTES was also born in Alabama and was probably older brother of GEORGE ESTES. Sandra Estes Copeland 315 E. Grand, Ponca City, Ok. 74601
Patrick Garrett Tue, 30 Dec 1997 10:37:13
Bowman: Joseph, m. Mattie Ann Pickett 12apr1883,Shelby Co.AL Son Bruce and other sibs Pickett's parents: John B. Pickett and Permelia Wolf. Bruce had several spouses. Interested in Evie Kizziah.
Sue Bumerts Wed, 31 Dec 1997 06:25:56
My great grandfather JOHN EDWARD YOUNG was born in Alabama 17 Mar 1842, grew up in Marshall Co, served with Col. Russlell's COMPANY "H" 4TH ALABAMA CAVALRY from 1861-65 and married A.E. (ANNE ELIZABETH CONNELLY, not sure about maiden name) 22 July 1869 and moved to Texas in 1878 and to Johnson Co Texas in 1888 where he died 10 Mar 1917 and she died 4 Dec 1932. We can not find John Edward on the Marshall Co 1850 census and believe his family may have been from another co in Alabama. On his Civil War Pension Application he says he was born in Alabama but not what county. If anyon has information on the surnames YOUNG and CONNELLY please write. Thank You.
Marie M. McCumber Wed, 31 Dec 1997 23:53:57
I am searching for information on my great-greatgrandparents, William N. Coulter and Martha Davis Coulter. They were the parents of
my great grandfather, Ruben Martin Van Buren Coulter (d. 1915). Any information would be greatly appreciated.
Sandra Copeland Wed, 31 Dec 1997 22:48:23
COOKE, ROBERT JEREMIA was born in Alabama in 1848, his mother was MARTHA ARA COOKE also born in Alabama in 1826. Both died in Texas. I don't know county or any other details. Any info. would be appreciated. Thank you.

Return to Table of Contents
Unknown County Homepage

Table of Contents maintained by:
The USGenWeb Archive Project - Alabama File Manager
Copyright © 1997 - 2018 The USGenWeb Archives Project
Updated: - - Tuesday, 09-Dec-2008 14:10:28 EST