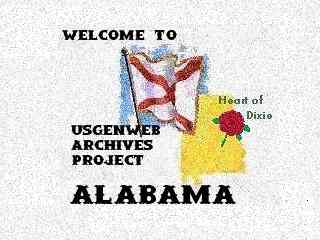 The USGenWeb Archives Project - Alabama
UNKNOWN COUNTY
QUERIES - 1997
Quick jump to specific month
April May Bottom

Cathy Stanfield Thu Mar 27 14:36:21 1997
I am researching NELSON surname in AL. Poss. in Shelby County because family legend has it that they came to AR from around Birmingham AL. Here's what I have in this family: Father- unknown NELSON, mother- Nancy Ellen unknown maiden-name (The name Nancy Ellen was taken from death cert. of one of thier children so may or may not be right). Children that I know: Rhoda b.1873 m. Robert ZIMMER, Alma b.1879 m. Joe Cothren (in AR), Melissa b. 1884-6 (my greatgrandmother) m. 1st Nen LEE, 2nd Anderson TALLEY and 3rd Virgil PRUETT, (all her marriages occurred in Perry Co. AR), and a son George NELSON unknown bdate. Also their was another daughter but all I have is what I believe to be her nickname which was Dink. There may have been other children but this is all I have.
Kathy Jones Thu Mar 27 18:33:21 1997
Would like information on the following family living in Jackson COunty, AL Robert and Mary Wilson Jones, Bridgeprot AL Their children: Pleasant ?, he moved to Tx Robert Jack Charles Smithson m. Cordelia Jones Lou E m. John W. Alley Melvina m. William S Allen (he was a tailor) Jane Smithson m. F.J. Graham Also Charles and Cordelia's son Jasper Jones He was an attorney in Scottsboro, married Madge Warwick They had 2 daughters, Mary Cordelia and Janie D. He was killed by B R Franks outside his home. Would like to know what happened to his wife and daughters?
Patricia Petosky Sat Mar 29 08:39:42 1997
CHEATHAM/SWAN/SWANN - looking for information on Elizabeth Adelia SWAN/SWANN b. 1835 in Alabama. Married a Mr. CHEATHAM who was killed in CW. They had 3 children, Molly, Jennie and Arch. Husband was supposedly well off and possibly a General for the Confederate Army. Would also like information on the Cheatham line.
Bill Kennerly Fri Mar 28 22:58:35 1997
Looking for info on Alice Patton, b. c 1860, Alabama. Moved to Texas after that and married William Kenner Gay.
Leonard J. McCown Sat Mar 29 18:46:29 1997
CLARK-BIRD - H. J. CLARK, b. abt 1833, SC, mar. Louisa BIRD, b. abt 1835 SC; 6 children: Mary Melissa (1863 Alabama), James Wesley, Rimp, Joe, Henry, and Lou. Daughter Mary m. 1882 Kaufman Co., Texas, John Mitchell TURNER. Where are the Clarks. Please help! Invite correspondence with descendants. Leonard J. McCown, 217 West 14th Street, Irving, Texas 75060-5903.
Gay Wall Sun Mar 30 18:36:05 1997
UNKNOWN AL COUNTY- Looking for Tolliver Lindsey Neal b . 7 May 1858, supposedly in AL, would like to know what county and any other information on his parents: Allen Neal & Eliza (Lindsey) Neal. Eliza was supposedly full-blood Choctaw and born in MS. Thank you for any light anyone can shed. Gay
Jim Trimble Mon Mar 31 11:43:17 1997
attempting to find my great great uncle: Frank Draxler. He came to America, from Austria, and settled in Alabama sometime in the early-mid 1800s.
Wanda Rabb Mon Mar 31 20:06:17 1997
I am looking for any information on Hezekiah RABB who served in the 33rd Infantry, Company C (Civil War). Thanks.
Karen Blackwell Mon Mar 31 20:36:13 1997
Looking for parents of LEONARD DAVID (L.D.) BLACKWELL who was born on Oct.4, 1862 "somewhere" in Alabama. does anyone have BLACKWELL'S born around 1842 that could be L.D.s parents? Any marriages around Jan. 1862?? Any information or help would be appreciated since I am fairly new to theis. I do not have any idea as to the county he born in, but am sure he was born in Alabama. Thanks in advance!
Ann Storer Mon Mar 31 20:59:21 1997
searching for parents of John C. King.-born in la.1850 his parents were from ala-moved to la believed to be Bardin King & Susan Salter.there were two brothers Coleman King and Cullen King. John and his brothers moved to texas.
Ann Storer Mon Mar 31 21:02:55 1997
Searching for Garrisson Jones father of George Washington Jones. born abt 1830.
April TOP
Dorothy L. Cottingham Tue Apr 1 10:08:50 1997
I am researching the family name of Langford. Mr. great grandfathers name was David Crockett(D.C.) Langford. He was born in Alabama in in 1948 to the parents of David Langford (51) and Lucrecia Langford (47). Both parents list North Carolina as their birthplace according to the 1850 census. Other children in the family were. Sarah (20), Cornelius (18), Amanda J.(17), Andrew (13), George(11), Mary J. (8). All Children except David were born in North Carolina.
Marilyn Clere Wed Apr 2 16:31:48 1997
Looking for information on Jackson (Jackie) B. Barnett, b. Bibb Co. Abt. 1842. Wife's name Unk. Parents Daniel & Harriet Elizabeth Fraizer Barnett. M. 6/7/1826 Bibb Co.
Reita Jones Burress Thu Apr 3 05:34:25 1997
I'm looking for what happened to FRANKLIN R.W.JONES. He was born 1812 Tn. was in Blount Co. ,Al. in 1830,1840, in Walker Co.1850, in Winston Co. 1860 and 1870. I can't fine anything further after this. He married Mary Hall 1829 in Blount Co. had 9 children. He also had children by Elizabeth Wildman. Would love to share info on this family.
myra Lovier Thu Apr 3 06:44:11 1997
any information on any one living in alabama before 1849
Crowley Murphy Thu Apr 3 12:33:55 1997
seeking parents of: Elizabeth Norris, b tuscoloosa co,adt1820-30,wife of Redmond Jones. Caroline Brown,b 1821,wife of Joseph Hogg Durrett. Rebecca Alewine:b abt 1795,wife of Thomas Durrett
Dana Beavers Thu Apr 3 14:58:02 1997
Looking for information about Robert BIRDSONG born somewhere in Alabama around 1910.
Sue Tinsley Wilkinson Fri Apr 4 18:10:47 1997
PARSLEY,J.R. & LUCRETIA ? I am looking for a marriage in Alabama about 1844-45 between J.R.Parsley and Lucretia last name unknown. This couple are in Benton Co. Missouri in 1850 and gave their birthplace as Alabama. I have much information to share on this family who came to Texas, but desperately need her surname.It may have been Waggoner but no proof. Thanks for any help anyone can give me I'll be glad to pay whatever needed. Sue
David L. Jordan Fri Apr 4 11:43:20 1997
Looking for ancestors of JOHN MORRIS b about 1765 place unknown, d about 1845 in Coosa or Taladega County, Alabama. Had lived in Tenn. in late 1700's and early 1800's. Per 1830 census lived in Bibb County, Alabama and in 1840 lived in Coosa County. In 1850 census JOHN MORRIS'S son, BAILES MORRIS(age 44, b Tenn.), Wife, JANE NORTHCUT (daughter of JOHN NORTHCUT of Bibb County)(age 38 b Tenn)and 9 children being: RUFUS KING MORRIS AGE 19 M REBECCA MORRIS 17 F MARGARET MORRIS 12 F JOHN? MORRIS 10 F? ARNI J MORRIS 9 M JARRED W MORRIS 7 M ROBERT C. MORRIS 5 M FRANCES MORRIS 4 F JOSEPHINE 1 F and REBECCA MORRIS 76 F JOHN'S WIDOW ? BAILES MORRIS d 1880 and is buried in Old Goshen Cem, Henderson County, Tex. RUFUS KING MORRIS was teaching School in Robertson County, Tex. in 1860. Moved to Henderson, Kaufman, VanZandt Counties. Married MARY CATHRINE PALMER Sept. 26, 1867. RUFUS KING MORRIS D 1899.
Jill Mason Fri Apr 4 20:04:03 1997
I am looking for information about Vadie Lee NEWTON (female) She died in 1969. She was married to Arthur FITZGERALD. Her father was JD NEWTON and was Cherokee. I have no dates, no clues her daughter Katheryn Sue NEWTON was born in 1937.
Darra A. Martin Fri Apr 4 21:37:57 1997
I am trying to find any information about my grandparents. Roy Monroe Stanley, son of: George E. Stanley, son of: George W. Stanley Maggie Idella Smith Stanley, raised somewhere arounnd Paint Rock, Al.
Christopher T. Winter Sat Apr 5 00:12:07 1997
Seeking 1700-1800s connections to BRASHEAR, MONCRIEF, VAUGHAN, TURNBULL AND WINTER. No matter how obscure.
Frank Spencer Sat Apr 5 08:32:32 1997
I am attempting to find family of James Madison Spencer, my great- grandfather. The earliest information I can find is 1860 census of Calhoun County MS. That census data shows him to be 24 years old, married to Louisa (Gable) within the year, and with birth state of Alabama. I know his birthdate to be February 7,1836. Census data also show next listings of John M. Spencer , age 26, Benjamin Spencer, age 23, and George Spencer, age 45, apparantly all brothers, or 3 brothers and an uncle, since they were all born in Alabama- Thanks for any assistace you can give. Frank Spencer
Pat Rowbotham Sat Apr 5 10:10:36 1997
Looking for info on Albert J. TAYLOR and his wife Margaret and James BROWN and his wife Elizabeth; possibly in Pickens Co. in 1840; both couples later found in Tishimingo Co. MS;
julia benoit Sat Apr 5 12:34:17 1997
Seeking info on Elizabeth Edwards b. cir 1831 AL m. cir 1848 Smith Co., MS? John Jordan Walker b. 31 Dec 1828 AL/MS Need her parents, siblings, date and place of birth. Was her father Isaac Edwards? Elizabeth died 1916 Franklin County, MS. Any help appreciated!!
PJ Achramowicz Sat Apr 5 16:49:06 1997
GOLDEN, Dee Loyd, b.1883 AL, d.1942 Lamar Co., AL, s/o William Addison GOLDEN & Mary Elizabeth JOHNSON, m.Valeria LOE, b.August 1886 AL, d/o Joshua A. LOE & Martha S. PRESSLEY. Children: Troy Lee, Loran Marvin, Mattie M., Lizzie G., W.A. Have specific questions regarding Valeria's parents and grandparents, Jonathan PRESSLEY & Nancy (NORTHCUTT?) & her siblings.
PJ Achramowicz Sat Apr 5 17:05:46 1997
PRESSLEY, Jonathan, b.c.1815 SC, d.by 1900 Crenshaw/Fayette? AL, m.c.1839 prob Butler Co., AL, Nancy M. NORTHCUTT, b.4 May 1822 Darlington, SC, d.1900-10? Fayette/Lamar Co., AL. Children: William, b.c.1840 AL, Sarah, b.c.1842 AL,(m.TERRELL?), Susan, c.1846 AL, Nancy J.,c.1854 AL, Jonathan A.,c.1859 AL & Martha S. b.February 1862 AL, m.LOE. Looking for all descendants & parents/sibs of Jonathan.
Terri Gibson Sat Apr 5 21:50:09 1997
I am searching for a birth or marriage record for Hugh Gilbert born in Alabama in 1864. He married a woman whose surname was Pettitt. Thank you, Terri Gibson
Jim Neece Sun Apr 6 06:07:31 1997
MOSES NEECE b. 1855 Lincoln Co, TN d. aft 1910 m. WILLIS C or C. WILLIS (?) 1878. Three known children, BULAH NEECE b. Mar 1881, HERMAN NEECE b. March 1885, & ANDREA NEECE b. July 1889. Belived to be in Madison Co, AL in 1910 but residence is unknown. Need any information on any of these people. Will gladly share.
Nancy Harwood Sun Apr 6 19:07:16 1997
Looking for a marriage record for William Holloway THOMPSON (born Alpine, Talladega Co. July 1840) and Nancy Jane ROBERTS (born Abbeville District, SC May 1841) daughter of Benjamin F. ROBERTS of Talladega Co. Marriage would have taken place between 1860 census and 1866, somewhere in Alabama. Nancy Jane may have been previously married during this period; she was unmarried at the 1860 census.
Sandra Farmer Mon Apr 7 18:03:51 1997
Looking for information on Sanders RASBURY b.1830 somewhere in Alabama. Later moved to Georgia. Was married to Georgiann.
Marie Nations Mon Apr 7 09:00:05 1997
Would like to share info with anyone researching Allen and Mary GOODSON FORT who lived in Henry County, Al, as early as 1835. Their daughter Sarah FORT married a Daniel WARD. According to 1840 census they had a daughter whom I have not located yet. Son Albert Thomas FORT married a Harriet. I would love to know her maiden name. Son Danial Isaiah FORT married Elinor BAKER. Who were her parents?
Christopher Mon Apr 7 23:29:24 1997
I would like to know the ancestry behind the Briscoe name. Which Indian tribe is it affiliated with and how far back does it go?
John B. Doss Tue Apr 8 08:03:36 1997
Seeking info. on John Crawford Doss, b:4/17/1815, Giles Co. Tenn. Married Catherine Caroline Bain 2/7/1839 in Ala. Eldest son John Joe Doss b:4/29/1841 Marshall Co., Ala. married Sally(Sallie) E. Bailey 6/15/1862 in Ala. Seeking any info. on this line. Have good info. from John Joe to date. Glad to share and will reemburse for any expense incurred providing info. on this line. Also looking info. on James Mitchell Doss, son of John Crawford, b:Sept. 9, 1846 in Ala. married
Mary "Donne" O'Donnell Tue Apr 8 08:11:56 1997
Family of "Johnny Cheatham King Allen
Pam Stone Wed Apr 9 17:43:14 1997
LIVINGSTON William F. LIVINGSTON, b. ca. 1810, (place unk.) m. Ann? ------. William & Ann LIVINGSTON had at least two daughters, who were twins: (1) Marillah S. LIVINGSTON, b. 13 Mar 1835, AL, d. 24 Oct 1894, Itawamba Co., MS, m. 22 Apr 1855, Fulton, Lauderdale Co., AL, George Washington GRISSOM; (2) Margaret L. LIVINGSTON m. John M. GRISSOM (not George's bro., unsure of relationship) in same co. I know that John LIVINGSTON, son of William Todd LIVINGSTON & Sarah WARE of Essex Co., VA, and Surry Co., NC, d. 1826 in Blount Co., AL. Can anyone tell me his children? Grandchildren? Does anyone know where his bro., William LIVINGSTON (m. Isabel NELSON) went? Thanks! Pam Stone pamstone@digital.net 3645 Barna Ave., #28F, Titusville,
Hugh McCurley Wed Apr 9 06:21:56 1997
I am looking for the decendents of John Purser from Mecklenburg Co, NC. They are Moses, Richard, David, Robert, Elizabeth, Sarah, Dorcas, and several younger unnamed childern. Both Moses and Richard settled in Marion Co, Ala. by the 1840's where they died. Richard's family may have went to Marshell Co, Ala after his death. I do believe there are other branches of this family somewere here in Alabama. Please get in touch any replies will be welcome and information shared. Also this name spelling varies such as Purser, Perser, Person, Prosser, Pusser.
Alanna Riley Wed Apr 9 07:57:22 1997
I am looking for my great-great grandfather, Samuel Richard Riley, born in Alabama in 1861, county and parents unknown. Migrated to Texas prior to 1890. Married Mary Virginia "Jennie" Floyd, around 1887. Their children were: Miranda M Carter Richard Howard Altha Jewell Mamie Clida S.R. Harold. Please help-I am unable to find any information on this ancestor!
Judy Long Wed Apr 9 07:58:57 1997
Any information on Gife or Gibe CHATMAN and his wife Margaret EDEN. The only child I know of is Eliza Margaret (CHATMAN)TATE. She was born 25 Dec 1849 in AL. In 1880 the TATE's are in TX. Any help would be appreciated.
Hugh McCurley Wed Apr 9 06:23:19 1997
I am looking for the decendents of John Purser from Mecklenburg Co, NC. They are Moses, Richard, David, Robert, Elizabeth, Sarah, Dorcas, and several younger unnamed childern. Both Moses and Richard settled in Marion Co, Ala. by the 1840's where they died. Richard's family may have went to Marshell Co, Ala after his death. I do believe there are other branches of this family somewere here in Alabama. Please get in touch any replies will be welcome and information shared. Also this name spelling varies such as Purser, Perser, Person, Prosser, Pusser.
Don Cherepski Thu Apr 10 05:58:26 1997
I would like to locate the following relatives on my mother's side of the family. Olease help me so that I may be able to track our Cherokee heritage.
Kathy Tolbert Thu Apr 10 08:27:44 1997
Looking for any information on John Graham that married Catherine Ward on Apr. 15, 1952. I have found him in the 1850-1870 census but can't find him before or after that date. Any information would be greatly appreciated
Lynne Emmons Thu Apr 10 10:13:27 1997
Trying to research the JONES/DAVIS families. Alexander JONES b. 1823/24 in Alabama. Father's name unknown, I believe his mother's name was Mary DAVIS. Mary had a brother Whittington DAVIS. Mary was born in Indiana and sometime after Alexander's birth moved back there. In 1833 she married John WOODBURN in Jefferson Co. Indiana. Alexander possibly had a brother Felix, who later moved to Missouri. I could really use some help with this one, thanks.
Lisa Kight Thu Apr 10 23:46:37 1997
Looking for information on the following Shelby County, AL families: SAMUEL A. RAGSDALE b.ca 1820 Alabama; m. JANE C. REID/REED in Shelby Co. ca 1854. His mother was ELIZABETH. Who was his father. As not listed in 1850 Shelby Co. census, assume he died bef. 1850. Both parents b. SC per 1850 census. Possible siblings: WILLAM RAGSDALE, JOHN RAGSDALE, CAROLINE RAGSDALE, FRANCIS RAGSDALE. SAMUEL also fought in Gid Nelson's Light Artillery during CW. They moved to Texas ca 1870. AMOS ELLIOTT b.ca 1766 Rowan, County, NC; died ca 1845 in Shelby Co., AL. Many descendants remained in this county. His sister was NANCY ELLIOTT b. ca 1772 also Rowan Co., NC. She m. JONATHAN MERRILL/MERRELL. They moved to Lincoln County, TN by 1818. Looking for parents of these ELLIOTTS. JANE C. REID/REED m. SAMUEL A. RAGSDALE in Shelby Co. ca 1854. Who were her parents? Father may have been b. VA; mother b. SC. Jane may also have been born SC. ANY HELP ON THSE LINES APPRECIATED. HAVE HIT THE PROVERBIAL BRICK WALL.
June Walkord Fri Apr 11 18:21:10 1997
Seeking info on ancestors of JAMES W.CROW and his wife MARY A. CROW. Mary was born in Al and they were likely married there in early 1840s. No known county. Their first four children were born in AL. Their names were Reuben,b.1843, Sarah, b.1844, Synthia(Cyntha?),b.1845, and Andrew,b.1847. Any help with my ancestors, especially parents of Mary A. Crow, will be greatly appreciated.
Renee Tagert Sat Apr 12 20:52:37 1997
I am looking for information concerning my grandfather, Walter Lucian Gibson. He was born in Grove Hill Alabama, August 13, 1910. He was married in Washington, DC to Eural Addy from Union, MS on July 3, 1941. He died October 29, 1958. Please help with any info available. My grandmother never met his family and doesn't know their
CLARICE W. SMALL Sun Apr 13 19:26:12 1997
I am looking for information on my great grandfather, James Wes- ley Cole. He was born on 13 Jan,1840 and I think his birth place was somewhere in Al.,but I don't know who his parents were. Does anyone have any information on him?
Judy Long Fri Apr 11 06:38:53 1997
Any information on the Gife/Gibe Chatman family. He married Margaret Eden. Both are from Al. The only child I know of is Eliza Margaret CHATMAN. She married Jacob Lawrence TATE maybe in TX ca 1874. Any information on the CHATMAN, EDEN, or TATE family would be appreciated.
Lee Bartos Mon Apr 14 12:41:37 1997
Need information on John B. Sanders, born SC, died Shelby Co., AL. before 1900. before 1900. Need date of birth, parents, and exact date of death. Believe to be buried in Calera, AL.Joh
Myrna Ceccarelli Tue Apr 15 20:12:16 1997
looking for family of George Washington Barnard. Need proof of his marriage to Elizabeth ? His birth date Sept 5, 1818 She was born about 1815. Also need proof of parents who may be John Barnard born Oct 14,1791 and may have married Polly Grissom. Any info would be helpful. E-mail at Myrnajoo@msn.com Thank you.
Harriet Hough Tue Apr 15 13:39:54 1997
William Henry WHARTON, Dr. c1830 Believed to be both medical doctor and minister. He married Priscill Dickson b 1810 TN (dau of Michael; Tuscumbia ALABAMA) They lived in Nashville TN. Their daughter Annie Louise b in Alabama. Annie mar Wm Sugars McLemore, Franklin Tn.
Jim Bowen Wed Apr 16 09:11:03 1997
Thomas C. BOWEN, born 2 Dec 1833 somewhere in AL. Went to TX. abt. 1855. md. Lovann DESMOND abt. 1857/8 I believe in TX. Their ch. were James Samuel 8 Jun 1861-13 Jun 1932 George Washington 4 Dec 1863-22 Nov 1933 John D. 1867-aft.1880 William Marion 1871-aft. 1880 Mary Jane 1874-aft 1880 Josephine 31 Oct 1878 (twin) 20 May 1934 Marth Ella 31 Oct 1878 (twin) 19 Aug 1913
Darla ADAMS SNYDER Thu Apr 17 05:40:58 1997
I am searching for the parents/family of Alice HAINES SKEEN (b. 13 Jan. 1872; d. 18 Dec. 1904). She married Moses SKEEN on 29 Jan. 1888 in Fannin County, TX. I have found one family in the 1880 Fannin Co., TX Census who is named HAYNES, and they have a daughter named Alice, who would be the right age for "my" Alice. I don't know if this could be her. This Alice's parents were John and Mary HAYNES. John was born in Alabama, as were his parents (according to census). I know nothing about her family, except that they were Cherokee. Please, any ideas are welcome! Thanks!
Don Rigali Thu Apr 17 08:59:19 1997
HUTTON Seeking information about the HUTTONS, John HUTTON, William HUTTON & Alexander HUTTON, all born abt 1800-1810 in TN moved to Alabama abt 1820. John HUTTON married Nancy ? they had six children, Emiline, Mary, James, Ann, John, & Lucinda. the family moved to Wood County Texas abt 1850.William HUTTON married Phoebe Bynum? had six children, John Winney,Isaac, James B., Alexander, & Benjamin.
Martha Charrey Thu Apr 17 17:22:48 1997
Info on James Spencer Swan, possibly from Tuscaloosa, Tuscaloosa county. Relocated to Louisiana around 1900. First marriage was to a Skinner
Nancy Miller Thu Apr 17 22:22:49 1997
Looking for more info on John SIMS and his wife Mollie BOLES. They had a daughter named Martha Ann SIMS who was born in 1860 in Grays Chapel, AL. Also looking for more info on Isaac Hardy FIELDS Sr born in 1828 in AL. He married a Susan SMITH(?) in Iuka or Corinth MS. Need more info on Sarah Jane and Rebecca ROUN(D)TREE. They were born in 1831 and 1821, respectively, in Limestone, AL.
Terre Fri Apr 18 13:34:27 1997
I am looking for information on Doc Wyatt b. Yorktown GA d. 13 Sep 1914 Hazelhurst GA. He was married to Jenny Smith d. 8 Jan 1933 Atlanta GA. I am told that one of them was a Cherokee Indian, and I believe that they lived in AL because some of their children were born there. Their Children were: Tom b. 8 Sep AL m. Eunice GRAY;Will b. 27 Dec AL m. Florence BUNDRUM; Mae m. Emory WHITMORE; Eva Jane b. 18 Nov 1900 GA m. Monroe William GOODWIN 1914 d. 13 Aug 1976; Minnie m. Louis GRAY; Ethel b. 14 Feb m. Ed GOODWIN 1922; Wincie Lee b. 19 Sep 1910 AL m. Clifford GRAY 18 June 1927 Brunswick GA. I would like any information on Doc or Jenny, especially information on their parents. Please email me at TTomlin967@aol.com
Sandra Page Fri Apr 18 21:17:01 1997
LITTLE<HILL<SOLEE< VALINTINE. Supposidly family names of Margaret Caroline Little, b abt.1840 in Al.
Jacqueline DeBlois Sat Apr 19 12:21:01 1997
I am looking for the birthplace of Waddy A. Bacon. He is the son of Edmund Parkes Bacon who was born in Virginia in 1787, died August of 1832. Waddy's mother was Harriet Ann Taylor, who was born in Pendleton, South Carolina in 1802 and died in Pontotoc, Mississippi in 1859. Edmund and Harriet were married in 1819. She was the daughter of Samuel Taylor who was born 1777 and died in Eutaw, Alabama. Samuel's wife was Leha Reese, born December 1, 1779 and died in 1835. Samuel and Leha were married in 1783.
Scott McCoy Sat Apr 19 15:26:49 1997
MORGAN, Wesley Deskin b 7 DEC 1832 somewhere in AL... Had 4 brothers..Nathan Lightfoot b 1822, John B. b 1824, Barbee b 1827 and George b 1830. I don't know if any of the brothers were born in AL...Parents were from South Carolina. Wesley was in MS in the 1860 period. Fought on the Confederate side. Wounded and captured. Escaped and re-joined. Left MS in 1885 I am looking for his parents names and where in AL he was born. Thank you for the help.
Pam Stone Sat Apr 19 18:42:02 1997
BUTLER/HARRIS Harriet Ann "Ann" BUTLER, b. 1837, unk. co., AL, probably dau. of Sanders W. & Elizabeth BUTLER of AL & Itawamba Co., MS. Sanders was a J.P. 1850 Census shows he was b. GA, but Ann says parents' both b. AL. Was Sanders b. GA & raised AL? Ann m. 1857, Itawamba, James Gassaway HARRIS, b. TN, son of ? Can anyone help? Thanks! Pam
Pam Stone Sat Apr 19 18:57:27 1997
AUSTIN/COUCH James J. Austin, b. 1816/1817, unk. co., AL, m. Dorcas -----, b. same year, place. Possible mo. of James J. was Sarah ----- AUSTIN, b. 1795/6, Bear Creed, Marion Co., AL. James & Dorcas appear on 1850 Hardin Co., TN, Census with children, all b. TN: (1) Eliza Jane AUSTIN, b. 1836/7; (2) Uriah AUSTIN, b. 1837/8; (3) Camely M. AUSTIN, b. 1839/40; (4) David L. AUSTIN, b. 1841/42; (5) Robert M. AUSTIN, b. 1843/44; Mary C. AUSTIN, b. 1855/6; (7) Milly C. AUSTIN, b. 1857/8. David AUSTIN m. ca. 1860, Hardin Co., TN, Julia Ann COUCH, b. 1844, Hardin Co., TN, dau. of Moses Preston COUCH, b. 1818, unk. AL Co., and wife, Nancy Elizabeth POLLARD, dau. of James POLLARD & Lovey BENNETT-WALKER. David & Julia had: (1) Mamie AUSTIN; (2) Mollie Anne AUSTIN; (3) David AUSTIN; (4) William AUSTIN; (5) Ella AUSTIN; (6) George AUSTIN; (7) Pressley AUSTIN; (8) Nanny (Nancy? Mary?) AUSTIN; (9) Fanny (Frances?) AUSTIN; (10) Lizzy (Elizabeth?) AUSTIN. Can anyone help with these lines? Thanks! Pam
Cathy Wood Osborn Sat Apr 19 19:46:52 1997
Researching George W. Morgan (1774/84-1 Jan 1839) who came to Wilcox Co. AL c1812/17 with brothers James (1755/1774-?) and Joseph (22 Feb 1783-25 Jan 1857). James had James, Mark and Martin. Joseph m. Drucilla. George went on to Falls Co. where he and wife (name not known) were massacred by Indians. George's children were Joseph, Sarah, John, Barba, Claiborn, George W., Andrew Jackson and William J.
S. Lewis Sun Apr 20 14:06:23 1997
Looking for any information on the MODRALL family. I know that Mary (Polly) MODRALL was the daughter of Robert MODRALL. She married James PARK in 1800 in Kentucky. The MODRALL family was from Alabama, but I don't know what county. Thanks for any information.
Cindy Carr Mcchargue Sun Apr 20 15:20:33 1997
I am trying to start a search with almost no information and I don't know where to find any. My ggrandfather's name was Sam or Samuel Carr. The information that I have is that he was from Michigan or someplace near there but he didn't get along with his father and he was either kicked out or ran away from home when he was twelve. He married and had a family, Joseph Lawson, my grandfather, Grady, G.B.( I do not know his full name) Ruby and Venice, who was mentally handicapped by Down's Syndrome. All of these people resided in Upson Co. Thomaston, Ga. between 1910 and 1984. Sam never spoke of his father or mother, and my grandfather had nothing to go to search for them. Sam was buried in Alabama, I don't know where. Since all of the people mentioned above are now passed away, I would appreciate if anyone with information would get back to me. There are very few of us left. e-mail me at bigmac@altell.net. Thanks so much.
Lisa Robison Mon Apr 21 14:13:41 1997
I am looking for information on George Tillman DUFFIE. He was buried in Alabama in 1962. His son George Oliver DUFFIE was my grandfather who died in Gaffney, South Carolina in 1967. Any information obtained would be greatly appreciated.
Jenny Reach Mon Apr 21 22:38:02 1997
I am looking for my family from Blockton, Alabama. I do not know if blockton is a town or county. My great grandfather's name was William Lafayette Reach. b. 02/17/1876. d. 08/24/1938. He was married to a woman named Lula Candy, and I believe her maiden name was Lively. She was born July 8, 1882. d. May 17, 1920. Williams father was Andrew Jackson Reach and he was born in the year 1840, his mother Frances was born i9n 1847, and they had eight children. Andrew's father was James C. Reach from Alabama and his wife was Salina from South Carolina. I have no other dates or maiden names for Frances and Salina. Can anyone help me?
Sharon Martin Tue Apr 22 17:16:59 1997
Looking for information on Seaborn W. Barnett. I know that he married Sarah Elizabeth McCamey Hawkins and they had 4 children: James, Marion, John, and Richard. I have found him in the 1880 Madison County census and can not find him before 1880. He is buried in Killingsworth Cove Cemetery in Madison County, Alabama. I was told of a brother named Bozilla Barnett who lived in Texas. Any information would be greatly appreciated.
April Bivens Tue Apr 22 11:35:55 1997
MASSEY-I am looking for the family of Missouri Elizabeth MASSEY. She was born 19 March 1848, somewhere in GA. She married James Job TAYLOR on 4 Nov. 1867 in Wetumpka, AL. I believe the names of her parents are Robert MASSEY and Tolitha BAZEMORE. I have found several Bazemores and Masseys living near one another in Coosa Co., AL, but don't know how or if they are related.
Loyd N. Sybert Wed Apr 23 09:23:29 1997
Richard Clovis COWAN, b: 10 Mar 1877 in AL, d: 22 Feb 1955 in St. Francis Co, AR, m: 19 Feb 1901 in Cross Co, AR to Lula B. HARDIN, b: 11 Feb 1885 in TN, d: 16 Oct 1978 in St. Francis Co, AR. Searching for the parents and siblings of Richard Clovis COWAN. Thanks in advance for any help.
Loyd N. Sybert Wed Apr 23 09:31:03 1997
Charles Energy VINSON, b: 15 Dec 1868 in AL, d: 5 Oct 1947 in St. Francis Co, AR, m: abt 1888 in AL to Lucinda FRANCES, b: 28 Apr 1870 poss. in AL, d: 7 Mar 1954 in St. Francis Co, AR. Searching for the parents and siblings of Charles Energy VINSON and Lucinda FRANCES. I will be most grateful for any help.
BSolo44602 Thu Apr 24 01:52:47 1997
Looking for Laura Jane WILLIS b. 1853 in Gilmer Co., GA m. Henry BAGGS IN AL. Also have Achpenia or Aschpenia WILLIS b. 1846 NC probably married or died in AL as I lose track of her there. Any information anyone can give would be greatly appreciated.
Cathy Butchee Thu Apr 24 09:36:51 1997
I am looking for any information on my great grandfather John W Goolsby he was born March 29,1868 i belileve in Alabama proabbly around Mobile he married Delonie Goolsby they lived in madison county texas
Lynda Smith Thu Apr 24 09:56:15 1997
Looking for George Washington GLOVER born in Alabama in 1815. Hoping to find out who his parents were and any siblings he might have had. Thank you.
M Street Sat Apr 26 08:23:42 1997
Need information on Louisa Rhinehart who was born "near Talladega Springs". Family moved to Arkansas. She married John A Johnson about 1860, possibly in Arkansas. They moved back to Ala about 1865. Who were her parents. Haven't located her in the 1850 census, but John Johnson wrote letter to his mother in Ala in 1862 and they were married and had one child and at the time were in Columbia Co, Ark. and she was visiting her father who was also in Arkansas. Thanks.
Debbie Hill Sat Apr 26 22:19:39 1997
Unknown Al. County Looking for information on William Benjamin HILL b. Aug 1849 ,, ALabama. Would like to find what county he was born and to know if William's father name is William or Franklin Hill; it is said that William's mother is if not full blood at least 1/2 Indian, possibly Choctaw. William married Elizabeth Caroline MORRIS b. 1852 unknown GA. dau: of Caroline (or could be Sarah) TANNER and Franklin (Frank) MORRIS. Any help would be appreciated.
Janet Bates Sat Apr 26 22:57:16 1997
Researching: BATES, HEARD, MORRISON, NORRED, HUDDLESTON, SANDERS, STEPHENS, GASTON, COFIELD, and WATERS.
Kay Hilburn Sun Apr 27 11:36:04 1997
I am searching for info on Mahalia BLOCKER who married a Mr. HUTTO, who was born in Alabama. She was born around 1830 in Georgia, and Mr. HUTTO would probably have been born in the 1820's or early 1830's. They had several children, one of whom was Cathrine HUTTO, born in La. They all moved to Texas sometime before 1880. Any help or hints would be great! Thanks!
Marie Rockhold Sun Apr 27 14:32:18 1997
I am looking for any information on the ECK family. My grandfather was Gerard John ECK, born in Bonn, Germany in 1872. His younger brother and sisters were born in St. Florian or Florence Ala. His brothers were August John, Anthony Henry, and sisters were Mary Ann and Johannah. His father was Henry Herman. Gerard John married ANNIE CATHERINE(nee?) on September 25, 1900. I would appreciate any information anyone may have about what my grandmother's maiden name was. I don't know anything about her.
Karen Mayer Sun Apr 27 20:46:55 1997
Houston Campbell DOB 27 july 1902 DOD augu 1968 I believe my grandfather lived in Alabama before moving to Florida. My grandmothers name was Mary I. Mullaly Campbell. I am looking for any info.
hhawbrey Mon Apr 28 18:37:45 1997
Can anyone give me information on Horace Godwin or Horace Godwyn in Al. History?
Lorie Harrell Tue Apr 29 17:23:25 1997
Looking for the following family "Surnames" Kirkland, Monk, Harrell, Bagget, Evans, Hammac, Mancil or Mansel & Hawkins. All of these families lived in the following counties: Baldwin, Henry, Conecuh, Dale,Butler,Covington, Houston, Escambia. Many other counties in the surrounding areas have these surnames. Any help witll be greatly appreciated/will trade info. Contact me by e-mail and put surname you are searching for in the subject line. I currently have over 25 researchers involved with these SURNAMES! Thanks, Lorie Harrell.
Judy Strickland Hadokowitz Tue Apr 29 22:55:04 1997
I am searching for parents/siblings of my GGrandmother, Eliza JONES. Guesstimate her birth year as 1850-60. She married my GGrandfather, Joseph EASON, and lived in Hot Spring Co. Ark. Any help?? thanks. Judy
Jean Bartlett Wed Apr 30 08:17:39 1997
deGRAFFENREID Do not have first name. Emily Cox had two daughters by him. Missouri Abegail(Dolly), and Irene. Time frame about 1867-1875. Do not know if they were married, perhaps not , I remember some whisperings. My Grandmother Dolly had land left to her from her Father. I think it was in either Marion or Winston county. Lore says he was a MD in the civil war. Dolly married Walter Levi Scott. Thanks for any help.
shawana Wed Apr 30 12:03:52 1997
Looking for any information on my G-Grandmother.According to the 1900 census of Missouri she was born in Al. I am not sure of her last name I think it is Walls. Her name as it appears on her headstone is "Rhoda Walls Rice".She married myG- Grand- father Nathaniel Rice .They both are buried in Alton, mo. I only know of one child that was born that was my Grand - father George Wells (Walls)? Rice ,Nov.11 1878 in Ripley Co. Missouri . He had 2 living children my mother which is passed away and my Aunt Mae Stogsdill which is very old and does'nt remember anything. I would appericate any leads.
Debbie Davis Wed Apr 30 13:10:08 1997
MOTLEY FAMILY,I am looking for information on Zebulon M. P. MOTLEY and Martha Sophia (STONE) MOTLEY. Zeb MOTLEY was born in Georgia, but his wife Martha was born in Alabama,on Sept. 19, 1828. Marhta's parents were A.B.(Absolom) B. STONE and Elizabeth (WALTON) STONE. I believe Elizabeth might have died in Alabama.
Debbie Davis Wed Apr 30 13:19:50 1997
McCORMICK FAMILY, looking for information on William and Rebecca McCORMICK, they were in Alabama in 1840, looking for where. They had 7 children at that time. William was from Ireland, Rebecca from S. Carolina Moved from South Carolina to Alabama then on to Texas in 1850.
May TOP
Judy Jehn Fri May 2 19:07:11 1997
Looking for James Alfred Stapp, who died of yellow fever in 1898 or 1899 in Alabama. Previously resided in Texas, but was born and raised in Indiana.Was planning on going to Alaska, to serach for gold at the time he contracted Yellow Fever. Where did he die, and what is his exact death date?
James Smith Fri May 2 05:14:11 1997
My Great grand father was Lem Mclendon. His death record listed that his father and mother were born in Alabama. No mention of city or county. I am the grandson of one of Lem's daughters. Lem's Father and Mother were Dan and Margret. Dan's brother was Aaron and Aaron married Lizzie andrews in November of 1882 and they settled in Cherokee county, Cuney, Texas. It is reported that Dan and Aaron were possible runaway slaves from alabama but I have not confirmed that. Please help if you can.
Gail McMahon Sat May 3 19:23:14 1997
Robert McMahon (1706-68), born in Virginia. His descendents were John (1734-84), William (1780-1802), Asher (1817-41), and Carl (1851-1927). I seek information on the parents of Robert (when they came to U.S., where they came from, etc.
Edward Bass Sat May 3 21:47:20 1997
Looking for a link with William Gautney and Celie Ann Clarke married somewhere in AL around 1865 . Family records say he was from TN. but she was from somewhere in mid to lower AL. .
Gail Smith Sun May 4 11:39:55 1997
Hi, I am looking for a book called "Rochon and Related Families "by David A Sprinkle ,published by the BIENVILLE HISTORICAL SOCIETY in ALABAMA. I cannot find this society ,is it still in existence. Thank you Gail.
Susie Lee Sun May 4 16:32:33 1997
WILSON/NELSON: Looking for information on the following Wilsons: William b 1819 in AL m ca 1837 to Mary Thomas b ca 1822 in AL. James T. b ca 1824 in AL m ca 1845 to Malona Hall b 1826 TN. John M. b 1823 in AL m Hannah b 1820 SC. A. J. b 1827 in AL -- believe there mother is Jannet Wilson born ca 1800 in SC. Family migrated to MS about 1837. Also looking for any info on Mary Nelson b ca 1772 in Ireland, David Nelson b 1808-1809 in SC and John Nelson. Believe these families lived close together in AL before migrating on to MS.
Mary Lou Lisenbe Sun May 4 18:57:29 1997
William I/J. SALTER b SC 1818 m Nancy HUNT b 1822 SC had the following children in AL: Mary b 1842, William L. b 1843, John Wesley b 1845. This family was living in Kemper Co. MS by 1848. Would like any info on this family. Where in AL did they live?
deana muotka Sun May 4 22:45:20 1997
Looking for info on Samuel Marion WILLINGHAM born 1845 in Benton county AL.His parents were James Henry and Jane C Willingham from SC. Samuel married Mary Elizabeth Davis from MS and they settled in Leon county TX.
Frank Spencer Mon May 5 18:08:10 1997
I am looking for information about my great-grandfather James Madison Spencer. Calhoun County Mississippi 1860 census data shows he was born in Alabama. Family records show he was born February 7, 1836. He was killed in the Civil War at when he was just 27 and my Grandfather was only one. My grandfather died in 1936 so there is no verbal history I can use. Living close to him in 1860 were George Spencer, Benjamin, and John M. Spencer, ages 45, 23 and 26 years old respectively, all born in Alabama. George was not James's father,and is the only one listed in the 1850 census in Chickasaw County. The predecessor county to Calhoun. I would like to know James' parents, where he was born, when his parents moved to Alabama and the relationship of these other men. Thank you very much. Frank Spencer
Sara Norris Tue May 6 09:47:17 1997
Am looking for info. on Benjamin FRENCH, born in Caswell Co. N. Carolina in 1764 died in Lauderdale Co in 1847. Married to Sally TURNER
Sara Norris Tue May 6 10:07:07 1997
looking for information on Jeremiah FRENCH. Born in Barren Co. Ky, in 1792. Died in LAWRENCE Co. in 1835. Parents were Benjamin FRENCH and Sally TURNER. Had a daughter named Sarah FRENCH who was born in 1814 and married John A. DICKEY in 1834.
Betty Habig Wed May 7 11:46:11 1997
CLarke Co Martin BUXTON (BUCKSTON), he shows on 1840 Census index in Clarke Co. On 1850 Census Martin C. BUXTON 12yr born in La. & Bro. Daniel born in Ala., is living with step-father J.S. TARVER (TARVEN) and mother Catherine. Do not know if they are divorced or he is deceased. Any help would be greatly appreciated. Othere Clarke Co. surnames: DANIELS, MOTT
Dan Sadberry Wed May 7 06:20:18 1997
SADBERRY, Asa b. late 1700's, wife: Clarkey _____ b. 1785. Had six children: Shadrick, Testamina, Ivy, D. S., Samuel, and John. Looking for any information re: this family. Believe some of ancestors may have settled in St. Clair Co., but not sure. Children's birth years should be in the 1800's to 1820's time frame.
Rex F.Pugh Thu May 8 17:26:23 1997
I am seeking information on the family of William C. Johnson , born abt. 1790 in North Carolina , his wife Margret Fabush , and their children; Robert H.( b.1826),Sarah (b.1837), John(b.1840),Elizabeth(b.1844),George(b.1847),and Dunkin(b.1848). The first four children were born in Alabama,the last one in Texas. William C. and Robert H. are buried in Nacogdoches Co.,Texas. I have alot of information on their descendents I will share. Thank you for your help! God Bless You.
Randall Perry Sun May 11 18:23:59 1997
I am trying to locate my great-grandfather,Richmond PERRY, in 1870. He was in the Louisiana census' in 1850, 1860 & 1880. I cannot find him in index for 1870 nor in the census itself. I did, however, find out that there is a RICHMOND PERRY listed in the Alabama census of 1870 but I do not know what county the he is listed in. I would like to find out if the one listed is my g-grandfather. He was born in 1822 so he would be about 48 years old and maybe have a wife named Eulalie HARRINGTON.
Susie JOURDAN Grant Sun May 11 18:44:54 1997
JOURDAN - CLARK unk. County, AL. I am searching for anyone with info. on JOURDAN and CLARK anscestors.Also for anyone with access to 1870 census index for State of Al.Looking for: W.M. JOURDAN (name unk.)b. abt 1853 in AL.(father and mother b. in AL.) Arecie (Nessie) CLARK b. abt 1855 in AL. (parents b. AL.) Where did they live prior to 1879, who were there parents, siblings, and did they mouve to Monroe Co. MS. alone or with other family membrs? They had one child born in AL., my grandfather, Rufus Austin JOURDAN b. 14 Nov. 1877. They are first found on the 1880 Monroe Co. MS. census. Other children are; Alvin Luther b. May 1879 in MS. Archie Annie LouElla, Victoria and Virgie. Any help at all appreciated.
Roni Welch Mon May 12 17:49:15 1997
Looking for ancestors, brothers and sisters of Mose(s) W. WELCH born 6 Feb. 1868, in Alabama - county unknown - someone in family named Pinckney
Susan Register-Collier Mon May 12 04:11:03 1997
Searching for James Register/ m. Nancy C. (?m/n/u) b. approx 1802 SC. Father of James Ashley Register who served short time in CSA . James Ashley was not only child, am trying to located sib. names, dates, etc also. He had child, Joseph Lee Register., and others. Have all inf on Joseph Lee and his descendants for any who query. His son was Charles A., his son was Thomas E. who was my father. Registers of all lines have reunion third Sunday of May every year.( Approximately past fourty years). Held at Wayfarred Bapt. Ch. in s. Ga. near Valdosta; All Welcome!! Also searching for ancestors of Walton family of Alabama. Ancestors of Eugene George Walton.; Collier's of Alabama and Georgia, ancestors of Robert Collier & Amanda Monkus Collier. Ancestors of Robert Laurence Pride, (b. approx. 1898) of Al. Info. on Margaret Gipson (Gibson) of Butler Co. Al. Mid. 1800's. Ancestors of Matilda Hall, said to have traveled up from Pensacola,FL area end of Civil War w/3 children to Butler Co.,AL Also searching for husband; Henry Hall or Calvin/Colvin Hall. Served in C.S.A. did not ret. home. Inf. on Robert Bolan ancestors. Story told was he came from OK 1800's to central Al. m. Tempa Mitchum in Al. then moved to central Ga., Macon co. Son was Marshall Vinson Bolan.
Pam Stone Mon May 12 06:33:05 1997
HARRIS/GASSAWAY James Gassaway? George? HARRIS, b. 1834, TN, d. bef. 1900?, place unk.; m. 1857, Itawamba Co., MS, Harriet Ann BUTLER. James' mother b. SC. On 1880 Lee Co. MS Census, James is living next door to Elvira HARRIS, b. SC, believe she may be his mother, and that her maiden name may be GASSAWAY. I find GASWAY/ GASSAWAY/GASSOWAY/GOSAWAY and HARRIS families on the 1840 Censuses for Shelby, Pickens, Talledega and De Kalb Cos., AL, Census, and have been told that a James Gassaway from Union Co., SC d. in Shelby Co. in 1839. James' wife, Ann Butler Harris d. 1909, Poteau, Le Flore Co., OK. James and Ann had (all b. MS): (1) William Henry HARRIS, b. 1857; d.1938, Lincoln Co., OK; (2) Alice HARRIS, b. 1861, m. unk.; (3) Lucien Tison HARRIS, b. 1864, m. unk.; (4) Idilia Elizabeth "ILA", b. Oct 1869, m. William H. PATE; (5) Robert Walker HARRIS, b. 1871, m. Addie Carolina "Callie" NOLEN; (6) Bertus Cliffton HARRIS, b. 1875, m. Carra Louella HOPKINS; (7) Flavius O. HARRIS, b. Jan 1881, m. unk. Can anyone help? Thanks! Pam
Ran Marchmont Tue May 13 06:28:28 1997
I am seeking birth, marriage, death dates and full name of E.L.MARCHMAN/MARCHMONT married to Carrie Lee TURNER, Also looking for any information on E.L.MARCHMAN/MARCHMONT's siblings, father and mother, and children. I have a copy of E.L.'s will dated 18 Nov. 1921 Anniston, Calhoun Co., AL. Named individuals: Wife - Carrie Lee, H.R. (Harold) MARCHMAN/MARCHMONT, Mrs. A.B. (Alva Braxton) MARCHMAN/MARCHMONT, Cecil MARCHMAN, A.L. KIRK, Mrs. Mamie Whitfield, F.R. (Fred) MARCHMAN/MARCHMONT, and J.F. (Julian Fain) MARCHMAN/MARCHMONT.
Caroline Buck Wed May 14 14:03:04 1997
female dob 10/5/46 male dob 03/02/24 dod 08/57 female dob 03/07/24
Sherri Tate Wed May 14 10:21:30 1997
I am looking for a James T. Martin, born 1865 in Alabama whose parents come from S.C.. He married a woman named Sallie. They left Al. and moved to Texas where they had a son in 1892 and later moved to the Choctaw Nation,Ok. in 1900. They later settled in Purcell,Ok.Some of their children were Louis or Lewis, Lillian (my Grandmother) and a sister named Friendly along with a brother named Woods. Any help would be greatly appreciated. Thank you.
Barbara Prestridge Thu May 15 20:21:46 1997
Looking for information on MIMS and AMMONS. Ed MIMS was born in AL around 1876. Need to know where and who his parents were. His wife (______) AMMONS was also born in AL. They married in Jasper Co., MS.
PJ Achramowicz Sat May 17 14:02:33 1997
MANEESE or MENESSE, William D. family. He died intestate a.May 1858 in Butler Co., AL leaving heirs-at-law children: (Nancy?) Ann Wade Northcutt w/o John Northcutt; son & admn. John B.B.B. Meneese; daughter Frances M. Kolb w/o Thomas Kolb; Henriette Rhodes w/o Eli Rhodes (aka Roades) of Butler, AL & later, Freestone Co, TX; children of deceased daughter Arabella B. Jones, to whit: John B., in TX; Arabella Powell, w/o Augustus Powell in LA; Rebecca Jones in Mobile, AL; Wm. T. Jones, minor, in MS. By 1869, J.B.B.B. Meneese deceased, no known heirs. 1860 Butler, AL census shows Rhodes family had children: (p.266-7) W.I.(?), (8-m); F.A. (5-f); Manda (f-2); also living in hh, John D. Small, James E. Johnson, Sarah A. Johnson, M.M. Johnson, H.M. Johnson. In Kolb hh family had children: F.A. (29-f); T. (22-m); A. (19-f); N. (17-f); R. (10-m.); C. (7-f); J.A. (5- m); M. (2-f); also, D. Jones (10-m) D. Jones (8-m), probably nephews. Daughters Ann & Frances TN born, JBBB noted as VA born. Seek descendants & Family Bible. Will trade information.
PJ Achramowicz Sat May 17 14:28:56 1997
NORTHCUTT, John, b.1790 Darlington, SC, d.1866-69 Butler Co., AL. m.1. Susannah HARRELL (c.1789-1842); m2. (Nancy?) Ann Wade MENEESE d/o Wm. D. Meneese. Seek Family Bible, burial places of John & Susannah. In 1860 John in South Butler in 1870 widow in Oaky Streak. Seek marriage record of John & Ann W.; obituary of John & Susannah.
Mary James Hamilton Sun May 18 08:06:16 1997
Searching for information about my James roots. My grandparents were Baxter Clay/Clegg JAMES and Sarah Emly GRIFFIN. They lived in LaFayette, Chambers, Co., AL. Sarah Emly's parents were James Monroe GRIFFIN and Mary E. SMALLWOOD. Baxter's parents were Joseph JAMES and Elizabeth WASSON. The JAMES line is from the Iredell/Rowan Co., NC area and the GRIFFIN line appears to be Georgia and Alabama. I have hit dead-ends trying to find out anything about these people. Any help will be greatly appreciated.
Linda H. Smith Sun May 18 09:17:32 1997
Would like to exchange info on HARDIMAN and WORTHY families from any Alabama county.
Cliff Price Sun May 18 13:42:06 1997
MASON family, I am anxious to communicate and swap information with anyone researching the Mason family of Conecuh County prior to 1900. I am specifically interested in Benjamin Mason b. Georgia abt 1805, Who were his parents? what was his wife Margaret's maiden name? Also Turner Mason b. AL abt 1828. When did he die? What was his wife Susan's maiden name? All information appreciated. I will gladly share what I have.
Albert Bair Sun May 18 17:55:33 1997
Trying to locate a J. P. Cantrell who was from Hopewell al. in 1942 when he went in service in ww 2 he was in th 529 th engineer light panton co with me we served in europe. edward wade was from Talladege Al
Kay Bradley Sun May 18 20:39:02 1997
Seeking info and researchers working on the YOUNG family of Lauderdale Co, AL. James YOUNG and wife Mary KELLOUGH were mar in SC abt 1786. James YOUNG, a Revolutionary soldier died 1818 Lauderdale Co. Mary KELLOUGH died 1843. Known children are: (1) John YOUNG born 1789 mar Elizabeth HAND, (2) Elizabeth YOUNG born 1790 mar Joseph S. HUDDLESTON, (3) Samuel YOUNG born 1792, (4) Ebenezer Gordon YOUNG born 1794 mar Rebecca BYLER, (5) James YOUNG born 1796, (6) Mary A. YOUNG born 1798, ( 7) William YOUNG born 1801, (8) Sarah "Sally" YOUNG born 1804, (9) David H. YOUNG born 1806, and (10) Thomas K. YOUNG born 1809 mar Artimissia Nelson. Any tidbit appreciated and happy to share data. Thanks!
Drew Storie Mon May 19 17:41:56 1997
(STRINGER/PROVIDENCE) I am searching for information on FRANCIS STRINGER who was born in North Carolina in 1763 and died in Washington Co., AL about 1819. I beleive that he married a JEANETTE ?? I also beleived that his parents were FRANCIS STRINGER (sr) and LUCRETIA ? Francis sr fought as a Captain in the Revolutionary War for the Burke Co., GA militia. He was killed about 1778. Lucretia remarried a HENRY FERGASON. Francis jr and Jeanette hadat least 6 children: WILLIAM, ELIZABETH, SOPHRINA, PRICILLA, WALTER F., JAMES C.D. WILLIAM STRINGER m. 1st MARY PROVIDENCE and 2nd ELIZABETH MARTIN WILLIAM was born April 14 1795 - Baldwin Co., GA and died December 7, 1863 Clarke Co. AL WILLIAM and MARY'S children were: BARBRA B., SARAH A.E., WINNEY, ALEXANDER J.S., FRANCIS M., ELIZA JUDITH, SETH P., JOHN R.L., WALTER PORT and JESSE S. I would also like information on MARY PROVIDENCE who was born abt 1792 in South Carolina and died Sept 24 1857 in Clarke Co. I have no information on her parents. I have found a WILLIAM PROVIDENCE in the 1790 South Carolina census but I find him no where else.
Barbara Murphree Mon May 19 19:20:49 1997
Looking for information on Thomas Godfrey Murphree born in Newburg,AL, in 1869. Thank you.
J Rodgers Mon May 19 08:34:25 1997
HATTON-Looking for SPENCER HATTON b.abt 1798 NC are TN married EMILY? in 1850 they were in AL later moved to Angelina are Trinty Co.TX,children were SOLOMAN,GILBERT,CARROLE,JOHN T,REBECCA,they could have had older children,have info.would like to share. THANKS
William Erwin Garrison Mon May 19 20:20:43 1997
Seeking info on Dr. MONTEY RALPH GARRISON, b. 29 Oct 1886, Hartsville, Morgan Co., Alabama, d. ______ Wichita Falls, Texas Father: Rev. WILLIAM DORRIS GARRISON, b 30 Jul. 1851 Alabama, d. 11 Aug 1927, Fort Worth, Texas. Mother: MARTHA EMMILY HEWLETT, b. 2 Feb. 1855, Alabama, d. 12 Sep 1935 Louisana. Wife: VIVIAN MATHIS< b.______, d. ________ William Erwin Garrison 3101 Gentry Rd. N.
Julia Kirby Kidd Mon May 19 21:21:12 1997
My great-grandparents were both born in Alabama.John Wood and Mary(Alice?) French migrated to Texas where they had my grandfather in Brady Texas 2/8/57. John's ranch was in Burnet,Texas. My grandfather was Washington Porterfield Wood, and he became a tailor in Marble Falls, Texas. I have hit a stone wall.John or Mary or both may have been Cherokee.Thank you!
Dede Aday MacDonald Tue May 20 09:51:43 1997
I am researching the Aday/Ady/Eady family that lived in Madison Co., in the early 1800's.
Mike Wed May 21 01:26:48 1997
HOLLEY--I'm looking for info on the family of John Cochran HOLLEY, b. abt 1828-1830 in AL, possibly in the month of Oct. He is said to have emigrated to CA in 1852 (but he may have lived elsewhere between these dates). Please contact mdwhite@ucdavis.edu if you have any information on this family line. Thanks.
MStreet Wed May 21 07:28:54 1997
Looking for parentage, etc of Bethany Bagley, first wife of Xerxes Henry Miller, physician. He practiced in Benton County and is buried, according to family legend in the Maddox cemetery at Anniston Ordnance Depot (in the restricted area). Bethany was born about 1825 and died about 1851.
Susan Hollingsworth Wed May 21 19:59:04 1997
Looking for relatives of William Hansel Hollingsworth b.6-15-1858 d. 2-23-1942 in Monticello, Ark. and Naomi C. Taylor Hollingsworth b. 12-27-1865 in Illinois and d. 4-11-1923 near Paradise, Ark. My great grandparents. Also looking for relatives of James Hollingsworth b. 1-18-1836 in Georgia d. 3-16-1916 in Illinois. I have many more names, but few with place names. Any information will be appreciated!
Richard V. Byrd Thu May 22 12:16:34 1997
Looking for information on Benjamin W. Izlar or any of his descendents. He was born in South Carolina about 1830 and married Clara Ehney. Last information on him was that he had died in Chatoosa, Alabama on November 22, 1905. Chatoosa does not appear on any map. Would like to find his descendents or his burial place. Richard V. Byrd, 506 Stuart Ct., Savannah, GA 31405.
Robert KAHLE LYLES Fri May 23 18:15:03 1997
Looking for information on George N. LYLES b. 2/20/1798 in NC moved to Alabama in the early 1820's. I think he lived in or around Warren county but can't be sure. If you have any information please email me. Thank you
Charlie Harrison Fri May 23 19:46:14 1997
Need information om my Great-Grandfather while he lived in Alabama. His name was William Henry(Billy) Harrison, born Alabama in 1843 unknown what county. Married Martha A. Thompson of Georgia. Daughter born in Alabama in 1867 & a son was born to them in Louisana, year of 1871, They were living in Texas by 1880 (census reports)
Sarah B. Hathaway Fri May 23 20:09:45 1997
I am searching for Spencer Franklin Taylor, my great grandfather, who served in the civil war in an Alabama unit.
James Horton Sat May 24 10:42:30 1997
Subject HORTON Fruza HORTON born about 1844 in Alabama died April 16, 1918 in Shreveport, Caddo Parish, Louisiana. Married 2 - Hyram/Hiram OGLESBY February 5, 1873 in Lafayette Co., Mississippi. Children: William Coleman HORTON b. May 26, 1867 in Alabama d. Nov. 25, 1929 in Mooringsport, Caddo Parish, Louisiana. Edward Logan OGLESBY b. abt 1876 in Louisiana Any help in locating Fruza Horton will be appreciated. James Horton
sheila m. grady Sat May 24 11:46:43 1997
I'm looking for information on my fathers ggparents & gparents. on both his mother & father's families. my father was JAMES HOWARD GRADY, HIS FATHER WAS WILLIAM "JUDGE" GRADY HIS MOTHERS NAME I BELIEVE WAS LORA JACKSON GRADY ?? MORGAN CO. AL
M. Bell Sat May 24 17:01:18 1997
WALSTON, DANIEL A. and family. I am seeking info on my gggf, born 1845 or 1847 in Mobile, AL., then lived in Skippersville, Dale Co., after marriage. He died 1-22-1899 in Bowie Co., TX. POWELL, ANN ELIZABETH - wife of Daniel Walston. Need info. on her also, if available.
Larry Anthony Fri May 23 12:11:24 1997
ADISON ANTHONY first appeared on the Ouachita Co., AR census in 1850. We have no record prior to that. He said he was born in VA. in about 1829. No civil war exists. I am thinking he could have been a Quaker. His wife was Primitive Baptist and left land for church & cemetery in Bearden, AR. This is where many family members were buried. Family tale was that Adison killed a man and his father put him on a fast horse to leave. We have no record of any family members or proof that he was from VA. He married Esther Mason who was born in Yalobusha Co., MS in 1835. Her father, Phillip Mason died in 1839. Mrs. Mason married Elkanah Sullivent and they moved to Ark about 1844. No other information in available.
Paul Bonham Woodard Fri May 23 16:29:32 1997
I am looking for any information that may be available on the parentage of my great-grandfather. His name was Thaddeus David Woodard, born on 3 October 1861 in Alabama. He married Mary Anna Dark of Tallapoosa County on 19 December 1886. Thaddeus David (T.D.) and Mary Anna had several children, including my grandfather, Percy Perry (Sr.), who was born in Anniston, Calhoun County, on 22 June 1900. They subsequently moved to Texas following the birth of my grandfather. I am trying to find out any information possible on the name of T.D.'s father, which has been lost to history as far as I know. Any information on the Woodard line would also be greatly appreciated.
Ms. "Sam" Stephens Sat May 24 19:54:31 1997
ALEXANDER SILAS NEWTON ALEXANDER WILLIAM ROBERT ALEXANDER both in 1800s in Alabama
Cheryl Carroll Hood Sat May 24 20:15:45 1997
SIDNEY LEE CARROll, b. abt 1830 His wife was Mary Jane Burey and they had at least one son, James T. Carroll. The wife,son and several children are buried in the Oak Grove Cemetary, Clay Co., but Sidney is not buried there and I have no idea where he went from Clay Co.
Sharon Petrie Sun May 25 07:42:35 1997
WALLACE, Matthew m Rachel LEITH d/o Ebenezer LEITH. Looking for LEITH connections. Also Lenoah Elizabeth WARD d/o Emanuel WARD; she married Algernon Sydney WALLACE and their descendents. And am looking for descendents of Pulaski WALLACE brother to Matthew WALLACE; Pulaski m Duranna PRATT. Matthew and Pulaski's father is John WALLACE. Also looking for descendents of Robert Wilson WOODS m Nancy Jack WALLACEd/o John. John WALLACE was one of the first settlers in the Bibb Co AL area.
James D. Smith Sun May 25 11:39:24 1997
Mintha Lillan SMITH, b: Trinity, Al. Dec. 14, 1907. Need to know her parents. One brother, Elmer SMITH. Parents supposedly killed in an Auto accident circa 1916. She was then adopted by John W. BALLEW and Mary Augusta HYATT. Any help greatly appreciated.
Mary Lou Lisenbe Mon May 26 09:06:48 1997
William A. COE was in Pickens, Co. AL in 1831, Benton Co. AL in 1840, Dale Co. AL in 1841, Butler Co. AL 1850 - 1860, Crenshaw Co. AL 1867 - 1874. By 1880 he was in Washington Co. TX. He had the following children: Ransom b 1831 Ann Elizabeth b 1833 William b 1836 Emily b 1838 John b 1840 Isaac b 1841 Mary b 1847 James W b 1848 Missouri b 1865 T. Sophia b 1857 Theodore b 1857 Would like to share info on this family.
raymond tartt Mon May 26 10:16:50 1997
any and all listings for people with the same last name.
Ira Gaylon White Mon May 26 14:09:44 1997
Would like to contact anyone researching the LANKFORD line in AL, Edward b. 1827 county unk, md. Susannah GARDNER b. 1833 Barnwell Dist. SC. and had Alexander Hamilton Lankford b. 1858 MS this family migrated to Texas. Also, need information on James N. WHITE b. 1833 AL md. Sarah J. SCOTT b. 1845 TN this family also migrated to TX Contact me at Rt. 3, Bx 347, Jacksonville, TX 75766
Sandra Waldrop Doolittle Mon May 26 16:02:43 1997
I am looking for Clarenda (Clara) Baxter Deas. Clara was born in Escatawpa, Al. She was the daughter of James and Charity Baxter. Her brother was James Monroe Baxter who built the first lumber co. in Vinegar Bend, Al. Her sisters were Sara Ann Baxter Waldrop, Nancy Baxter Cooper and Elizabeth Baxter Platt,(John Calvin).Lucy Baxter Long. Clara married H. Deas . They had one son. may be adopted. In the 1920's she was living in Vinegar Bend, Al. I have a copy of a statement addressed to Clara Deas in Vinegar Bend from Paris, France. Story goes that Clara and H. Deas's son married a Rockwells. (Lawrence) Clara born 1847. The H in H. Deas might have stood for Hokins or Hoss (?).
Dorothy Bumbaugh Mon May 26 16:09:12 1997
I am looking for any information on William McDONALDm/Ellen BROWN probably in Lamar Co. John McDONALD m/Mo;;ie ROBISON/ROBERTSON/ROBINSON 05/05/1892. It was written ROBISON on the marriage certificate but she could not write.She was the daughter of Ryle ROBISON and Sally DODSON ROBISON. Mollie was born c. 1870. She and John later moved to Monroe Co.,Ms and raised their family of all boys. Mollie died c. 1923 of pneumonia (Ialso heard from a buggy accident on Dolly Tubb hill). John and Mollie ar buriedat the "old" Quincy cemetery. If you have any information on these families I would love to hear about it. I will share what I have. Its mostly on the McDonalds. Thank you, Dorothy Bumbaugh
Bonnie Carr Mon May 26 17:45:55 1997
I am looking for any records including military service records on Pvt. Pridemore, B. who served in the 48th Alabama Infantry Regiment, Company C in 1862.
Robert J. Weathers Mon May 26 19:51:10 1997
Looking for ancestors/descendants of James A.Weathers who was born in Randolph County in October of 1937
Jim Beaver Tue May 27 22:00:47 1997
I am looking for information on my great-great-grandparents, John Thomas(?) Crittenden and Mattie Smart (possibly a Cherokee). They had children older than my great-grandmother Candis Crittenden, who was born in 1890 in Montgomery, Alabama. Therefore I presume Mattie was born c.1855-1865.
Harriet Houston Tue May 27 07:21:01 1997
William Henry WHARTON Dr. of medicine and also a minister m Priscilla Jane DICKSON b 1810
Brenda Dearman Wed May 28 18:43:55 1997
I am researching Madison P. Hayes, born abt. 1812 TN, married Malinda? abt 1832, AL. His brother John lived next door in all census. Madison and Malinda had 9 girls and 2 boys. His daughters, Julia married Isaac Moxley and Sarah married John A. Moxley (Isaac's father) John's first wife was Nancy Amanda Byars. I believe these Hayes'es to be related to the Hayes's from GA, also living in Talladega. Does anyone have any info?
Margie Gilliland Fri May 30 08:48:41 1997
GILLILAND - Looking for members of GILLILAND family shown on 1850 Morgan County Census as Silas J. and Mary J. "GILLERLAND" and son Adelbert. Silas was supposed to have been the son of Thomas and Melinda Ponder GILLILAND of GA.
Kim Fri May 30 08:54:54 1997
Looking for Asa/Ace/Acy Boles born in 1844 in Dallas Co., Alabama, in 1844. He married Josiphine Robinson or Smith in 1866 in Cherokee Co. Texas, and later marrired Lucy?. He had a number of children, including Dewitt Wilkerson Boles. He died in Lamar County Texas, date unknown.
arcell saywer Fri May 30 06:53:25 1997
Looking for any information on Ramey surname. Have letters from the area of Hazel Green Ala, and Huntsville Ala., late 1800s
margaret neeley Fri May 30 16:32:46 1997
I am looking for any info on William Neeley or Callie Price any little hint will be appreciated.
Elizabeth Gallion Sat May 31 04:55:29 1997
I am searching for information about my husband's great-grandfather. His name was John Kinard Blocker, (b.1886-d.1971). He was born in Sylacouga, Al , to John Blocker and Anna Lister Blocker. He married Cora Jones and had 3 children- Verna Mae, Annie, and Curtis. Cora died abt. 1924. Verna Mae married Eugene Gallion. The Blockers lived in NC, and LA. Any information would be appreciated
Bill Wright Sat May 31 13:44:06 1997
I am looking for information on Daniel Hamer and his relatives. This is what I know: CHRONOLOGY CHRONOLOGY: DANIEL JARMOND HAMER March 15, 1838, Daniel Hamer was born to Lottia Jarmond (Jarmon ?) who was from North Carolina (?). Father's name unknown. Family contacts claim Daniel was a full blood Cherokee Indian who later refused re-settlement and lost his claim to tribal membership and land. He was put into a reservation in Tuskaloosa, Ala and left in a covered wagon ca. 1860's, Daniel Hamer (also known as Daniel P. Hamer) supposidly went to Tulane University Medical School and was a doctor (?) with the Confederate Forces during the Civil War and worked in a Confederate hospital in Tenn (?). It was said that during a walk from his tent (?) he and some friends found a mound or formation of white clay-like material which they fashoned into casts for the broken bones of the injured soldiers. Hamer was supposed to have practiced medicine in Little Rock, AR and also in Paris, Texas. He married Drucilla Mitchell and they had a child, Mary Danna Hamer who was born on December 24, 1872, perhaps in Tuscalosa, Alabama. November 18,1888, Mary Danna married George Robert Cadle in Paris, Texas, (source: Betsy Mills, 26 May, 1997) and had a child, Howard Dee Cadle who was born Aug. 23, 1896. Dee Cadle di
TOP
Return to Table of Contents
Unknown County Homepage

Table of Contents maintained by:
The USGenWeb Archive Project - Alabama File Manager
Copyright © 1997 - 2017 The USGenWeb Archives Project
Updated: - - Tuesday, 09-Dec-2008 14:06:54 EST