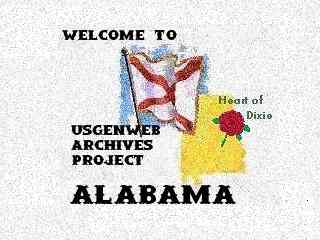 The USGenWeb Archives Project - Alabama
RANDOLPH COUNTY
CEMETERY RECORDS
*** USGenWeb is not a commercial enterprise and information found on these pages is freely available to the public.***
---
We are looking for volunteers to walk any cemetery in the county that has not already been surveyed, transcribing and/or photographing all the tombstones in the cemetery. Tombstones need to be transcribed EXACTLY as written. Photos from previously surveyed cemeteries are needed as well and are most welcome.

If you are interested, please register for the cemetery you are going to work on so that there is no duplicate work going on. You may register for more than one cemetery. Thank you in advance for your help.
TO REGISTER TO SURVEY AND/OR PHOTOGRAPH A CEMETERY, PLEASE SEND AN EMAIL TO
The USGenWeb Tombstone Project - Alabama File Manager
GIVE YOUR NAME, EMAIL ADDRESS, THE CEMETERY NAME, THE COMMUNITY AND THE COUNTY
If you have a cemetery survey already complete or have tombstone photos you would like to contribute,
Click here or here to send in your records
or send files in .txt format to
The USGenWeb Tombstone Project - Alabama File Manager
SORRY, BUT THE ALABAMA FILE MANAGERS CANNOT HELP YOU WITH PERSONAL RESEARCH
WE DO NOT LIVE IN ALABAMA AND HAVE NO ACCESS TO ANY RECORDS
---
Search Selected Records in the USGenWeb Archives Project - Alabama
[ Click Here to Search by County & Specific Record Types ]
[ Know the town, but not the county? Find the County Here! ]
---
Email Registry For Contributors
Any time you see this symbol

next to a name, they have registered their e-mail address at The Registry. This will be their current address.
---
With so many Randolph County, Alabama cemeteries already surveyed in the USGenWeb Archives, they have been split into groups.
Below are the links to each alphabetical grouping.
Randolph County Cemeteries A-F
Randolph County Cemeteries G-L
Randolph County Cemeteries M-Q
Randolph County Cemeteries R-Z
Tombstone Photos are also by cemetery name and you can find those cemeteries with photos available by clicking on the same links above for transcriptions.
---
The USGenWeb Archives Project - Alabama Cemetery Table of Contents
The USGenWeb Tombstone Project - Randolph County, Alabama
The USGenWeb Archive Project - Autauga County, Alabama Table of Contents
The USGenWeb Archives Project - Alabama Table of Contents
The ALGenWeb Project - Autauga County Homepage

Table of Contents maintained by:
The USGenWeb Archive Project - Alabama File Manager
Copyright © 1997 - 2019 The USGenWeb Archives Project
Updated: - - Saturday, 19-Jun-2010 11:22:02 EDT