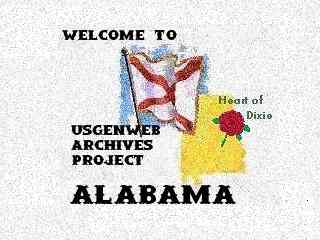 The USGenWeb Archives Project - Alabama
MONTGOMERY COUNTY
DR. NICHOLAS LEWIS MERIWETHER
CEMETERY PHOTOS
*** USGenWeb is not a commercial enterprise and information found on these pages is freely available to the public. ***
---
HELP US!!!
If you have Alabama files you'd like to contribute to the Archives site,
Click here or here transcribe and send in your records or photos or contact:
SORRY, BUT THE ALABAMA FILE MANAGERS CANNOT HELP YOU WITH PERSONAL RESEARCH WE DO NOT LIVE IN ALABAMA AND HAVE NO ACCESS TO ANY RECORDS
---
Search Selected Records in the USGenWeb Archives Project - Alabama
[ Know the town, but not the county? Find the County Here! ]
---
Email Registry For Contributors

Any time you see this symbol next to a name, they have registered their e-mail address at
The Registry.
This will be their current address.
---
Dr. Nicholas Lewis Meriwether Cemetery
Located on private property off Old Pike Road CR#40 in Montgomery County, Alabama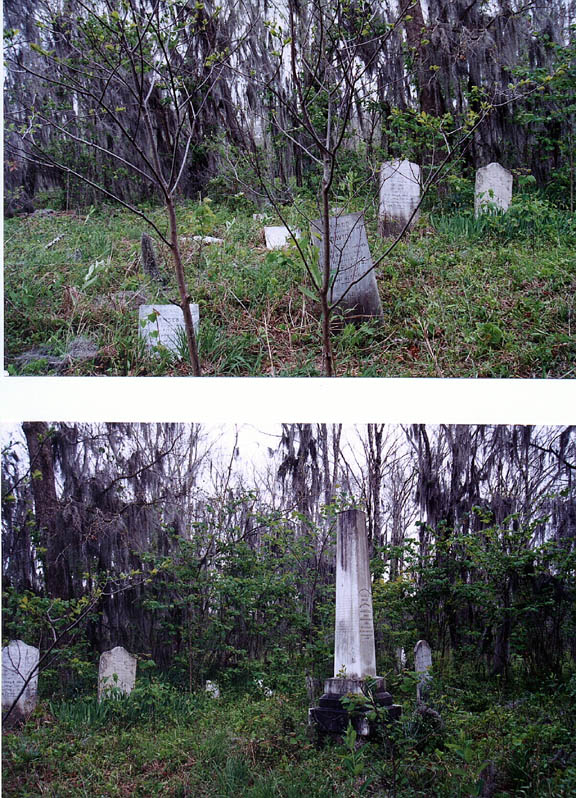 Comments in ( )s are by Beth Meriwether and refer to information in The Meriwethers And Their Connections by Nelson Heath Meriwether, 1964 or they are comments about the condition of the stones. The underlined names have links to the photo for that particular person.
NAME
BIRTH
DEATH
OTHER INFORMATION
Mary T. Barnett
Oct 05, 1844
Nov 16, 1864
Wife of N. M. Barnett and daughter of Thomas & Elizabeth M. Meriwether
Nicholas (Meriwet)her Barnett
Jan 17, 1885
Age 49 years (Nicholas Meriwether's birth date of Dec. 1836 is not shown on stone. This stone is broken in several pieces & the Meriwet part is missing.)
Charles L. Meriwether
Aug 07, 1816
Oct 16, 1866
Born in Oglethorp County, Georgia, died Montgomery County, Alabama, Age Fifty years, Two months, and Nine days
Charles L. Meriwether
Apr 18, 1863
Apr 23, 1864
Infant son of C. L. & Frances C. Meriwether; Age One year, Five days
David Meriwether
Sep 30, 1855
Apr 03, 1864
Son of Thomas & Elizabeth M. Meriwether
Eliza Meriwether
Apr 20, 1853
Sep 13, 1867
Daughter of Charles L. And Frances C. Meriwether
Eliza Meriwether
No dates; Consort of Dr. Nicholas L. Meriwether; Aged about 60
Elizabeth M. Meriwether
Jan 08, 1861
Sep 08, 1865
Daughter of Thomas and Elizabeth M. Meriwether
Elizabeth M. Meriwether
July 28, 1821
Jan 14, 1861
Daughter of Benjamin M. & Nancy Baldwin & wife of Thomas Meriwether
Mrs. Frances C. Meriwether
Aug 07, 1825
Dec 02, 1866
Wife of Charles L. Meriwether, born Macon Co., Alabama, died in Montgomery County, Alabama; Aged Forty one years Three months and Twenty five days
Frances C. Meriwether
May 10, 1859
Aug 21, 1864
Daughter of Thomas and Elizabeth M. Meriwether
Francis D. Meriwether
Feb 07, 1808
Dec 09, 1833
Son of N. L. & Mary Meriwether
Frank V. Meriwether
Mar 22, 1841
Dec 23, 1862
Son of Thomas and Elizabeth Meriwether Died in defense of his country
George. Meriwether
Jan 28, 1858
Mar 22, 1864
Daughter of C.L. & Frances C. Meriwether Aged Six years, One month, Twenty four days (First name and gender as it appears on stone There is a period after the name George. On pg 228 of Meriwether book indicates that they had a daughter named Georgia)
James Bradley Meriwether
Nov 08, 1860
Nov 30, 1862
M. Meriwether
Nov 20, 1853
Oct 28, 1875
Mary Meriwether
Dec 14, 1838
Dec 21, 1838
Mary Meriwether
Oct 25, 1879
May 10, 1838
Consort of N. L. Meriwether (This is Mary de Yampert, wife of Dr. Nicholas L. Meriwether)
Mary Elizabeth Meriwether
Nov 25, 1842
Jan 06, 1843
Infant daughter of Charles L. & Frances C. Meriwether
Dr. Nicholas L. Meriwether
Jan 17, 1782
Sep 27, 1863
Ninth child of Francis and Martha Meriwether
81 years, 8 months, & 10 days
Tabitha F. Meriwether
Apr 04, 1828
Jul 29, 1856
Wife of W. L. Meriwether
Thomas Meriwether
Mar 15, 1812
Nov 03, 1891
Born in Oglethorpe County, GA; Age 79 Yrs. 7 Mos. 18Ds
Eldridge Perkins
Mar. 07, 1889
Age 45 Years
Return to the USGenWeb Archives Project - Montgomery County Cemetery Records
The USGenWeb Archives Project - Alabama: Montgomery County Table of Contents
The USGenWeb Archives Project: Alabama - Main Table of Contents
The ALGenWeb Project - Montgomery County Homepage

Table of Contents maintained by:
The USGenWeb Archive Project - Alabama File Manager
Copyright © 1997 - 2022 The USGenWeb Archives Project
Updated: - - Wednesday, 11-Jun-2008 15:58:32 EDT