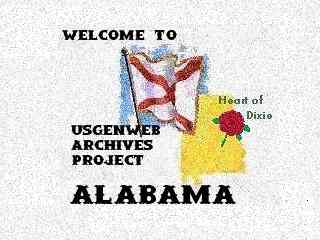 The USGenWeb Archives Project - Alabama
MONTGOMERY COUNTY
HAARDT CEMETERY PHOTOS
*** USGenWeb is not a commercial enterprise and information found on these pages is freely available to the public. ***
---
HELP US!!!
If you have Alabama files you'd like to contribute to the Archives site,
Click here or here transcribe and send in your records or photos or contact:
SORRY, BUT THE ALABAMA FILE MANAGERS CANNOT HELP YOU WITH PERSONAL RESEARCH WE DO NOT LIVE IN ALABAMA AND HAVE NO ACCESS TO ANY RECORDS
---
Search Selected Records in the USGenWeb Archives Project - Alabama
[ Know the town, but not the county? Find the County Here! ]
---
Email Registry For Contributors

Any time you see this symbol next to a name, they have registered their e-mail address at
The Registry.
This will be their current address.
---
Haardt Cemetery
Located on private property on Mathews Road in Montgomery County, Alabama
In this cemetery you find Meriwethers that are descendants of Dr. Nicholas Meriwether. The family of James Bradley Meriwether (son of Dr. Meriwether) is buried here.The land was part of the original Meriwether tract in Montgomery Co. and was still in the family in the 1960s.
Comments in ( )s are by Beth Meriwether and refer to information in The Meriwethers And Their Connections by Nelson Heath Meriwether, 1964 or they are comments about the condition of the stones. The underlined names have links to the photo for that particular person.
| | | | |
| --- | --- | --- | --- |
| NAME | BIRTH | DEATH | OTHER INFORMATION |
| James Bradley Meriwether | Jan 12, 1805 | Aug 16, 1868 | Son of Dr. Nicholas Lewis & Mary de Yampert Meriwether |
| Lucy Ann Sophia Meriwether | Jan 16, 1814 | Aug 29, 1877 | Wife of James B. Meriwether, Daughter of Warren & Mary Taliaferro |
| Lucy M. Meriwether | Jul 12, 1847 | Jan 12, 1919 | Daughter of J.B. & L.A.S. Meriwether |
| Dr. John Lucius Meriwether | Nov 29, 1849 | Jan 02, 1905 | Son of Lucy A. Sophia & James Bradley (There is a period on the stone after Lucius. According to the Meriwether book Pg. 218 his full name is John Lucius de Yampert Meriwether) |
| Lucie Marie Dansby | Oct 17, 1878 | Jun 08, 1879 | Infant Daughter of Rebecca Meriwether & Jacob Valentine Dansby |
| Rebecca Marks Dansby | May 09, 1835 | Dec 08, 1878 | Wife of Jacob Valentine Dansby, Daughter of James Bradly & Lucy A. Sophia Meriwether |
| Johnnie Y. Adams | Nov 09, 1880 | Nov 01, 1906 | |
| Sallie Marie Meriwether | Mar 27, 1841 | Dec 30, 1866 | |
| Susan E. Meriwether | Nov 20, 1847 | Dec 27, 1893 | |
| Valentine Ham Meriwether | Jan 17, 1845 | Jul 1880 | |
| Lucy Meriwether Haardt | 1869 | 1950 | (Daughter of Valentine Ham Meriwether, Wife of Eugene F. Haardt) |
| Warren Taliaferro Meriwether | Dec 18, 1852 | Jan 30, 1908 | |
Return to the USGenWeb Archives Project - Montgomery County Cemetery Records
The USGenWeb Archives Project - Alabama: Montgomery County Table of Contents
The USGenWeb Archives Project: Alabama - Main Table of Contents
The ALGenWeb Project - Montgomery County Homepage

Table of Contents maintained by:
The USGenWeb Archive Project - Alabama File Manager
Copyright © 1997 - 2022 The USGenWeb Archives Project
Updated: - - Wednesday, 11-Jun-2008 15:58:32 EDT