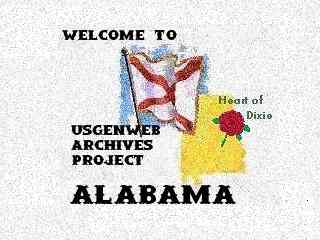 The USGenWeb Archives Project - Alabama
MONROE COUNTY
PHOTOS
OLD STAGE DEPOT
ON THE FEDERAL ROAD
*** USGenWeb is not a commercial enterprise and information found on these pages is freely available to the public. ***
---
HELP US!!!
If you have Alabama files you'd like to contribute to the Archives site,
Click here or here transcribe and send in your records or photos or contact:
SORRY, BUT THE ALABAMA FILE MANAGERS CANNOT HELP YOU WITH PERSONAL RESEARCH WE DO NOT LIVE IN ALABAMA AND HAVE NO ACCESS TO ANY RECORDS
---
Search Selected Records in the USGenWeb Archives Project - Alabama
[ Know the town, but not the county? Find the County Here! ]
---
Email Registry For Contributors

Any time you see this symbol next to a name, they have registered their e-mail address at
The Registry.
This will be their current address.
---
Old Stage Depot
on the Old Federal Road,
located on the Old Anderson Property
Near Old Texas, Monroe County, Alabama

Along this area is where the Old Federal Road once was. It is located off Highway 47 North, Old Texas, in Monroe County. Turn east on Owens Road. Stay to the left in front of the Bethlehem Methodist Church. At the intersection of Owens Road and Liberty is where the Anderson Stage Stop is located. The house is on the south side of the road, the livery stables on the east and across the road from the house.
To the east, across the road from the Stage Stop, are the remains of the the livery stables - barn and holding pens for horses and livestock. The barn has since fallen down and there is a huge, square well.
Click here for a history of the Old Anderson Stage Stop.
Anderson Home and Stage Stop
From the Alabama Sunday Magazine
September 29, 1968

The following photos were taken by Kay Anderson on March 5, 2002 and submitted by her for use on this site. Kay retains the copyright to these photos. Please contact her with any questions or for permission to use these photos for other than personal use.
Return to The USGenWeb Archives Project - Monroe County, Alabama Picture Site
----------------------------------------------------
The USGenWeb Archives Project - Monroe County, Alabama Table of Contents
The USGenWeb Archives Project - Alabama Main Table of Contents
The ALGenWeb Project - Monroe County Homepage

Table of Contents maintained by:
The USGenWeb Archive Project - Alabama File Manager
Copyright © 1997 - 2019 The USGenWeb Archives Project
Updated: - - Saturday, 15-Nov-2008 13:10:54 EST