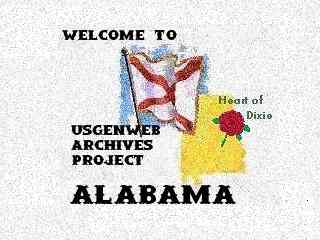 The USGenWeb Archives Project - Alabama
LOWNDES COUNTY
TOMBSTONE PHOTOS
MOUNT GILEAD CEMETERY
*** USGenWeb is not a commercial enterprise and information found on these pages is freely available to the public. ***
---
HELP US!!!
If you have Alabama files you'd like to contribute to the Archives site,
Click here or here transcribe and send in your records or photos or contact:
SORRY, BUT THE ALABAMA FILE MANAGERS CANNOT HELP YOU WITH PERSONAL RESEARCH WE DO NOT LIVE IN ALABAMA AND HAVE NO ACCESS TO ANY RECORDS
---
Search Selected Records in the USGenWeb Archives Project - Alabama
[ Know the town, but not the county? Find the County Here! ]
---
Email Registry For Contributors

Any time you see this symbol next to a name, they have registered their e-mail address at
The Registry.
This will be their current address.
---
Mount Gilead Cemetery
A portion of the cemetery is fenced. It appears that the cemetery is at least twice the size of the fenced area. Plots outside of the fence are are tall with grasses and not maintained. Those in the fenced area seem to be cared for.
File Description
Size
Date Submitted
Submitter
Bozeman, Harriet E.
Image 63K
Jun 2005
Carolyn Golowka
Bozeman, Mary E.
Image 73K
Jun 2005
Carolyn Golowka
Bozeman, Temperance
Image 57K
Jun 2005
Carolyn Golowka
Browning,Plot
Image 103K
Aug 2005
Carolyn Golowka
Browning, Albert Gallatin
Image 98K
Aug 2005
Carolyn Golowka
Browning, Egbert
Image 61K
Aug 2005
Carolyn Golowka
Browning, Elizabeth Atkinson
Image 92K
Jun 2005
Carolyn Golowka
Browning, Henrietta E.
Image 104K
Aug 2005
Carolyn Golowka
Browning, James Monroe
Image 85K
Aug 2005
Carolyn Golowka
Browning, Margaret Eliza Bostwick
Image 90K
Jun 2005
Carolyn Golowka
Browning, Sophronia A. P.
Image 59K
Jun 2005
Carolyn Golowka
Browning, William
Image 88K
Jun 2005
Carolyn Golowka
Gardner, Delpha
Image 86K
Aug 2005
Carolyn Golowka
Haralson, Pamelia Browning
Image 51K
Aug 2005
Carolyn Golowka
Letcher, Temperance P.
Image 48K
Aug 2005
Carolyn Golowka
Manning, Moses T.
Image 49K
Oct 2005
Carolyn Golowka
Peebles, Frances Ann
Image 52K
Aug 2005
Carolyn Golowka
Peebles, Robert William
Image 58K
Aug 2005
Carolyn Golowka
Robinson Plot
Robinson, Cornelius
Robinson, Cornelius Byron
Robinson, John William
Shelby, James A.
Image 88K
Image 63K
Image 79K
Image 90K
Image 66K
Jun 2009
Aug 2005
Aug 2005
Jun 2009
Jun 2009
Carolyn Golowka
Smith, James F.
Image 57K
Jun 2009
Carolyn Golowka
Smith, Mary Ellen
Image 75K
Jun 2009
Carolyn Golowka
Steele, David A.
Image 65K
Jun 2009
Carolyn Golowka
Steele, David Egbert
Image 64K
Jun 2009
Carolyn Golowka
Steele, Julia Ann Browning
Image 76K
Jun 2009
Carolyn Golowka
Steele, Samuel
Image 51K
Jun 2009
Carolyn Golowka
Walker, George
Image 51K
Jun 2009
Carolyn Golowka
Walker, Jane Harrison
Top of stone
Bottom of broken stone
Image 58K
Image 66K
Jun 2009
Carolyn Golowka
Walker, William Browning
Image 56K
Jun 2009
Carolyn Golowka
The USGenWeb Archives Project - Lowndes County, Alabama Tombstone Photos
The USGenWeb Archives Project - Lowndes County, Alabama Cemetery Table of Contents
------------------------------------------------------
The USGenWeb Archives Project - Alabama Cemetery Table of Contents
The USGenWeb Tombstone Project - Lowndes County, Alabama
------------------------------------------------------
The USGenWeb Archives Project - Lowndes County, Alabama Table of contents
The USGenWeb Archives Project - Alabama Main Table of Contents
The ALGenWeb Project - Lowndes County Homepage

Table of Contents maintained by:
The USGenWeb Archive Project - Alabama File Manager
Copyright © 1997 - 2017 The USGenWeb Archives Project
Updated: - - Friday, 12-Jun-2009 13:34:03 EDT