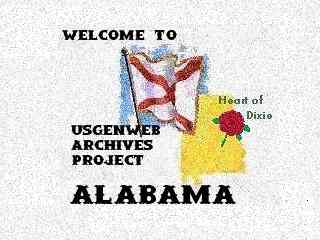 The USGenWeb Archives Project - Alabama
HOUSTON COUNTY
TOMBSTONE PHOTOS
JELLICO COMMUNITY CEMETERY
*** USGenWeb is not a commercial enterprise and information found on these pages is freely available to the public. ***
---
HELP US!!!
If you have Alabama files you'd like to contribute to the Archives site,
Click here or here transcribe and send in your records or photos or contact:
SORRY, BUT THE ALABAMA FILE MANAGERS CANNOT HELP YOU WITH PERSONAL RESEARCH WE DO NOT LIVE IN ALABAMA AND HAVE NO ACCESS TO ANY RECORDS
---
Search Selected Records in the USGenWeb Archives Project - Alabama
[ Know the town, but not the county? Find the County Here! ]
---
Email Registry For Contributors

Any time you see this symbol next to a name, they have registered their e-mail address at
The Registry.
This will be their current address.
---
Jellico Community Cemetery Tombstone Photos
Established 1819
In Memory of Muriel Ballard
The tombstones listed here are only a fraction of all those in the Jellico Community Cemetery
If you have clear, readable photos of tombstone in this cemetery and would like to share them here,
please click here or here to send in your photos.
A listing of all readable tombstones for this cemetery can be found by clicking here.
| | | | |
| --- | --- | --- | --- |
| Text Description | Image | Date Submitted | Submitter |
| Ard, Emit | Image K | Jul 2004 | Colleen Greene |
| Ard, Mollie B. (Rountree) Lee | Image K | Jul 2004 | Colleen Greene |
| Casey, Clyde L. | Image K | Jul 2004 | Colleen Greene |
| Casey, Doris D. | Image K | Jul 2004 | Colleen Greene |
| Collins, Bill C. | Image K | Jul 2004 | Colleen Greene |
| Collins, Ella Adams) | Image K | Jul 2004 | Colleen Greene |
| Collins, Hettie Ann Phelps | Image K | Jul 2004 | Colleen Greene |
| Collins, Horace Greely & Nellie Mae (Daughtry) | Image K | Jul 2004 | Colleen Greene |
| Collins, J. W. | Image K | Jul 2004 | Colleen Greene |
| Collins, James Phillip | Image K | Jul 2004 | Colleen Greene |
| Collins, Mode C. | Image K | Jul 2004 | Colleen Greene |
| Collins, Moody Wayne, Sr. | Image K | Jul 2004 | Colleen Greene |
| Collins, Walter C. & Millie L. (Rountree) | Image K | Jul 2004 | Colleen Greene |
| Collins, Wiley R. & Nellie | Image K | Jul 2004 | Colleen Greene |
| Drew, Elizabeth Draughon & John William | Image K | Jul 2004 | Colleen Greene |
| Drew, Elizabeth Jane | Image K | Jul 2004 | Colleen Greene |
| Drew, Ella F. | Image K | Jul 2004 | Colleen Greene |
| Drew, J(ames) A. | Image K | Jul 2004 | Colleen Greene |
| Drew, John William "Willie", Jr. & Glendella "Della" Collins | Image K | Jul 2004 | Colleen Greene |
| Fowler, Belle (Brannon) & E. Masco | Image K | Jul 2004 | Colleen Greene |
| Fowler, Betty E. (Woodham) | Image K | Jul 2004 | Colleen Greene |
| Fowler, Elizabeth Lee | Image K | Jul 2004 | Colleen Greene |
| Fowler, Ewell S. & Lillie Collins | Image K | Jul 2004 | Colleen Greene |
| Fowler, Georgia E. Smith & John Henry | Image K | Jul 2004 | Colleen Greene |
| Fowler, J. T. | Image K | Jul 2004 | Colleen Greene |
| Fowler, John Bryant "Tom" & Ella Clyde Lee | Image K | Jul 2004 | Colleen Greene |
| Fowler, John Franklin | Image K | Jul 2004 | Colleen Greene |
| Fowler, Lucy E. (Lee) & James Tance | Image K | Jul 2004 | Colleen Greene |
| Fowler, Mancil T. & Bernice N. | Image K | Jul 2004 | Colleen Greene |
| Fowler, Mary Ethel | Image K | Jul 2004 | Colleen Greene |
| Fowler, Reeves (Reese) | Image K | Jul 2004 | Colleen Greene |
| Fowler, Teddie Dawson & Neppie Ophelia Helms | Image K | Jul 2004 | Colleen Greene |
| Fowler, Vermillion M. Daughtry | Image K | Jul 2004 | Colleen Greene |
| Fowler, William Clarence | Image K | Jul 2004 | Colleen Greene |
| Foy, Flaudie Collins & Charles Frank | Image K | Jul 2004 | Colleen Greene |
| Fulford, Minnie Eron | Image K | Jul 2004 | Colleen Greene |
| Fulford, William L. | Image K | Jul 2004 | Colleen Greene |
| Glover, Edd | Image K | Jul 2004 | Colleen Greene |
| Glover, Gusssie (Thomas) | Image K | Jul 2004 | Colleen Greene |
| Glover, Jay H. | Image K | Jul 2004 | Colleen Greene |
| Glover, L(onie) A. & Caria Kadelia (Daughtry) | Image K | Jul 2004 | Colleen Greene |
| Glover, L. H. & Ida Fulford | Image K | Jul 2004 | Colleen Greene |
| Greene, Carl Frederick, Sr., & Edna Drew (McAllister) | Image K | Jul 2004 | Colleen Greene |
| Hollis, Espy S. & Setlla Maude "Lofie" Reynolds | Image K | Jul 2004 | Colleen Greene |
| Holloway, Orvis T. | Image K | Jul 2004 | Colleen Greene |
| Holoway, Ouida I(nez Drew) | Image K | Jul 2004 | Colleen Greene |
| Jones, Alford | Image K | Jul 2004 | Colleen Greene |
| | | Jul 2004 | Colleen Greene |
| Jones, Udora Doxie Lee | Image K | Jul 2004 | Colleen Greene |
| Lee, Alford Tim | Image K | Jul 2004 | Colleen Greene |
| Lee, Annie Mae | Image K | Jul 2004 | Colleen Greene |
| Lee, Charlie Cuthbert | Image K | Jul 2004 | Colleen Greene |
| Lee, Freddie S(carborough) | Image K | Jul 2004 | Colleen Greene |
| Lee, J(ames) Harvey | Image K | Jul 2004 | Colleen Greene |
| Lee, Leonard G. | Image K | Jul 2004 | Colleen Greene |
| Lee, Norma & Fred M. | Image K | Jul 2004 | Colleen Greene |
| Lee, Ola Hollis | Image K | Jul 2004 | Colleen Greene |
| Lee, Robert A. | Image K | Jul 2004 | Colleen Greene |
| Lee, Sallie A. (Sarah A. E. Dowling) | | Jul 2004 | Colleen Greene |
| Lee, T. C. (Timothy Cuthburt) | Image K | Jul 2004 | Colleen Greene |
| Minshew, Nola Anna (Thomas) | Image K | Jul 2004 | Colleen Greene |
| Palmieri, Gladys Rountree | Image K | Jul 2004 | Colleen Greene |
| Phelps, Lorenda (Summerford) | Image K | Jul 2004 | Colleen Greene |
| Phelps, Reuben S. | Image K | Jul 2004 | Colleen Greene |
| Reynolds, Anna Lola | Image K | Jul 2004 | Colleen Greene |
| Reynolds, Ben H. | Image K | Jul 2004 | Colleen Greene |
| Reynolds, Clara J. | Image K | Jul 2004 | Colleen Greene |
| Reynolds, Gus C. | Image K | Jul 2004 | Colleen Greene |
| Reynolds, Lura V. (Lurey Virginia Lee Reynolds) | Image K | Jul 2004 | Colleen Greene |
| Reynolds, Robert E. | Image K | Jul 2004 | Colleen Greene |
| Reynolds, William J(ackson) | Image K | Jul 2004 | Colleen Greene |
| Reynolds, Willie Clarence | Image K | Jul 2004 | Colleen Greene |
| Rice, Julia Rountree | Image K | Jul 2004 | Colleen Greene |
| Rountree, Nathan H. & Hortense "Autie" Warren | Image K | Jul 2004 | Colleen Greene |
| Smith, Sallie Collins | Image K | Jul 2004 | Colleen Greene |
| Thomas, John M. | Image K | Jul 2004 | Colleen Greene |
| Thomas, Mary Pauline | Image K | Jul 2004 | Colleen Greene |
| Thomas, Susie (Phelps) | Image K | Jul 2004 | Colleen Greene |
| Thomley, Thelma Warren | Image K | Jul 2004 | Colleen Greene |
| Warren, Callie Lee | Image K | Jul 2004 | Colleen Greene |
| Warren, L(avignor) W(illie) | Image K | Jul 2004 | Colleen Greene |
The USGenWeb Archives Project - Houston County, Alabama Cemeteries
The USGenWeb Archives Project - Dale County, Alabama Cemeteries
The USGenWeb Archives Project - Alabama Cemetery Table of Contents
The USGenWeb Tombstone Project - Houston County, Alabama
--------------------------------------------
The USGenWeb Archives Project - Houston County, Alabama Table of Contents
The USGenWeb Archives Project - Alabama Main Table of Contents
The ALGenWeb Project - Houston County Homepage

Table of Contents maintained by:
The USGenWeb Archive Project - Alabama File Manager
Copyright © 1997 - 2018 The USGenWeb Archives Project
Updated: - - Thursday, 20-Nov-2008 13:09:12 EST