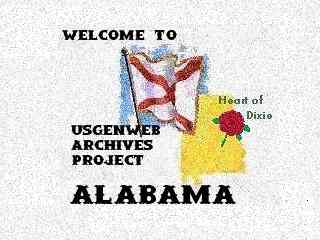 The USGenWeb Archives Project - Alabama
ETOWAH COUNTY
OBITUARIES
*** USGenWeb is not a commercial enterprise and information found on these pages is freely available to the public. ***
---
HELP US!!!
If you have Alabama files you'd like to contribute to the Archives site,
Click here or here transcribe and send in your records or photos or contact:
SORRY, BUT THE ALABAMA FILE MANAGERS CANNOT HELP YOU WITH PERSONAL RESEARCH WE DO NOT LIVE IN ALABAMA AND HAVE NO ACCESS TO ANY RECORDS
---
Search Selected Records in the USGenWeb Archives Project - Alabama
[ Know the town, but not the county? Find the County Here! ]
---
Email Registry For Contributors

Any time you see this symbol next to a name, they have registered their e-mail address at
The Registry.
This will be their current address.
---
Obituaries
Thank you to The Gadsden Times for permission to reprint any and all obituaries from before 1970.
A Very Special Thank You Goes to
Pamela Treme
who transcribed dozens of obituaries
from "The Gadsden Times"
| | | | |
| --- | --- | --- | --- |
| Description | Date of Obituary/Death | Date Submitted | Submitter |
| Adams, Bessie Ida | February 22, 1961 | Jan 2005 | Pamela Treme |
| Aldridge, Mattie | February 23, 1961 | Jan 2005 | Pamela Treme |
| Allison, Leila | May 9 ,1915 | Apr 2004 | Carla Miles |
| Allison, Sam | January 20, 1912 | Jan 2004 | Carla Miles |
| Bagby, Albert Ian, an abstraction | September 29, 1988 | Apr 2007 | Vinita Shaw |
| Bagley, Sylvia | October 31, 1962 | Jan 2005 | Pamela Treme |
| Barkley, A. G. | February 25, 1961 | Jan 2005 | Pamela Treme |
| Bentley, Isiah | March 27, 1961 | Jan 2005 | Pamela Treme |
| Beverly, Marie | August 17, 1962 | Jan 2005 | Pamela Treme |
| Bolton, Richard William (R. W.), Marshall County | July 28, 1919 | Apr 2007 | Doris Edmonds |
| Bolton, Vina Elizabeth (McMinn) (Mrs. R. W.), Marshall County | June 30, 1913 | Apr 2007 | Doris Edmonds |
| Bond, Johnny | September 28, 1881 | Apr 2007 | Candace Gravelle |
| Breedlove, Gordon | October 16, 1984 | Mar 2005 | Cindy Dicken |
| Buie, Callie, Mrs. | March 27, 1961 | Jan 2005 | Pamela Treme |
| Bullard, Vida Lee | October 5, 1961 | Jan 2005 | Pamela Treme |
| Burke, Lillian | May 26, 1963 | Jan 2005 | Pamela Treme |
| Caffee,William Milton, Dr. | February 22, 1961 | Jan 2005 | Pamela Treme |
| Carter, Girley, Mrs. | February 22, 1961 | Jan 2005 | Pamela Treme |
| Caudle, Nora Bell, Mrs. | August 17, 1962 | Jan 2005 | Pamela Treme |
| Causey, Clarence | October 20, 1962 | Jan 2005 | Pamela Treme |
| Childers, Lillie | March 27, 1961 | Jan 2005 | Pamela Treme |
| Christopher, Abihue | January 14, 1935 | Jun 2003 | Linda Barton |
| Cobb, Mollie | May 26, 1963 | Jan 2005 | Pamela Treme |
| Collins, Luther Thomas | October 196? | Jan 2005 | Pamela Treme |
| Costlow, George Fayette | February 23, 1961 | Jan 2005 | Pamela Treme |
| Daniel, John | February 23, 1961 | Jan 2005 | Pamela Treme |
| Dunlap, John P. | February 22, 1961 | Jan 2005 | Pamela Treme |
| Dunlap, W. P. "Billy" | May 26, 1963 | Jan 2005 | Pamela Treme |
| Ellis, Burt, Mrs. | February 23, 1961 | Jan 2005 | Pamela Treme |
| Erwin, Howell | February 23, 1961 | Jan 2005 | Pamela Treme |
| Faust, John F. | October 1960s | Jan 2005 | Pamela Treme |
| Foster, Della Rasberry | October 1960s | Jan 2005 | Pamela Treme |
| Gaither, John Milton | May 16, 1960 | Jul 2006 | Pamela Treme |
| Galloway, Georgia D. | July 4, 1960 | Jul 2006 | Pamela Treme |
| Geclkes, Johnny Jacobs | October 1962 | Jul 2006 | Pamela Treme |
| Gentry, William L. | August 17, 1962 | Jan 2005 | Pamela Treme |
| Gibson, Emma Harris | May 18, 1960 | Jul 2006 | Pamela Treme |
| Gibson, Margaret B. | May 17, 1960 | Jul 2006 | Pamela Treme |
| Gowdey, Richard Childs, Sumter County | September 26, 1923 | May 2006 | Ann Gowdey Beck |
| Hall, Lula Octavia | October 1960s | Jan 2005 | Pamela Treme |
| Hardy, Rufus Wesley | May 3, 1947 | Dec 2010 | Valerie Freeman |
| Harper, Zula | July 3, 1960 | Jul 2006 | Pamela Treme |
| Harris, Buford A. "Boots" | October 1960s | Jan 2005 | Pamela Treme |
| Harris, Minnie Roberts | February 22, 1961 | Jan 2005 | Pamela Treme |
| Hawkins, Infant Daughter of Mr. & Mrs. Willard | May 26, 1963 | Jan 2005 | Pamela Treme |
| Haymon, Carl A. "Buck" | October 1960s | Jan 2005 | Pamela Treme |
| Head, James Truman | February 25, 1961 | Jan 2005 | Pamela Treme |
| Helms, Olivia Irene | October 31, 1962 | Jan 2005 | Pamela Treme |
| Herring, Carl L. | March 27, 1961 | Jan 2005 | Pamela Treme |
| Hilliard, Tony A. | February 22, 1961 | Jan 2005 | Pamela Treme |
| Hood, Maleskey Craig | October 22, 1962 | Jul 2006 | Pamela Treme |
| Hopper, Ruby Faye Coheley | August 17, 1962 | Jan 2005 | Pamela Treme |
| Hulsey, Lula R. | March 27, 1961 | Jan 2005 | Pamela Treme |
| Ilg, John | July 3, 1960 | Jul 2006 | Pamela Treme |
| Innerarity, Edward H. | August 17, 1962 | Jan 2005 | Pamela Treme |
| Irwin, Ruth Cooper | February 23, 1961 | Jan 2005 | Pamela Treme |
| Jarmon, Jan Marie | February 22, 1961 | Jan 2005 | Pamela Treme |
| Johnson, R. E. | July 3, 1960 | Jul 2006 | Pamela Treme |
| Kilpartrick, Harrison | March 27, 1961 | Jan 2005 | Pamela Treme |
| Knight, Robert F | October 19, 1962 | Jul 2006 | Pamela Treme |
| Lambert, Claude Shelby | June 13, 1974 | Jul 2006 | Michelle Baker |
| Lambert, John Robert | June 21, 1952 | Jul 2006 | Michelle Baker |
| Lowe, Henry Clifford | May 26, 1963 | Jan 2005 | Pamela Treme |
| Lee, Curtis Gilder, Sr. | June 9, 1970 | Jan 2010 | William J. Carroll |
| Lee, Lena Rogers | January 18, 1971 | Jan 2010 | William J. Carroll |
| Lusk, Rufus Benton | October 18, 1962 | Jul 2006 | Pamela Treme |
| Maddox, A. C. (Son) | October 21, 1962 | Jul 2006 | Pamela Treme |
| McNair, Myrtice | July 3, 1960 | Jul 2006 | Pamela Treme |
| Miller, Leila Lewis | March 27, 1961 | Jan 2005 | Pamela Treme |
| Miller, R. Andrew | October 31, 1962 | Jan 2005 | Pamela Treme |
| | April 2, 1964 | Jan 2004 | Margaret Murphy |
| Moore, Richard Spencer , Morgan County | October 9, 1958 | Jan 2004 | Margaret Murphy |
| Morgan, Julius F., Sr. | March 27, 1961 | Jan 2005 | Pamela Treme |
| Naugher, Oran B. | October 31, 1962 | Jan 2005 | Pamela Treme |
| Norris, William Cicero | August 17, 1962 | Jan 2005 | Pamela Treme |
| Norton, Martha Holt | June 2, 1899 | May 2008 | David Norton |
| Norton, William Abercrombie | April 28, 1967 | May 2008 | David Norton |
| | February 23, 1961 | Jan 2005 | Pamela Treme |
| Oliver, Walter | (not given) | Feb 2002 | Dustin Oliver |
| Owens, Matilda Elizabeth | March 27 ,1961 | Jan 2005 | Pamela Treme |
| Parker, Wallace H "Pete", Morgan County, an abstraction | November 25, 2008 | Dec 2008 | Benjamin Rush |
| Pentecost, Percy Munnerlyn, Jr., Dr. | August 8, 1997 | May 2008 | David Norton |
| Peters, Norma Lee | May 16, 1960 | Jul 2006 | Pamela Treme |
| Pointer, Elliot J. | August 17, 1962 | Jan 2005 | Pamela Treme |
| Privett, Olivia | October 21, 1962 | Jul 2006 | Pamela Treme |
| Reagan, Oscar Harvey | May 17, 1960 | Jul 2006 | Pamela Treme |
| Roberson, Ena Wynell | August 17, 1962 | Jan 2005 | Pamela Treme |
| Roden, Jewel Low | August 17, 1962 | Jan 2005 | Pamela Treme |
| Shadix, Nancy L. | May 1960 | Jul 2006 | Pamela Treme |
| Shortnacy, Minnie V. | February 23, 1961 | Jan 2005 | Pamela Treme |
| Simpson, Ethel | February 23, 1961 | Jan 2005 | Pamela Treme |
| Slay, William Jesse | March 27, 1961 | Jan 2005 | Pamela Treme |
| Songer, Roy Charles, Russell County | June 3, 1966 | May 2008 | Kemis Massey |
| Stewart, Carl M. | October 19, 1962 | Jul 2006 | Pamela Treme |
| Tarpley, John T., Sr. | March 27, 1961 | Jan 2005 | Pamela Treme |
| Thomas, Charlie R. | July 3, 1960 | Jul 2006 | Pamela Treme |
| Tidwell, Bessie | October 31, 1962 | Jan 2005 | Pamela Treme |
| Timmons, Robert A. | April 8, 1904 | Dec 2006 | Jacqueline King |
| Walker, Lillie Maye | February 22, 1961 | Jan 2005 | Pamela Treme |
| Whisenant, Gertie Mae | January 8, 1956 | Jul 2006 | Michelle Baker |
| White, Jerry Wayne | February 22, 1961 | Jan 2005 | Pamela Treme |
| Whitt, Lester J., Sr. | February 22, 1961 | Jan 2005 | Pamela Treme |
| Willett, Steven Wayne | February 22, 1961 | Jan 2005 | Pamela Treme |
| Williams, Dora Belle, Mrs. | July 2, 1975 | May 2008 | David Norton |
| Williams, Hank | February 22, 1961 | Jan 2005 | Pamela Treme |
| Wojiechanowski, Edward | May 17, 1960 | Jul 2006 | Pamela Treme |
| Wood, George William | February 23, 1961 | Jan 2005 | Pamela Treme |
| Young, Malonie D. | March 27, 1961 | Jan 2005 | Pamela Treme |
The USGenWeb Archives Project -Etowah County, Alabama Table of Contents
The USGenWeb Archives Project - Alabama Main Table of Contents
The ALGenWeb Project - Etowah County Homepage

Table of Contents maintained by:
The USGenWeb Archive Project - Alabama File Manager
Copyright © 1997 - 2014 The USGenWeb Archives Project
Updated: - - Sunday, 02-Jan-2011 23:39:02 EST