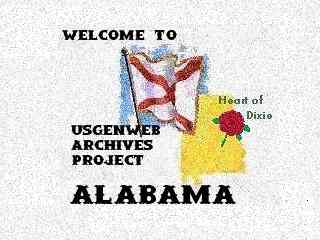 The USGenWeb Archives Project - Alabama
DALE COUNTY
COURT RECORDS -
INCLUDING ALL COURTS,
ESTATE, PROBATE & WILLS
*** USGenWeb is not a commercial enterprise and information found on these pages is freely available to the public. ***
---
HELP US!!!
If you have Alabama files you'd like to contribute to the Archives site,
Click here or here transcribe and send in your records or photos or contact:
SORRY, BUT THE ALABAMA FILE MANAGERS CANNOT HELP YOU WITH PERSONAL RESEARCH WE DO NOT LIVE IN ALABAMA AND HAVE NO ACCESS TO ANY RECORDS
---
Search Selected Records in the USGenWeb Archives Project - Alabama
[ Know the town, but not the county? Find the County Here! ]
---
Email Registry For Contributors

Any time you see this symbol next to a name, they have registered their e-mail address at
The Registry.
This will be their current address.
---
Probate Records
An Article in the Southern Star dated June 30, 2004 tells what can be found in the Probate Office
Click here to read the article written by Manonia Snell and reprinted here by permission.
Thank you to Christine Thacker for the submission.
Estate Records
| | | | |
| --- | --- | --- | --- |
| Description | Date of Record | Date Submitted | Submitter |
| Daughtry, John B. | April 13, 1885 | Mar 1999 | Judith A. Fowler |
| Tucker, William names E. J. Carlisle heirs, Jefferson County | 1910 | Sep 2007 | L. Hanke |
| Ward, Katherine, Henry County | December 1842 | Dec 2006 | Melanie Ward-Whitney |
| Ward, Shadrach, Sr., an abstraction, Henry County | January 1848 | Nov 2006 | Melanie Ward-Whitney |
The USGenWeb Archives Project: Dale County, Alabama - Table of Contents
The USGenWeb Archives Project: Alabama Table of Contents
The ALGenWeb Project - Dale County Homepage

Table of Contents maintained by:
The USGenWeb Archive Project - Alabama File Manager
Copyright © 1997 - 2021 The USGenWeb Archives Project
Updated: - - Tuesday, 12-Apr-2016 15:03:14 EDT