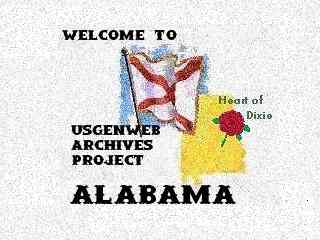 The USGenWeb Archives Project - Alabama
COOSA COUNTY
TOMBSTONE PHOTOGRAPHS
FISH POND PRIMITIVE BAPTIST CHURCH CEMETERY
*** USGenWeb is not a commercial enterprise and information found on these pages is freely available to the public. ***
---
HELP US!!!
If you have Alabama files you'd like to contribute to the Archives site,
Click here or here transcribe and send in your records or photos or contact:
SORRY, BUT THE ALABAMA FILE MANAGERS CANNOT HELP YOU WITH PERSONAL RESEARCH WE DO NOT LIVE IN ALABAMA AND HAVE NO ACCESS TO ANY RECORDS
---
Search Selected Records in the USGenWeb Archives Project - Alabama
[ Know the town, but not the county? Find the County Here! ]
---
Email Registry For Contributors

Any time you see this symbol next to a name, they have registered their e-mail address at
The Registry.
This will be their current address.
---
Fish Pond Baptist Church Cemetery
a partial listing
Submitters of these Photos own the copyright to them.
Please contact the submitter for permission to download & use each photo.
File Description
Image
Date
Submitter
Adams, Elvie L.
Image 71K
Jul 2007
Bobby Meadows
Adams, Lucian E.
Image 106K
Jul 2007
Bobby Meadows
Adams, Marcus V.
Image 68K
Jul 2007
Bobby Meadows
Martin, Christine
Image 61K
Jul 2007
Bobby Meadows
Martin, Edgar Thomas
Image 71K
Jul 2007
Bobby Meadows
Martin, Helen P.
Image 52K
Jul 2007
Bobby Meadows
Martin, Sidney Lanier
Image 70K
Jul 2007
Bobby Meadows
Meadows, Ara Lena & William A
Image 156K
Dec 2005
Bobby Meadows
Meadows, Early Moses & Diadema P. Hogan
Image 44K
Feb 2004
Cindy Stamps
Meadows, Fannie
Image 267K
Dec 2005
Bobby Meadows
Meadows, J. T.
Image 239K
Dec 2005
Bobby Meadows
Meadows, J. T.
Image 277K
Dec 2005
Bobby Meadows
Meadows, Johnie
Image 186K
Dec 2005
Bobby Meadows
Meadows, John Ogletree, Pvt
Image 176K
Dec 2005
Bobby Meadows
Meadows, Katie Sedonie
Image 133K
Dec 2005
Bobby Meadows
Meadows, L. Ben & Annie Carter
Image 289K
Dec 2005
Bobby Meadows
Meadows, Loyd A.
Image 242K
Dec 2005
Bobby Meadows
Meadows, Mary A.
Image 78K
Dec 2005
Bobby Meadows
Meadows, Micajah & Texie
Image 251K
Dec 2005
Bobby Meadows
Meadows, Milous, Sgt,
Military Stone
Image 161K
Image 134K
Dec 2005
Bobby Meadows
Meadows, Newell L
Image 169K
Dec 2005
Bobby Meadows
Meadows, Preston E.
Image 233K
Dec 2005
Bobby Meadows
Meadows, Ransom C.
Image 164K
Dec 2005
Bobby Meadows
Meadows, Rossie L.
Image 238K
Dec 2005
Bobby Meadows
Meadows, Sarah Frances
Image 169K
Dec 2005
Bobby Meadows
Meadows, Thomas Waddell
Image 281K
Dec 2005
Bobby Meadows
Meadows, V.C.E.
Image 133K
Dec 2005
Bobby Meadows
Meadows, William M.
Close-up
Image 138K
Image 223K
Dec 2005
Bobby Meadows
Tate, Sarah Jane
Image 89K
Jul 2007
Bobby Meadows
Townsend, Ophelia Johnson
Image 54K
Jul 2007
Bobby Meadows
Townsend, William Thompson
Image 85K
Jul 2007
Bobby Meadows
The USGenWeb Archives Project - Coosa County, Alabama Cemeteriy Transcriptions
The USGenWeb Tombstone Project - Coosa County, Alabama
The USGenWeb Archives Project - Coosa County, Alabama Table of Contents
The USGenWeb Archive Project - Alabama Main Table of Contents
The ALGenWeb Project - Coosa County Homepage

Table of Contents maintained by:
The USGenWeb Archive Project - Alabama File Manager
Copyright © 1997 - 2021 The USGenWeb Archives Project
Updated: - - Tuesday, 09-Jul-2013 15:09:17 EDT