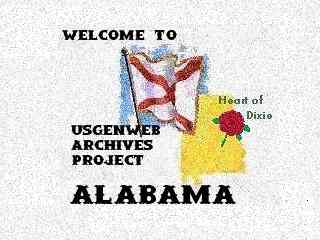 The USGenWeb Archives Project - Alabama
COOSA COUNTY
LAND & DEED RECORDS
*** USGenWeb is not a commercial enterprise and information found on these pages is freely available to the public. ***
---
HELP US!!!
If you have Alabama files you'd like to contribute to the Archives site,
Click here or here transcribe and send in your records or photos or contact:
SORRY, BUT THE ALABAMA FILE MANAGERS CANNOT HELP YOU WITH PERSONAL RESEARCH WE DO NOT LIVE IN ALABAMA AND HAVE NO ACCESS TO ANY RECORDS
---
Search Selected Records in the USGenWeb Archives Project - Alabama
[ Know the town, but not the county? Find the County Here! ]
---
Email Registry For Contributors

Any time you see this symbol next to a name, they have registered their e-mail address at
The Registry.
This will be their current address.
---
Land & Deed Records
Description
Date
Submitter
Land Patents for the MURRAH surname in Alabama, 1825-1858,
Coosa, Limestone, Marion, Pickens, & Tuscaloosa Counties
Mar 2000
David Dennis
Deed of Property Mahala B. Collier to her Children and Grandchildren,
Oglethorpe County, GA 24 February 1858, Oglethorpe County, GA
Jun 2005
Troy Colquitt
Bounty Land Warrant - Nathan Culver
Apr 1999
Ronald D. Bridges
Bureau of Land Management Index
These land records represent the transfer of public lands to private ownership. In most cases they represent purchase of the land by individuals from the United States Government. Others are the result of homesteading, Indian cessions or treaties, or bounty lands given to military veterans.
The USGenWeb Archives Project - Coosa County, Alabama Table of Contents
The USGenWeb Archive Project - Alabama Main Table of Contents
The ALGenWeb Project - Coosa County Homepage

Table of Contents maintained by:
The USGenWeb Archive Project - Alabama File Manager
Copyright © 1997 - 2017 The USGenWeb Archives Project
Updated: - - Wednesday, 11-Jun-2008 15:58:32 EDT