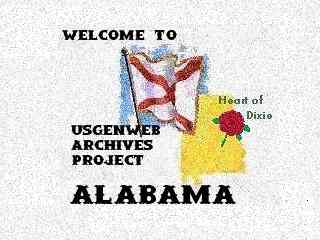 The USGenWeb Archives Project - Alabama
CLEBURNE COUNTY
OBITUARIES
*** USGenWeb is not a commercial enterprise and information found on these pages is freely available to the public. ***
---
HELP US!!!
If you have Alabama files you'd like to contribute to the Archives site,
Click here or here transcribe and send in your records or photos or contact:
SORRY, BUT THE ALABAMA FILE MANAGERS CANNOT HELP YOU WITH PERSONAL RESEARCH WE DO NOT LIVE IN ALABAMA AND HAVE NO ACCESS TO ANY RECORDS
---
Search Selected Records in the USGenWeb Archives Project - Alabama
---
Email Registry For Contributors

Any time you see this symbol next to a name, they have registered their e-mail address at
The Registry.
This will be their current address.
---
Many death notices have been generously abstracted by Cancace Gravell and are included in the Newspaper Section of this Cleburne County site. You might use the search engine above to look for the person you are researching. Try just the last name to start.
---
Obituaries
Many Obituaries have been abstracted and filed under Newspapers. Click Here to go to Newspapers
| | | | |
| --- | --- | --- | --- |
| Description | Date of Newspaper | Date Submitted | Submitter |
| Ashley, Henry Robert | July 8, 1950 | Feb 2004 | Candace Gravelle |
| Calhoun, Mary Alice, Mrs. | June 9, 1896 | Apr 2004 | Peggy Shaw |
| Crosson, Robert A. | December 31, 1928 | Oct 2022 | Linda Ayres |
| Crosson, Sarah F. | August 14, 1929 | Oct 2022 | Linda Ayres |
| Dodson, Sarah E. (Mrs. Charles Frankln) | May 23, 1903 | Feb 2007 | Candace (teal) Gravelle |
| Edwards, William | April 23, 1880 | Dec 2006 | Candace Gravelle |
| Evans, Hiram M., Clay County | July 18, 1928 | Apr 2006 | Linda Ayres |
| Fant, Ollie Lou, Calhoun County | December 21, 1931 | May 2004 | Jan Gamache |
| Glass, Rose Jeanette, an abstraction | April 1, 2005 | Dec 2006 | E. Stephens |
| Hammonds, R. A., | January 3, 1952 | Oct 2009 | Patricia Harden |
| Howell, Harriet V. Parker, Calhon County | March 10, 1899 | Jun 2005 | Susan Fann |
| Howell, Iva (Roberts) [Mrs. Wilson F.] | February 26, 1938 | Feb 2007 | Candace (teal) Gravelle |
| Hunnicutt, William Randolph | October 19 1900 | Sep 2004 | Candace Gravelle |
| Jarrell, Elongo [Sic] | February 6 1959 | May 2004 | Jan Gamache |
| Jones, Steve | March 7, 1879 | Nov 2006 | Candace Gravelle |
| Jordan, H. C. | September 16 1905 | Oct 2004 | Candace Gravelle |
| Merrell, John L. | August 5, 1877 | Nov 2006 | Candace Gravelle |
| Mims, Lavonah, Mrs. | May 29 1896 | Apr 2004 | Peggy Shaw |
| Morgan, Maggie Parish, Calhoun County | September 27,. 1893 | Jun 2005 | Susan Fann |
| Morris, Avis, an abstraction | May 19, 2004 | Dec 2006 | E. Stephens |
| Nabors, Sarah Jane Whitesides, Calhoun County | September 10, 1893 | Jun 2005 | Susan Fann |
| Newsome, Nancy A. "Linie" Roberts, Calhoun County | November 27, 1931 | Jul 2010 | Shirley Mellon Dewberry |
| Pelson, Mr. ? | September 1878 | Nov 2006 | Candace Gravelle |
| Perryman, David Augustus | June 9 1906 | Oct 2004 | Candace Gravelle |
| Prestridge, Larkin M. | June 2 1906 | Oct 2004 | Valerie Freeman & Candace Gravelle |
| Price, M . P., Randolph County | December 1938 | Mar 2007 | Candace Gravelle |
| Roberts, Richard Gaines, Jr., Calhoun County | May 26, 1915 | Jul 2010 | Shirley Mellon Dewberry |
| Scott, Readie Atlas | May 2, 1982 | Aug 2010 | Netha Dunlap |
| Skinner, Martha Ann | September 24 1931 | Feb 2004 | Candace Gravelle |
| Smith, Annie Bell , an abstraction | November 10, 2003 | Dec 2006 | E. Stephens |
| Smith, Dorothy, an abstraction | June 18, 2003 | Dec 2006 | E. Stephens |
| Smith, Earl, an abstraction | November 3, 2002 | Dec 2006 | E. Stephens |
| Smith, Henry, an abstraction | November 27, 2002 | Dec 2006 | E. Stephens |
| Smith, James Harvey | October 6, 2003 | Dec 2006 | E. Stephens |
| Smith, Lum | May 1930 | Dec 2006 | E. Stephens |
| Smith, Roy, an abstraction | December 10, 2004 | Dec 2006 | E. Stephens |
| Smith, Shirley Ann, an abstraction | March 22, 2003 | Dec 2006 | E. Stephens |
| Smith, Terry, an abstraction | August 5, 2003 | Dec 2006 | E. Stephens |
| Smith, Thomas, an abstraction | November 14, 2003 | Dec 2006 | E. Stephens |
| Stephens, Martha S. (Bailey) [Mrs. John L.] | December 1883 | May 2007 | Candace Gravelle |
| Thrash, Wm J. | May 20, 1923 | Oct 2022 | Linda Ayres |
| Thrasher, James Thomas | December 23, 1926 | Oct 2022 | Linda Ayres |
| Williams, E. A, Mrs. | September 17 1893 | Apr 2004 | Peggy Shaw |
| Williamson, Emma | September 2 1892 | Apr 2004 | Peggy Shaw |
| Wilson, Annie Howell, Calhoun County | October 3, 1899 | Jun 2005 | Susan Fann |
| Yarbrough, G. T., Clay County | January 16, 1937 | Feb 2007 | Candace Gravelle |
The USGenWeb Archives Project - Cleburne County, Alabama Table of Contents
The USGenWeb Archives Project - Alabama Main Table of Contents
The ALGenWeb Project - Cleburne County Homepage

Table of Contents maintained by:
The USGenWeb Archive Project - Alabama File Manager
Copyright © 1997 - 2022 The USGenWeb Archives Project
Updated: - - Thursday, 20-Oct-2022 18:53:22 EDT