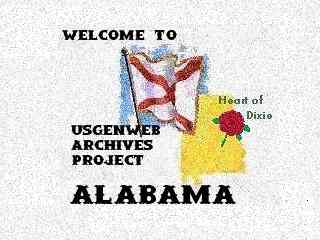 The USGenWeb Archives Project - Alabama
BUTLER COUNTY
TOMBSTONE PHOTOS -
Bennett Cemetery
*** USGenWeb is not a commercial enterprise and information found on these pages is freely available to the public. ***
---
HELP US!!!
If you have Alabama files you'd like to contribute to the Archives site,
Click here or here transcribe and send in your records or photos or contact:
SORRY, BUT THE ALABAMA FILE MANAGERS CANNOT HELP YOU WITH PERSONAL RESEARCH WE DO NOT LIVE IN ALABAMA AND HAVE NO ACCESS TO ANY RECORDS
---
Search Selected Records in the USGenWeb Archives Project - Alabama
---
Email Registry For Contributors

Any time you see this symbol next to a name, they have registered their e-mail address at
The Registry.
This will be their current address.
---
Bennett Cemetery
Photos were taken and submitted by Kay Anderson. These photos are copyrighted by Kay and belong to her.
Directions: Go from Hwy 106 West on to County Road 15. at the cross roads of Hwy 15 and Co road 16, take a right and go .6 miles on a dirt road, there will be a yellow iron pipe gate on the left. .5 miles into the road is a group of trees that have not been cut, it will be on the left side of the logging road and after you turn left as the roads seems to make a Y the cemetery will be on the right side of that road. There is a very old iron wire fence around the area where the Bennett's are buried. the rest of the markers are on the outside of this fence. This is an all but abandoned cemetery in much need of care. Tommy Beverly of the Long Creek Community was kind enough to take me in on a 4 wheeler since it is locked property at this time. Much thanks to him for his assistance in getting these pictures.
Photo of Caroline & T. B. Bennett's gravestone, January 2002
Photo of Caroline & T. B. Bennett's gravestone restored, April 2002
---
The USGenWeb Archives Project - Butler County, Alabama Cemetery Table of Contents
The USGenWeb Archives Project - Butler County, Alabama Table of Contents
The USGenWeb Archives Project - Alabama Main Table of Contents
The ALGenWeb Project - Butler County Homepage

Table of Contents maintained by:
The USGenWeb Archive Project - Alabama File Manager
Copyright © 1997 - 2023 The USGenWeb Archives Project
Updated: - - Wednesday, 11-Jun-2008 15:58:29 EDT