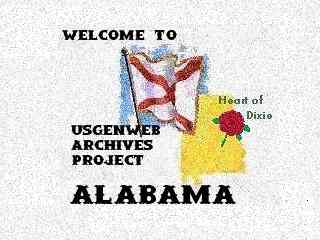 The USGenWeb Archives Project - Alabama
BULLOCK COUNTY
TOMBSTONE PHOTOS
LYDIA BAPTIST CHURCH CEMETERY
(aka OLD ABERFOIL CEMETERY)
*** USGenWeb is not a commercial enterprise and information found on these pages is freely available to the public. ***
---
HELP US!!!
If you have Alabama files you'd like to contribute to the Archives site,
Click here or here transcribe and send in your records or photos or contact:
SORRY, BUT THE ALABAMA FILE MANAGERS CANNOT HELP YOU WITH PERSONAL RESEARCH WE DO NOT LIVE IN ALABAMA AND HAVE NO ACCESS TO ANY RECORDS
---
Search Selected Records in the USGenWeb Archives Project - Alabama
---
Email Registry For Contributors

Any time you see this symbol next to a name, they have registered their e-mail address at
The Registry.
This will be their current address.
---
Lydia Baptist Church Cemetery
(aka Old Aberfoil Cemetery)
Lydia Baptist is on County Road 239 about 1/2 mile or less south of Highway 29. It is located right next to Elizabeth Baptist Cemetery and Church, close to the road behind a small house on the corner. If you turn in to Elizabeth Baptist Church driveway, look immediately to your right and you will see the cemetery. It has the small plywood sign that is hard to read and an old fence that is falling down, but the lawn is farely well kept. The official location listing is T13N, R24E, Sec30. Sometimes incorrectly listed as Old Baptist in cemetery location books.
The USGenWeb Archives Project - Bullock County, Alabama Cemetery Table of Contents
The USGenWeb Archives Project - Alabama Cemetery Table of Contents
The USGenWeb Tombstone Project - Bullock County, Alabama
------------------------------------------------------
The USGenWeb Archives Project - Bullock County, Alabama Table of Contents
The USGenWeb Archives Project - Alabama Main Table of Contents
The ALGenWeb Project - Bullock County Homepage

Table of Contents maintained by:
The USGenWeb Archive Project - Alabama File Manager
Copyright © 1997 - 2022 The USGenWeb Archives Project
Updated: - - Wednesday, 11-Jun-2008 15:58:32 EDT