Virginia Tombstone Photo Project
Shumate Family Cemetery,
Fauquier County, Virginia
Photo's in this section submitted by: Roxsanne Wells-Layton
Shumate Family Cemetery, Fauquier County, VA 2005
Cresthill Road (Route 647)
Marshall, Virginia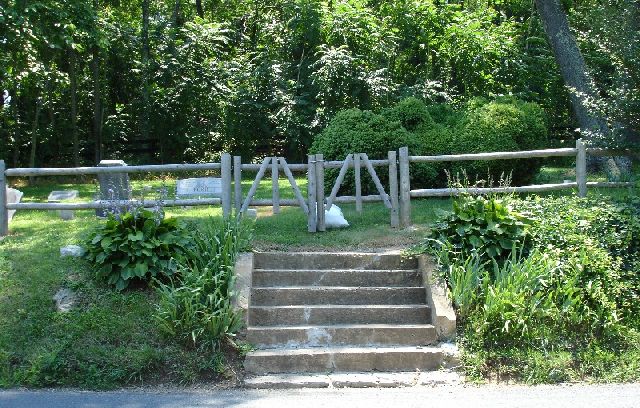 Entrance
There are many unmarked graves within this cemetery. Local legend says that
the cemetery contains graves of the slaves owned by the Shumate family. The
cemetery seems have 3 sections. One section is the oldest and contains only
rock markers. The main section contains the graves of former slaves and those
whose census records indicate that they are mulatto. There is a section of the
cemetery that is on the north side of Cresthill Road that contains one grave
marker for John Shumate who was white. He died in 1873 and may have been the
owner of many of the slaves.
Shumate



Main Section:
A.D. (Dodson)
Adams, Lillian Ford
April 26, 1907-July 13, 1968 and Ford, Carl B., June 22, 1902
B.D. (Dodson)
Baby
C.S.
Photo 2
D.F.
Sept. 22, 1921
Dodson, Georgia Elizabeth
September 15, 1894-February 21, 1968
Dodson, Howard
1908-1974
Dodson, Nannie Mason
Mother, Born July 18, 1863-Died Jan. 24, 1927
Dodson, Poonie
Aug. 20, 1956-Nov. 9, 1993 He dances in our hearts
Dodson, Randolph
Born Jan. 25, 1856, Died Oct. 23, 1898
Dodson, Nannie V., and
Dodson Roger M.
Nov. 15, 1914
Sept. 20, 1912-April 30, 1975
Dodson, Willie E.
1920-1971
E.L.G.
Died Dec. 27, 1898
Fadle, Nanie
Mother, July 8, 1867-Oct. 5, 1951
Ford, Harry Mason
VIRGINIA S. SGT 507 P.N. Bn TEC WORLD WAR II, Apr. 3,
1913-Dec. 20, 1972
Ford, Harry M.,
and Ford, Beatrice
Photo 2
1913-1972
1907-
Gaines, Kitty
Born July 7, 1824-Died Mar. 9, 1901
Grant, W. Irven, and Alfreda R.
July 31, 1908-Jan. 31, 1970
Oct. 18, 1910
Holmes, William Lewis
1928-1988
Joy
My love, 1982-1991
Lee, Bailey S. Ford
1886-1958
Lee, J.
1870-1956
M.T.
Dec. 25, 1924
Miller, Franklin Elmer
US ARMY KOREA, Aug. 31, 1933-Jan. 13, 1988
Miller, Mary P.
1906-1991
R.S.F.
Apr. 17, 1920
Shumate, John
Died Jan. 17, 1873 aged 80 years 5 months and 10 days
This grave is located in an iron fence on private property across the street:
Shumate, Landum
Shumate, Taylor S., and
Shumate, Catherine
July 18, 1857-Oct. 16, 1919
Aug. 9, 1959-April 1920
Slave
Smith, Shirley E
Nov. 1889-Jan. 1957
---
About the Project
The Virginia Tombstone Photo Project was started in January 2001. The goal of this project is to have a readable photograph of every headstone in every Virginia cemetery to compliment the tombstone transcription project readings.
You can help keep the project going by donating the photographs you have of your family's headstones and those you take in Virginia cemeteries just because you thought the stone was interesting. For more detail and tips see How to Contribute.
We reserve the right to crop, enhance and resize your image donations to meet the needs of the project. Your photograph will become a permanent part of the USGenWeb Archives.
This page is maintained by Katy Hestand

---
Return to the Virginia USGenWeb Archives County Index
Return to the Virginia Tombstone Transcription Project Page

---
USGENWEB NOTICE: These electronic photographs may NOT be reproduced in any format for profit or presentation by other organizations or persons. Persons or organizations desiring to use this material, must obtain the written consent of the contributor, or the legal representative of the submitter, and contact the listed USGenWeb archivist with proof of this consent. The submitter has given permission to the USGenWeb Archives to store the file(s) permanently for free access.