Virginia USGenWeb Archives
Scottsville Confederate Cemetery
Scottsville, Albemarle County, VA
Tombstone Photographs
---
Photos in this section were submitted by: Roger Goodman (rg)
Photos Taken 29 MAY 2002
Located on Confederate Street (just off Hardware St.), the cemetery contains the graves of 40 Confederate Soldiers, who died at Scottsville Confederate General Hospital between 1861-1865.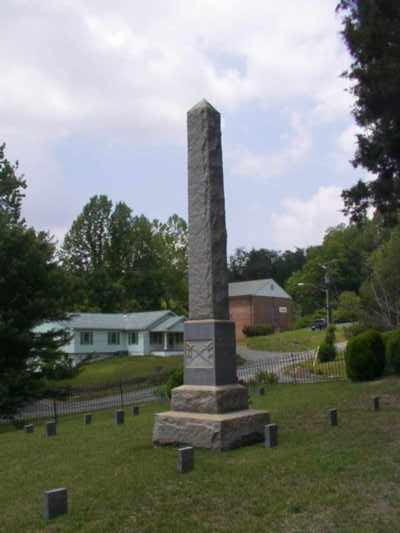 MONUMENT AT THE CONFERATE CEMETERY, SCOTTSVILLE, VA.(rg)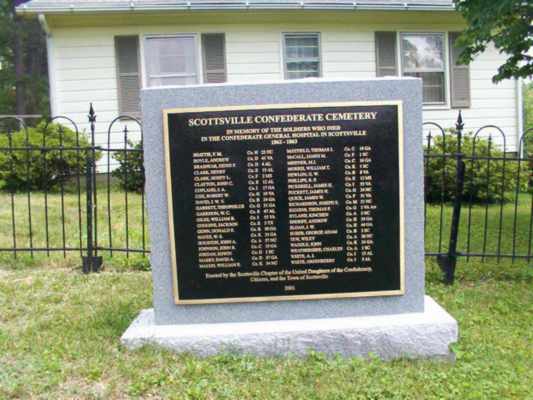 SCOTTSVILLE CONFEDERATE CEMETERY
IN MEMORY OF THE SOLDIERS WHO DIED IN THE CONFEDERATE
GENERAL HOSPITAL IN SCOTTSVILLE 1862 -1863(rg)
BEATIE, F.M. CO H 23 NC
BOYLE, ANDREW CO D 41 VA
BRASHEAR, DENIS P. CO D 4 AL
CLARK, HENRY CO E 15 AL
CLARK, HOSEY L. CO F 2 MS
CLAYTON, JOHN C. CO E 12 AL
COPLAND, J.A. CO I 17 GA
COX, ROBERT W. CO H 19 VA
DAVID, J.W.V. CO B 24 GA
GARRETT, THEOPHILUS CO G 31 GA
GARRISON, W.C. CO E 47 AL
GILES, WILLIAM B. CO I 53 VA
GOGGINS, JACKSON CO E 5 TX
GUNN, DONALD E. CO K 50 GA
HAYS, W.S. CO K 35 GA
HOUSTON, JOHN A. CO A 57 NC
JOHNSON, JOHN R. CO C 19 GA
JORDAN, EDWIN CO D 1 SC
MABRY, DAVID A. CO D 27 GA
MACON, WILLIAM R. CO K 34 NC
MAYFIELD, THOMAS J. CO C 19 GA
McCALL, JAMES M. CO F 1 SC
MISENER, M.J. CO C 16 GA
MORRIS, WILLIAM T. CO K 1 SC
NEWLON, G.W. CO B 8 VA
PHILLIPS, R.P. CO K 12 MS
PICKERELL, JAMES H. CO I 53 VA
PUCKETT, JAMES H. CO G 34 NC
QUICK, JAMES W. CO F 31 VA
RICHARDSON, JOSEPH S. CO M 21 NC
RIGGINS, THOMAS P. CO G 1 VA ART
RYLAND, KINCHEN CO A 3 NC
SHERIFF, ANDREW CO H 34 GA
SLOAN, J.W. CO H 44 GA
SUBER, GEORGE ADAM CO B 35 SC
TEW, WILEY CO A 30 NC
WADDLE, JOHN CO K 24 GA
WEATHERSBEE, CHARLES CO A 1 SC
WHITE, A.J. CO I 13 AL
WHITE, GREENBERRY CO I 5 AL
Erected by the Scottsville Chapter of the United Daughters of the
Confederacy, Citizens, and the Town of Scottsville. 2001.





---
Do you have any headstone photos from this or any other Virginia cemetery to add to the collection? If so, see How To Contribute.
This page is maintained by Rhonda Smith

---
Return to: Albemarle County Index
Return to: Virginia USGenWeb Archives Cemetery Index
Return to: Virginia Tombstone Photo Project Page

---
Contributed for use by the USGenWeb Archive Project (http://www.usgenweb.org) and by the VAGenWeb Archive Project
USGENWEB NOTICE: These electronic photographs may NOT be reproduced in any format for profit or presentation by other organizations or persons. Persons or organizations desiring to use this material, must obtain the written consent of the contributor, or the legal representative of the submitter, and contact the listed USGenWeb archivist with proof of this consent. The submitter has given permission to the USGenWeb Archives to store the file permanently for free access.