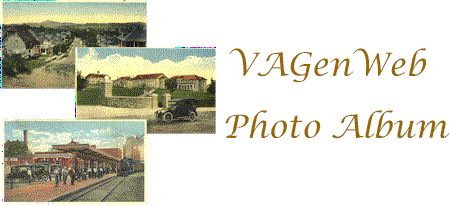 Guidelines for submitting photos
The objective of this project is to give researchers and others interested in history a glimpse of historical Virginia. We are currently accepting submissions of old photos of towns or regions, old homes, buildings, churches, schools, etc. Or if there are historic buildings or landmarks in your area you would like to photograph and submit, we will accept those also.
At this time we are not accepting photographs of individuals or families.
To Submit:
If you have a scanner and can submit a photo in file format, jpeg works well. You can forward your photos to me as an e-mail attachment to fspradlin

earthlink.net . Please provide a short descriptive caption for your photo.
Thanks for your interest, and if you have questions please drop me a line.
[Home]