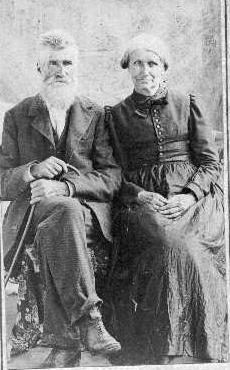 Peter James Baldwin, b. 10 Sept 1827, d. 15 May 1904.
Ann Woodzell Baldwin, b. 17 Sept 1828, d. 8 May 1914.
They were married 6 Jun 1850.

On the back of the photo it says that Ann had blue eyes and light hair. The photo is on a postcard that is labeled "Mr. & Mrs. Peter Baldwin". It was found in the bible of George James Baldwin's wife, Rose. George James was Peter and Ann's son and my husband's grandfather.