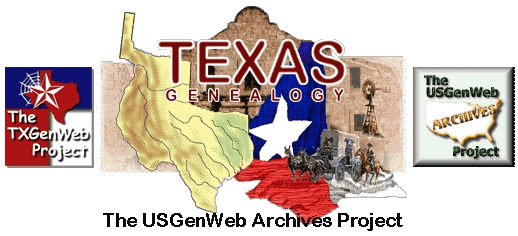 San Jacinto County, Texas Archives
This Page Last Updated: 10/28/11
---
The information found below has been submitted to The USGenWeb Archive Project. It is offered free to all who visit. The ownership/copyright stays with the submitter. Please read and respect the copyright on all submittals.
Copyright Information

To make this project grow, please submit your information to the Archives. We are looking for transcriptions of cemeteries, deeds, federal census (free, slave, mortality, agriculture, veterans...schedules), state census, vital records (marriage, birth, death), court records (county, federal, civil, circuit, probate....), church records (membership lists, baptisms...), prison records, military records (rosters, muster rolls, service records, pension applications...), land records (deeds, land transfers, federal land grants, surveyor's records..), tax records (land, property, state, federal, local....), newspaper articles (obits, marriage & birth announcements, local events...), family histories, biographies, obituaries and etc. that pertains to San Jacinto County, Texas - please send them to Carla Karbowski Clifton for inclusion here. This information needs to be in plain text, no HTML and no images. This way everybody will be able to read it.

USGenWeb Archives Submission Guidelines for transcriptions are listed at http://www.usgwarchives.net/timetodo.htm.

File Preparation Help for Submitters is located at http://www.usgwarchives.net/contrib.htm.

---
Search the San Jacinto County, Texas, the entire state of Texas or ALL of The USGenWeb Archives
http://www.usgwarchives.net/search/search.cgi/searchtx.htm
---
San Jacinto County Texas Archives Table of Contents
Carla Karbowski Clifton - San Jacinto County Archivist
Gina Heffernan - Texas State Archivist
---
Cemeteries
Census
Land Records
Vital Records
For more information on obtaining a copy of birth, death or marriage record, please contact:
The Texas Dept. of Health - Bureau of Vital Statistics
---
Table of Contents Maintained By: Carla Karbowski Clifton
---
San Jacinto County Homepage | TXGenWeb | USGenWeb Archives | USGenWeb
---
Copyright © 1997 - present by USGenWeb Archives
---
You are our 04013th visitor since 11 Jul 2010.