The USGenWeb Archives Project
Jones County, Texas
The Blue Front House
(click picture for larger picture)
Photo on this page submitted by: Della Ewing


The Blue Front House or the "Halfway House" was the stage
coach stop on the route between Abilene and Haskell via Anson.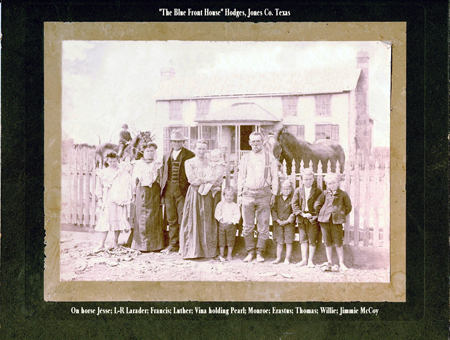 This picture was my mother-in-law's. It is a house in Hodges, Jones County, Texas. My mother-in-law was Nancy Pearl McCoy. She was born in this house and spent the first 17 years of her life there. Her father was Erastus Amaziah McCoy and his family are in this picture with the old house in the background. The Blue Front House sat about a quarter of a mile west of the old Cotton Gin in Hodges on the old road going to Anson. The house sat about a quarter of a mile off that road. The old house is long gone. Gurvis Lee "Buster" Jones and his wife, Ellen May McCoy (Pearl's baby sister) took the lumber that was still good out of the Blue Front house and built them a new house with the wood.

"The Blue Front House was the house I was borned in and lived in till I was 17 years old." /s/ Pearl McCoy 21 August 1904

Story Pearl told about her dad at the Big Blue House.

"Daddy came home and unhitched his team of horses and hung the harness on the fence next to the gate in front of the house. He was tired and went on to the house. Later he told one of the boys to go get the harness and put them in the barn. That night he heard a noise outside and got his shotgun and stepped on the front porch. Seeing something behind the fence, he yelled out to whoever it was to get out of there. They did not move, so he yelled at them again and said he was going to shoot them if they did not leave. He raised his gun and shot. He walked out to the gate, thinking he had just shot someone and found he had shot his harness. I did not find out who forgot to take them to the barn but probably someone was in big trouble after this."
---
This page is maintained by: Dorman Holub for the USGenWeb Archives
txarchives@mac.com
Updated: Tuesday, March 17, 2009