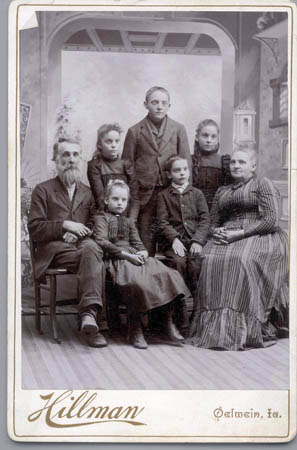 W.D. McKelvy Family of Jermyn, Texas

The family had taken a trip to meet Anna's family back in Iowa, shortly after they were married. W.D. McKelvy had the four children

Anna Brown Watkins married W.D. McKelvy in October 1900

left to right around the back:
W.D. McKelvy, seated at the age of 45+ years
Brownie Watkins, standing age 9+ years
Clarence, standing center age 15 years
Willie Gertrude, standing age 14+ years
Anna Brown Watkins McKelvy, age 43 years

Left to right in front:
Verda Lou, seated, leaning on her dad age 11+ years
Roy Lay, seated age 10+ years


William David McKelvy was born 1 April 1855 at Tallapoosa County, Alabama. He had lost two wives. The mother of his children was Mary Brown. They married about 1883 / 1884. After Mary McKelvy died, W.D. McKelvy married Minnie Payne on 15 February 1894. After Minnie died, W.D. McKelvy married Anna Brown Winifred who was was born in Iowa. Anna had been previously married two or three times, the family doesn't have the full details.



Arminta Simeral Brown
born 29 Jan 1828, Vigo County, Indiana

Charles Layton Brown
born 20 March 1826, New Jersey


Parents of Anna Brown McKelvy

Taken 5 October 1900 in Jacksboro, Texas
Three of Anna Brown McKelvy sisters visited Jacksboro. W.D. McKelvy is missing from the photo, but a mature Clarence McKelvy, who died in 1909, location unknown and a more mature Ethel "Brownie" Watkins who later became Mrs. John McFayden / McFadyen.

Back row - Sadie / Zaida Brown Kaurup, her husband Hugo Kaurup, Ethel "Brownie" Watkins who married John Fayden / McFadyen, Clarence McKelvy.

Front Row - Martha / Mattie Brown Dresser of Solomon, Kansas; Emily Brown Bancroft of Lincoln, Kansas and Anna Winifred Brown McKelvy.


Frank Campbell

4 April 1879 - 16 February 1963

husband of Mattie Leota Giles

son of Anna McKelvy

Anna had a son, Frank R. Campbell [4 April 1879 - 16 February 1963] who worked for the railroad. Frank Campbell married Mattie Leota Giles on 7 August 1898 and they lived in Commerce, Hunt County, Texas. Frank and Mattie are buried in the Rosemound Cemetery in Commerce, Texas.

Frank R. Campbell

Mattie Leota Giles Campbell
wife of Frank R. Campbell


all photos submitted by: Sam Clark

---
Return to Jack County Table of Contents
Updated: Wednesday, November 4, 2009