Hutchinson County
Baird Family Photos

Ethel Lulla (Benson) Baird-Tweedy

Cal & Ethel Baird & Harlan Buckley

Ethel Lulla (Benson) Baird-Tweedy
02 Dec 1906-09 Oct 1982
Cal & Ethel, Gr-grandmother of Kimberly Nolan-Frederick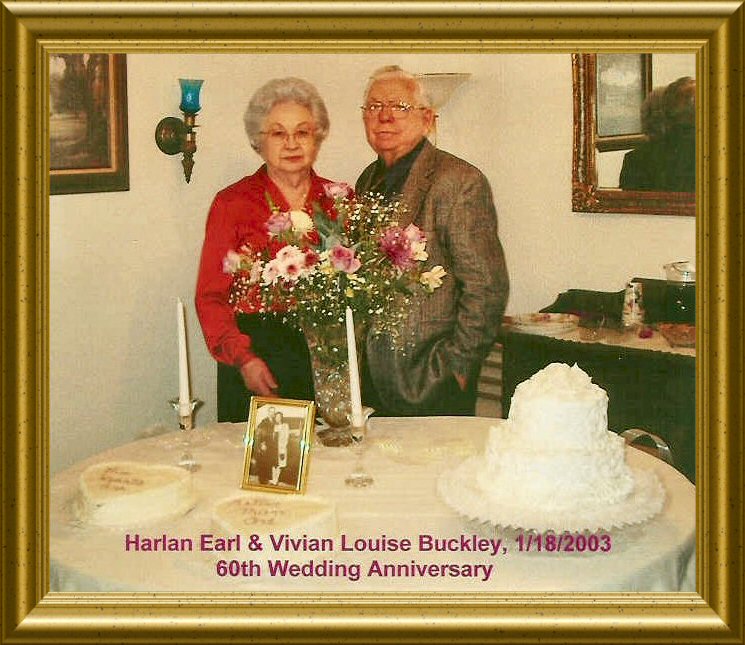 Harlan Earl Buckley & Vivian "Louise" (Whitecotton) Buckley,
on their 60th wedding anniversary Jan. 19, 2003. They married in Borger, Hutchinson Co., TX in 1943.
Grandparents of Kimberly Nolan-Frederick
Sisters:
June "Eloise" Whitecotton
& Vivian "Louise" Whitecotton
Taken 1933
Eloise & Louise Whitecotton Family
hunting trip to Lavetta Pass, CO.
abt. 1946
Eloise, Louise, Raymond,
& Arlis Whitecotton
Borger, Hutchinson Co., TX
1943
The Whitecotton Family
My grandmother's family and their story of moving to Borger
Marl Dewey & Lillie Mae (Green) Whitecotton moved their family to Borger, Hutchinson Co., TX from Welty, Okfuskee Co., OK the first time in 1927 when Louise was 3 months old, again in 1929 when she was 3 years old, and then for the final time in 1936 at the age of 9 years. This family was drawn to Borger for the same reason as many others of that time, Marl worked in oil.
Louise attended West Ward Elmentary school and then Borger High School. Texas originally only offered 11 grades for education. In about 1939 Texas added the 12th grade to public schools. Louise was in the 7th grade at the time and was allowed to skip the 8th grade and went straight into the 9th grade due to the change. Louise met her future husband in the 3rd grade there in Borger, TX. She said that the day she met him she went home and told her grandmother that when she grew up she wanted to marry a boy just like the one she had met that day. Several years later the two worked together at Tink-a-link Hamburger joint when they were about 14-16 years old.
According to Louise, my grandmother, individuals did not own their own land in Borger. Families would often have a 20 year lease on a piece of property and would built their home on the land. If the family moved they left it all behind. The Whitecotton family lived approximately where 9th street is today.
In 1943 Harlan Earl (Baird) Buckley purchased an engagement ring and wedding ring from Moser Jewelry store. He also bought his bride to be a radio from Lindsey Furniture Company in Borger, TX. Harlan and Vivian "Louise" Whitecotton were married on January 19, 1943. Shortly after their marriage, Harlan signed up to join the Navy where he served in World War II for 2 ½-3 ½ years. Before joining the military Harlan worked for Phillips Oil Company in Borger, TX.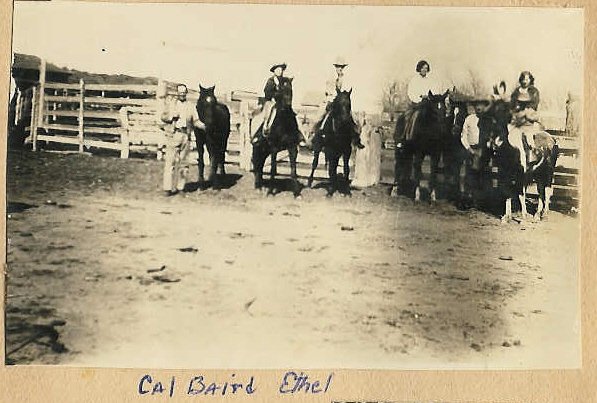 Ethel & Cal Baird on the Thompson Ranch
Ethel Lulla (Benson) Baird-Tweedy,
Moving Thompson Ranch to NM
Abt. 1930
Abb Valentine &
Harlan (kid) Baird Buckley, on
the Thompson Ranch. Abt 1930
Ed Thompson, rancher.
About 1930

Cal, Ethel, & Harlan Baird (Buckley) drove horses from the other side of Stinnet (horse ranch around where the last battle was fought) to Tucumcari, Quay Co., NM for Ed Thompson. The Baird family ended up staying with Mr. Ed Thompson for one year in New Mexico. The load of hogs that Ethel Baird was driving got loose during the trip and she had to round them all up to continue toward New Mexico.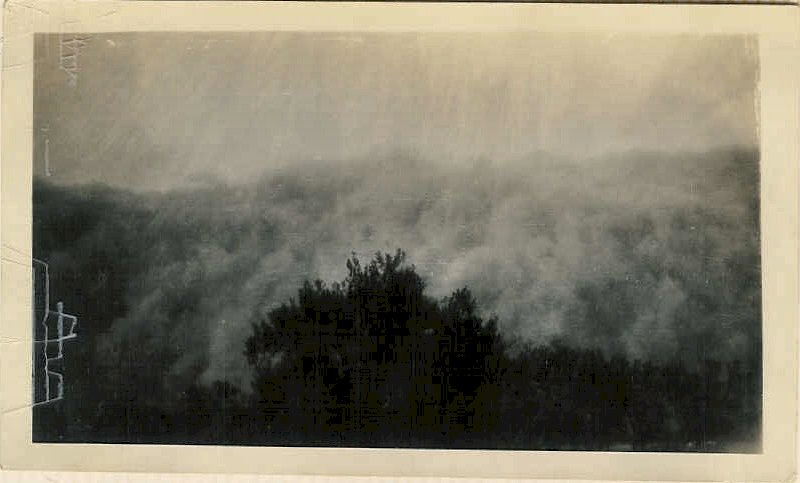 1935 Dust Storm
Borger, Hutchinson Co., TX
This was the new jail in Borger, Hutchinson Co., TX. About 1929-1930

l to r: "Cal" Carroll Sumner Baird,
Ethel Lulla (Benson) Buckley-Baird,
(boy) Harlan Earl (Buckley) Baird,
Joe Ownsby, Jim Crain, Chinaman John in Jail.

l to r: Jim Crain, Cal Baird,
Chinaman John, unknown, Smith.
Chinaman John was posing
in the jail for the pic.
Cal Baird was a Detective in Dallas, and did law enforcement work in Borger, TX
Carroll "Cal" Sumner Baird
This is the letter & deploma.
FBI Civilian Defense Course for Police
Jan. 12-13, 1942
Carroll "Cal" Sumner Baird
Auxiliary Military Police Army of the United States
at Phillips Petroleum Company, Alamo Plant
May 05-10,1945
Moonshine confiscation...
The moonshine was drained onto the ground in front of the Stinnett Courthouse.
The barrels were then torn apart with axes by the local law enforcement.
At Stinnett Courthouse
Man on the left is, Cal Baird, dressed in black

Ben Chapman, Borger Police Officer

Borger Sheriffs Office.
Borger Sheriff Dale Lane, George Perdue at back desk,
& Harlan Baird (boy in back)

Borger Law Officers.
Borger Sheriff Dale Lane is front center.
Alford White & Bob Airs are written on photo.
Not sure who is whom.
Borger Birthday Parade March, 1931



Bottom Photo:
Left: Vivian "Louise" (Whitecotton) Buckley, 4yrs.
Right: Lillie Pearl (Marrow) Parker, 4yrs.