Leyendecker
The Austin Leyendecker-Siegmund relatives frequently visited Fredericksburg and often stayed at the Kammlah's on Main Street. Mom and several of her first-cousins each shared a fond memory of using the dirt cellar door at the Pioneer Museum Complex as a slide. Two of my great-aunts explained it was a three-day journey from Austin with them spending the first night near the Y in Oak Hill. The family wagon (great-grandparents) wasn't large enough for the whole family, so many of their children walked alongside it.
Any and all assistance is greatly appreciated.
Susan Sherrill Estes <ken_susan@sbcglobal.net>
Austin, TX
---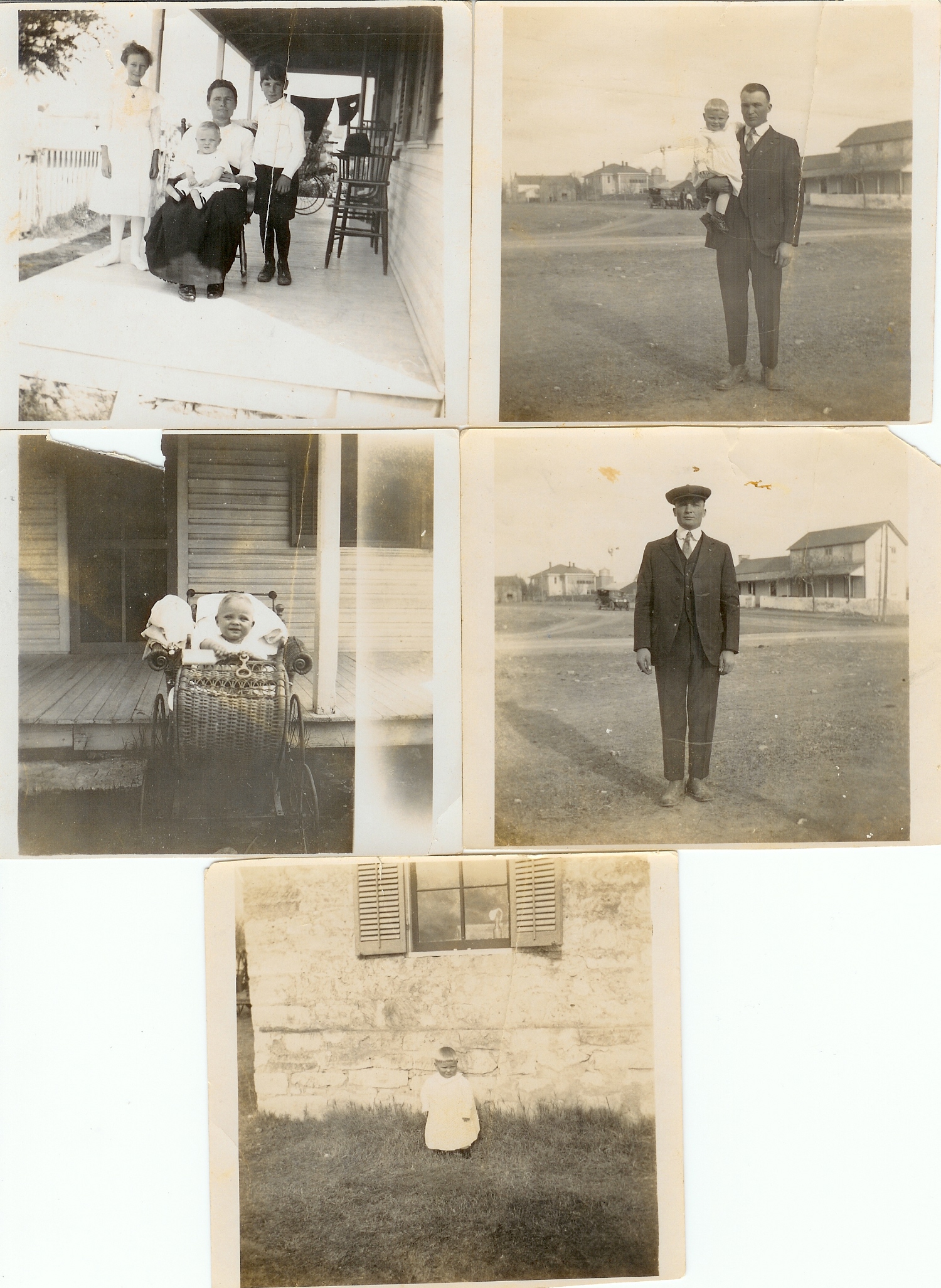 Labeled (left to right):
top row
(1) This is my sister & brother and mama and her grandchild (our baby).
(2) This is our baby and her daddy.
center row
(3) This is our baby again.
(4) This is daddy again by its self.
bottom picture
(5) and this is our baby again by her self.
Anyone or anything look familiar to y'all?
---
My primary connection to Fredericksburg is:
Direct Descendants of Professor Johann Schullehrer Leyendecker, 'Immigrant'
1 Professor Johann Schullehrer Leyendecker, 'Immigrant' 1794 - 1876
.. +Maria Magdalena Zirvas, 'Immigrant' 1804 - 1873
. 2 Franz Josef 'Joseph' Leyendecker, 'Immigrant' 1829 - 1889
..... +Maria Anna 'Mary Anne' Klein, 'Immigrant' 1837 - 1896
..... 3 Johanna 'Jane' Katherine Leyendecker 1861 - 1935
......... +Hermann Francis 'Frank' Siegmund 1862 - 1937
......... 4 Herman Joseph Siegmund 1886 - 1967
............. +Anna 'Annie' Hermine Reissig 1883 - 1964
............ 5 Marguerite Johanna Siegmund 1918 - 2002
................ +John Austin Sherrill 1914 - 1997
................ 6 Susan Jean Sherrill 1949 -
These photos were found in my Mom's estate in 2002. They are black & white 3-1/2" square photos processed at Welgenhausen's in Fredericksburg (fairly brittle). By process of elimination and speculation I believe these to have possibly been sent to my grandmother in Austin by Rosie Kammlah Dietz and am seeking someone to help identify the people and buildings in the pictures.